Public transportation vehicles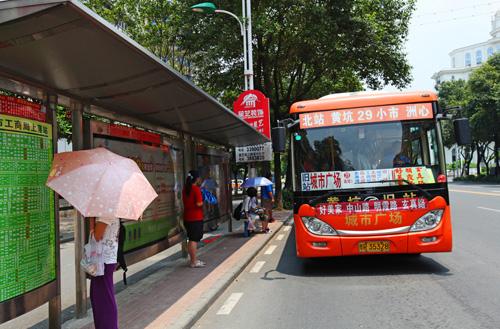 Bus: Most of the big cities in China have been equipped with developed public transportation system and public buses become people's first choice by virtue of cheap cost, usually 1 Yuan or 2 Yuan, but there may be some differences in ticket price in some cities. Normally, rush hour happens between 07:00 and 09:00 AM and between17:00 and 19:00 PM, so it is better to avoid these fastigiums to take a bus. Another thing should be noticed is to be careful of pickpockets in a bus.
Coach:With the fast development of expressways in China, inter-city coaches become another popular choice for many people. Almost every city and every town has its own bus station and most of them are usually not far away from the local railway stations. Commonly, most all of the stations run from the morning to the evening, but the runtime of every bus station may differ depending on different volume of passenger traffic. A TV and an air-conditioner are usually equipped in a coach and some overnight coaches even have sleeping berth and small toilet.
Tourist Bus:Tourist buses can frequently be seen in famous tourist cities. These buses usually run on specific route and people can enjoy the beautiful scenery in the cities. What's more, there are tour narrators in some tourist buses introducing relevant attraction information in detail.
Related Readings