Cruises in China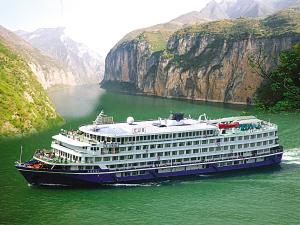 Being the third largest country in the world, China has a huge amount of coastlines, rivers and streams where commercial ships and travelling boats sail extensively in every corner of the country. 110,000 kilometers of navigable rivers, streams, and canals are available among which the main ones are the Xiling Gorge (in Hubei Province), Yangtze River, Lijiang River (in Guilin of Guangxi), Pearl River (in Guangdong Province), Grand canal (Beijing-Hangzhou) and Huangpu River (in Shanghai). At recent years, despite of the expansion of railways and airways, cruises have developed a lot and become a great highlight for tourists looking for some originality. Navigating through China's most important harbours (Shanghai, Chongqing, Guangzhou, Qingdao...), luxurious boat cruises are another way to discover China and see places off the beaten tracks.
a. Yangtze River Cruise
Yangtze River, which is considered as the mother river of Chinese people together with the Yellow River, is the longest river of China as well as the third longest river in the world. The splendid scenery of the Three Gorges on the Yangtze River is hailed as "a natural gallery" and "a fairyland on earth", and the places of historic interest on the banks and the mysterious legends also cause people to crave for a Yangtze cruise to see and touch it. Classified by ship series, star level and cruise route, as below are information about main Yangtze River cruise ships:
- Victoria Cruise Fleet: including Victoria Anna, Victoria Katarina, Victoria Empress, Victoria Queen, Victoria Star, Victoria Prince, Victoria Rose. Victoria Cruise is managed by American company. Its cruise ships have gone into operation since April of 1995 and have been being popular with tourists from Europe and America. The fleet now possesses the above seven 5-star Yangtze cruise ships, among which Victoria Anna and Victoria Katarina are the top two.
- Yangtze Oversea Cruise Fleet: owning fourteen 4-star and 5-star cruise ships including Yangtze Pearl, Yangtze Princess, Yangtze Star, Yangtze Explorer, Yangtze Paradise, etc. The Yangtze Cruise Ship was launched in 2006, with a meeting room that can hold 250 people.
- President Cruise Fleet: made up of President No.1, President No.2, President No.3 (Splendid China), President No.4 (Yangtze River), President No.5 (Yellow Crane), President No.6 (Minya Konka), 4-star and 5-star rating.
- Dragon Cruise Fleet: consisting of the unique-style 5-star Emperor and Qianlong and the 4-star Three Kingdoms and Serenity.
- Chongqing New Century Cruise Fleet: including Viking Century Sky, Century Sun, Century Diamond, Century Star… rating from 4-star to 5-star.
- East Royal Cruise Fleet: including the luxury East King and East Queen.
- Regal China Cruise Fleet: including the 5-star Jeannie, Elaine and Sheena.
Yangtze River Cruise Routes:
Chongqing - Yichang (downstream, 4 days / 3 nights)
Chongqing - Wuhan (downstream, 5 days / 4 nights)
Chongqing - Shanghai (downstream, 7 days / 6 nights)
Yichang - Chongqing (upstream, 5 days / 4 nights)
Wuhan - Chongqing (upstream, 6 days / 5 nights)
Shanghai - Chongqing (upstream, 9 days / 8 nights)
b. Li River Cruise
Li River is an indispensable part of the picturesque scenery of Guilin. Winding for 83 kilometers from Guilin to Yangshuo, Li River is just like a green belt coiling the tranquil villages and the peculiar karst hills, with the section between Yangdi and Xingping being the highlight of Li River. Appreciating the breathtaking landscapes and the inverted reflections in water on sunny days or prying about the true color of the scenes in misty rain, a Li River cruise will show people its distinct beauties.
Li River Cruise Ships: deluxe Guilin Series, Environmental Protection Series, Royal Family Series, Ancient Culture Series, Ethnic Feeling Series, Landscapes Series, and the ordinary air-conditioned Cartoon Series.
Meals on Li River Cruise Ships: western meal set, buffet, Chinese royal medicated food, ethnic flavored food, food of boat family, etc.
c. West Lake Cruise
A real travel lover will not visit Hangzhou without the West Lake. The lake locates in the central area of Hangzhou and gets its fame for its beautiful and peaceful scenery and numerous places of interests, therefore, having a West Lake cruise is a must-do in a Hangzhou tour.
Boat Style

Boarding Wharf

Sightseeing

Price

Huafang (gaily-painted pleasure-boat)

Hu Bing San Gong Yuan Wharf, Wharf of Children's Palace

Huxin Pavilion, West Lake

45 Yuan / per person

Medium-sized cruise boat

Qianwangci Wharf, Wharf of Children's Palace, Wharf of Zhongshan Park, Wharf of Yuewang Temple, Wharf of Huagang Park

Huxin Pavilion, West Lake

45 Yuan / per person

small-sized cruise boat

Wharf of Zhongshan Park

Yanggong Dyke

30Yuan / per person

Rowing boat

Hu Bing Yi Gong Yuan Wharf, Hu Bing Liu Gong Yuan Wharf, Wharf of Zhongshan Park, Wharf of Yuewang Temple,

Ruangong Mound, Huxin Pavilion, Westlake

80 Yuan / per person

Motor-driven boat

Baidi Wharf (near the Broken Bridge)

inner West Lake

30 Yuan / person / hour (4 seats)

50 Yuan / person / hour (6 seats)
d. Erhai Lake Cruise
Located at a sea-level of some1972 meters in Dali of Yunnan Province, Erhai Lake is a radiant and enchanting fresh-water plateau lake covering 251 square kilometers. Shaping in a shape of a crescent, this beautiful lake represents different sights at different time in a day, with that at dusk being most breathtaking.
Erhai Lake Cruise Tips
- Opening time: 08:00 – 17:00
- Sailing time: 09:00 (It is advised to board before 08:30), arrive at Taoyuan Wharf at 12:00
- Erhai Lake cruise are one-way cruise
- Concessionary fare: free for children below 1.2 meter, half-price ticket for children from 1.2 meter to 1.4 meter, no fare discount for old people.
e. Huangpu River Cruise
Wriggling for about 113 kilometers with the width ranking from 300 to 700 meters, the Huangpu River is the branch of the Yangtze River as a matter of fact, where the Yangtze flows into the East China Sea. Huangpu River flows through downtown Shanghai and separates the city into two regions: Pudong and Puxi. Therefore, Huangpu River day/night cruise has become a popular way for visitors to visit Shanghai. It is the mother river of Shanghai that witnesses the city's past, today and future. Cruising along the river, people can see the imposing bridges, Oriental Pearl TV Tower, towering modern buildings, and also the exotic building clusters in the Bund, which were constructed from the middle of the 19th century.
Information of Huangpu River Cruise Ships:
Ship Name

Features

Facilities

Suitable Uses

Passenger Capacity

Price

上海坊号

modeling on the style of the Shanghai New World scenic area, which leads people to the old shanghai of 1930s

Projector, KTV, private mini room, VIP room, tearoom, etc.

aquatic wedding, party, Shanghai-style banquet

250 people

100 Yuan / per person (for independent traveler)

the charterage of the whole ship)

名人号

Transparent toughened glass

Wall

VIP room, bar, professional tone tuning room, etc.

business conference, aquatic wedding, party, banquet, company celebration and annual symposium

300 people

100 Yuan / per person (for independent traveler)

the charterage of the whole ship)

浦江游览1号

dragon-style with traditional Chinese decorations

bar, stage, acoustic equipment, professional lighting, central air-conditioning system, projector, etc.

business conference, aquatic wedding, party, banquet, company celebration and annual symposium

1,000 people

100 Yuan / per person (for independent traveler)

the charterage of the whole ship)

全球通号

also named "Crystal Palace" because of its transparent body

bar, stage, acoustic equipment, professional lighting, banquet hall, meeting room (with special equipments),

central air-conditioning system, projector, etc.

business conference, aquatic wedding, party, banquet, company celebration and annual symposium, large conference, commercial activity

400 people

100 Yuan / per person (for independent traveler)

the charterage of the whole ship)

巴 士 一 号

with transparent glass wall and a sun deck of nearly 300 square meters

VIP room, bar,

professional tone tuning room, etc.

Large and medium party,

aquatic wedding

415 people

100 Yuan / per person (for independent traveler)

the charterage of the whole ship)

新 友 好 号

special request of venue decorating is acceptable

chartered room, acoustic equipment, etc.

party, banquet

130 people

the charterage of the whole ship)

新 春 江 号

with transparent glass wall

chartered room, acoustic equipment, etc.

party, banquet

150 people

100 Yuan / per person (for independent traveler)

the charterage of the whole ship)

牡 丹 号

style of Qin and Han dynasties

chartered room, acoustic equipment, etc.

Business conference, aquatic wedding, party, company celebration

247 people

100 Yuan / per person (for independent traveler)

the charterage of the whole ship)

白玉兰 号

style of Ming and Qing dynasties

chartered room, acoustic equipment, central air-conditioning system, etc.

Business conference, aquatic wedding, party, company celebration

247 people

100 Yuan / per person for independant traveler

the charterage of the whole ship)

Captain 3 (船长3号)

being hailed as "space fortress" because of its special outside

VIP

chartered room, professional acoustic equipment, etc.

Business conference, aquatic wedding, party

400 people

100 Yuan / per person (for independent traveler)

the charterage of the whole ship)

Princess Emerald

(翡翠公主号)

a deluxe cruise ship newly launched in 2010

VIP

chartered room, professional acoustic equipment, etc.

Business conference, aquatic wedding, party

300 people

the charterage of the whole ship)

君悦号游艇

deluxe yacht

KTV room, deluxe drawing room, bedroom, bar, LCD TV set, viewing deck

sightseeing (small size group)

10 people

海悦号游艇

a yacht more deluxe than君悦号 ( 游 艇 )

deluxe bar, KTV room, LCD TV set, viewing deck

sightseeing (small size group), customer reception

12 people
Related Readings