VOC's Travel BLOG
Our Travel Blog is the place to share our real life, travel experiences in China with you. Besides, we will provide information related to Chinese culture and China travel guide. "A bosom friend afar brings a distant land near." Traveling makes us to be closer, let's discover China together!
Lijiang – a place to slow down your pace
2013-05-07 | China travel Guide | Comments(0) Views(1348)
Unlike such metropolises as Beijing, Shanghai and Guangzhou, Lijiang, located in the northwestern part of Yunnan province, often leaves an impression of tranquility and mildness on you. As people nowadays are living a busy and fast life, facing great stress from time to time, Lijiang no wonder now enjoys great popularity among visitors. And here is something leisurely you can try in your trip to Lijiang. Staying in this city can slow down your pace of life, purify your heart and dispel your worries.
Enjoying sunrise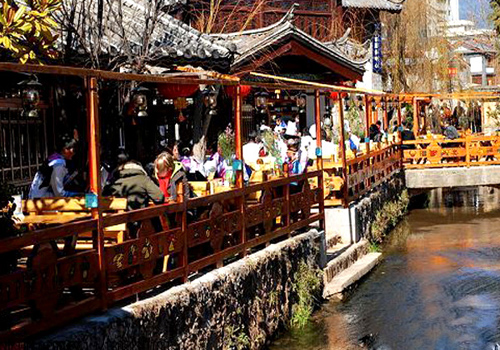 Morning of Lijiang is so adorable that you cannot miss. Few people would get up early, hence few ambling on the flagstone, and it becomes a morning of early birds singing the melodious song. Bathed in the soft sunshine, small shops are opened to sell breakfast. Along the fork in the road of Xinhua Street, Blossom Hill Inn comes into sight. A lovely courtyard, terrace, staircases and wild flowers… finally the sun emerges from behind the mountain and radiates the brilliance.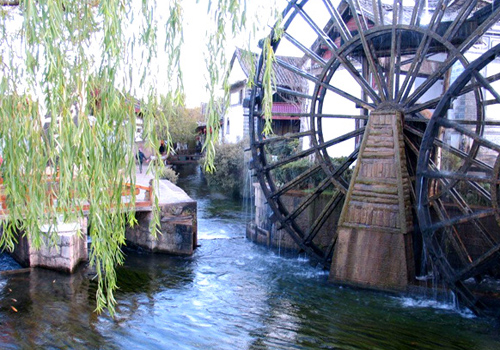 You will come to realize that happiness can be simple while sipping coffee, having porridge or overlooking Lijiang city. To a great extent, sitting in a chair to enjoy beautiful sunrise becomes an agreeable activity in the morning of Lijiang.
Trying Yunnan rice noodles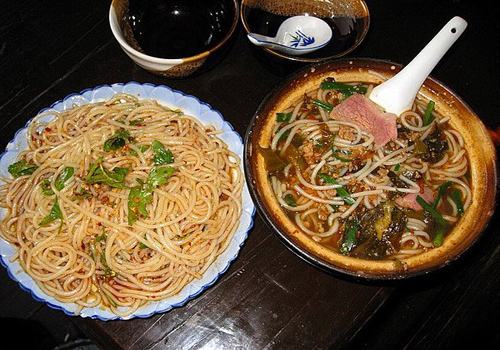 Yunnan rice noodle is well-known, which reflects the mild and soft temperament of Lijiang. Here, you can enjoy delicious and nutritious noodles with different sorts of ingredients. Yunnan rice noodles include noodle in the pannikin, noodle in the marmite, fried rice noodles, beef noodles and so forth. Noodle toppings frequently include baby leeks, spinach, peas and thin sheets of bean curd. If you feel starved, why not try the tasty Yunnan rice noodles immediately? For many people having noodles in the afternoon in a restaurant hidden behind the business street while feasting their eyes on the quiet and graceful Lijiang will never be tedious.
Lost in Lijiang Ancient Town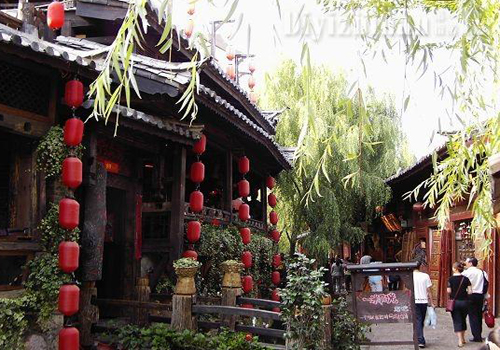 Located at the foot of Yulong Snow Mountain, Lijiang ancient town enjoys a history of almost a thousand year. If you have ever thought that such things are just reserved for Suzhou or Zhouzhuang of Jiangsu province, then you are wrong. In this living old town of Lijiang, vitality and serenity compose even more harmonious music; simple but exquisite houses, stone and wooden bridges, busy bazaars, distinctive bars are here and there. So visitors can always find their own ways of amusement. In addition, Lijiang Ancient Town has a conspicuous feature that other ancient cities around China do not possess – it has no walls. Sometimes in the evening losing yourself in this open town of Lijiang you will unconsciously slow down your pace to understand what life is…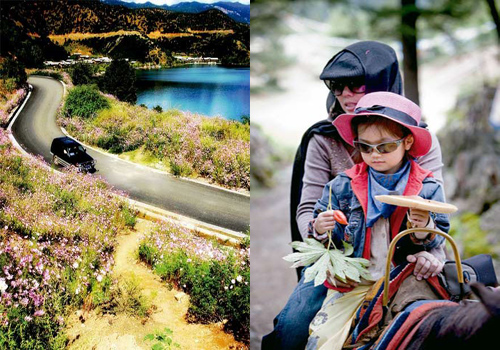 Going back to the inn in the company of night, you will find yourself in an entirely new world. As you bask by the fire, the hosts are likely to invite you to eat watermelons! Perhaps such an exclusive experience is only available in Lijiang.
Lijiang is so romantic that whoever comes will be deeply engrossed in its beauty, especially those who after toiling a long time need a place to slow down, to start a life of leisure.



---Gaea (VisitOurChina)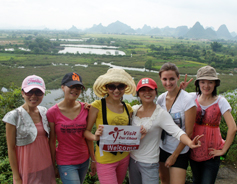 Calendar
Categories