Dreamlike Yellow Mountain in Springtime
2013-04-25China travel Guide
Yellow Mountain, or Huangshan Mountain, located in Huangshan city, Anhui province, is famed as the only scenic area that wins the title of World Cultural Heritage, Natural Heritage, and World Geological Park at the same time. Whenever you climb the mountain, you will be conquered by the breathtaking scenery, especially in springtime.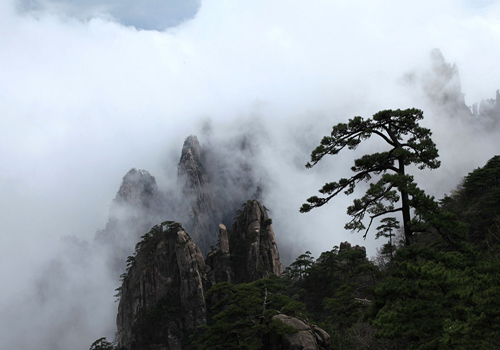 Huangshan Mountain in springtime is a picture with brilliant colours. After the April shower, upright ancient pines turn lush and take on a brand-new looking, while the thin clouds and mist shroud the mountains, whispering to them joyfully.

While sea of clouds appears throughout the year in Mt. Huangshan, that in springtime is more ravishing. After the harsh winter, sea of clouds in Yellow Mountain becomes purer. Sometimes, it looks like a fairy maiden dancing around mountains and waving the fine gauze; sometimes, it looks like vast expanse of sea embracing the island-like mountains. At sight of the charming scenery, tourists cannot help singing the praise of the heaven-like Yellow Mountain.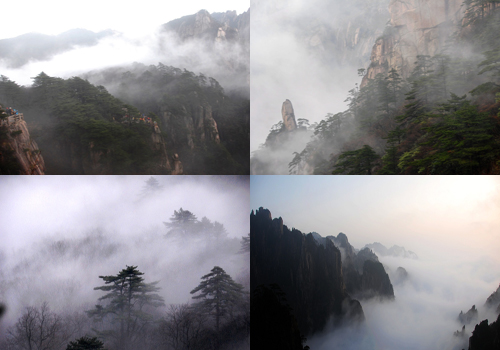 As for the formation of the sea of clouds, it has much to do with rainfall. Moreover, due to different height of peaks of Yellow Mountain, luxuriant forests, high humidity, the sea of clouds often emerges, particularly after shower in the springtime. This phenomenon therefore frequently sets outlandish trees and rocks of various shapes to advantage.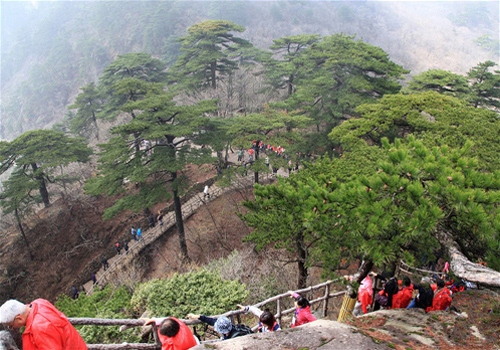 While air pollution has become an acute problem in northern China, Yellow Mountain has not suffered from that as yet. The forest coverage of Huangshan Scenic Area reaches 84.7%, vegetation coverage 93%, negative oxygen ion concentration reaches 20,000/ cm³, some area more than 50,000 / cm³. Breathe in and out the pure and fresh air, you can soon refresh yourself and be in a good mood.

Xihai Canyon (West Sea Canyon) boasts the splendid scenery, and is the most deep and tranquil part of Huangshan scenic area, but quite a few tourists give up climbing due to precipitous mountain roads. Fortunately, by the end of April of this year, sightseeing cable car will be available, thus solving the aforementioned problem. When the cable car begins to work, it only takes you five minutes to finish the single trip. By then, visitors can feast their eyes on the marvelous mountains and clouds without any difficulty.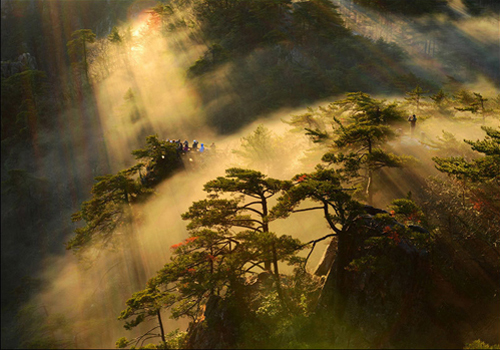 Besides, this year sees many a preferential policy of Mt. Huangshan, apart from what has been implemented before. From 29th March to 28th April, those who hold the ticket of EMU or high-speed trains heading for Hefei, provincial capital of Anhui, and identity card can pay half of the admission - 115yuan.



---Gaea (VisitOurChina)
Comment