Feast Your Eyes on Zhangjiajie to Embrace Springtime
2013-03-28China travel Guide
"Springtime is the land awakening. The March winds are the morning yawn." When Zhangjiajie steps into spring, it is always full of vigour, birds singing, flowers smelling sweet. Scenic spots such as Ten-mile Gallery, Yellow Dragon Cavern, and Wulingyuan Scenic Area give you surprise from time to time. Plants there will catch your eyes, brilliant-coloured azaleas in particular. They are just stretching under your eyes, and sometimes you will feel as if you were in the flower kingdom!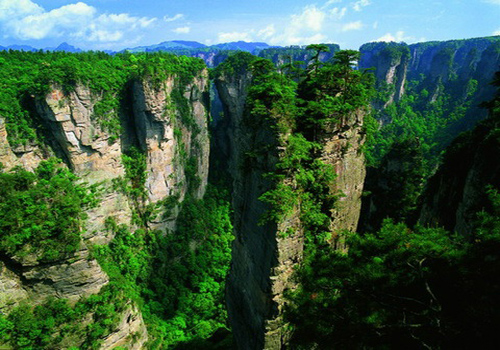 Unlike any other places, Zhangjiajie makes you feel cool in summer due to its mild temperature, thus becoming an ideal summer resort in the north hemisphere. Birds' songs are flowing music, bright flowers are vivid pictures. In the morning, if you walk the path in the woodland, you will feel refreshed and becoming part of nature.
Recommended places to visit in Zhangjiajie in spring:
Jinbian Brook Scenic Area – the prettiest section of Wulingyuan Scenic Area

Entering zhangjiajie National Forest Park and walking 300 metres will lead you to the entrance to Jinbian Brook, or Golden Whip Stream, where you can greet clean air and water, and a school of fish in the water.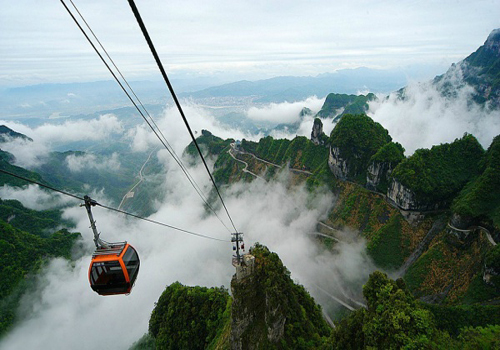 Yellow Dragon Cavern – a wonder of cave on earth

As a typical limestone cave, it enjoys diversified amazing landscapes, one reservoir, two rivers, three ponds, four stone falls, thirteen halls, ninety eight corridors, dozens of hills, thousands of white jade ponds and ten thousand stalagmites…
Baofeng Lake Scenic Area - ideal place for photographers

Baofeng Lake, as calm as a mirror, looks like an abode of immortals. Created by blocking gorge and building dam, the clean and pollution-free lake becomes an excellent place for shutterbugs.
Huangshizhai / Huangshi Village – essence of Zhangjiajie National Forest Park Scenic Area

Standing 1,200 metres above sea level, Huangshizhai is the largest sightseeing platform of Zhangjiajie National Forest Park Scenic Area. It has been wisely said that one who fails to visit Huangshizhai is not visiting Zhangjiajie.

Ten-mile Gallery – masterpiece of Mother Nature

Covering five kilometers, Ten-mile Gallery is a scroll stretching before your eyes with its wild flowers, lush trees, grotesque rocks and peaks or the like. No visitors coming here will not compare the attraction to a fairytale land or a mysterious land.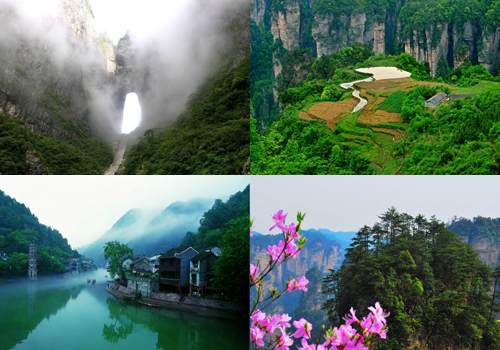 Bailong panorama lift – an unexpected way to appreciate Yuanjiajie Scenic Area

Don't you want to try another way to appreciate the staggering scenery of Yuanjiajie Scenic Area? Why not take the Bailong panorama lift? It is the tallest and fastest outdoor sightseeing elevator with the maximum loading capacity around the world! The moment you reach the mountain top by life within two minutes, you will be shocked by the panoramic view under your foot!
Recommended itinerary of Zhangjiajie tours in spring:

1st day: Zhangjiajie National Forest Park, Huangshi Village, and Jinbian Brook Scenic Area

2nd day: Yuanjiajie Scenic Area, Tianzi Mountain, and Ten-mile Gallery

3rd day: Tianmen Mountains Forest Park, and Fenghuang Ancient Town

4th day: Fenghuang Ancient Town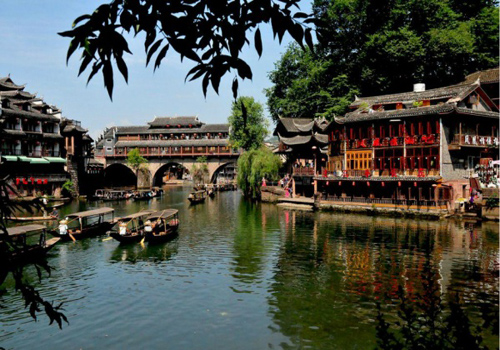 Tips for Zhangjiajie tours:

1. As climate always changes in springtime, it is suggested that you should bring enough clothes with you, down-filled coat in particular, shoes that are skidproof and can keep you warm, and raincoats or umbrellas in case of rain. When descending mountains, you'd better not face the wind; otherwise, you are likely to catch a cold.

2. In summer, you are advised to use a high-quality sunscreen of SPF 40, wear sunglasses and sunhats, and bring mosquito repellent sprays, paper handkerchiefs and disinfecting wet tissues. You can also prepare at least three pieces of underwear and three changes of socks so as to change them if necessary.

3. When you are in Xiangxi Tujia and Miao Minorities Autonomous Region, respect the locals' living habits and customs. Do in Rome as Rome does.

4. In Zhangjiajie National Forest Park, you are advised not to smoke, or you can smoke in the smoking room of the park. Do your bit towards protecting the eco-environment there.



---Gaea (VisitOurChina)
Comment