Jinbian Brook Scenic Area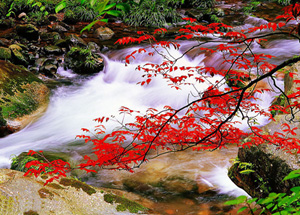 More Photos

Name in Chinese: 金鞭溪 (jin bian xi)
Location: Jinbian Brook is one of the scenic spot in Zhangjiajie National Forest Park located in Wulingyuan District, Zhangjiajie City, Hunan Province.
Entrance fee: CNY248 (expires after two days: includes main gate entrance of Zhangjiajie National Forest Park, eco friendly car, and insurance; but does not include the cable car, ladder ride, or small train.)
Opening time: 07:30-18:00
Best time to visit: in spring and summer, if you get the chance you should go after it rains, the water will be higher, and all the sights will be especially beautiful.
Recommended time for visit: 2-3 hours
How to get there: Buses to Zhangjiajie National Forest Park are available at the coach station near the railway station. The buses depart approximately every 10 minutes and it takes about 40 minutes (32 km) to reach the park. The bus ticket is CNY10 normally and is probable to rise up at festivals, holidays and peak season of tourism.
Brief introduction of Jinbian Brook Scenic Area- the prettiest section of Wulingyuan Scenic Area
Jinbian Brook Scenic Area of Zhangjiajia is named for its main mountain, which resembles in some way an ancient Chinese weapon, the Bian (鞭子) also known in English as a whip. Now for many people seeing a whip in this mountain might be a little hard. It's said that the first emperor of the Qin Dynasty (221B.C.-206B.C.) used his whip to control the mountains. However one day because he got drunk, and was careless the whip turned into the peak that we see today. Behind the golden whip mountain is a mountain which resembles a Buddha sent to protect the giant whip, and nearby there are a bunch of other mountains which resemble other things, such as the lantern mountain which hangs over the mountains, this mountain is named for its appearance of cutting into the mountain, and for reminding people of the old Chinese tail "Cutting into the mountain to save mom". There's also the Sun Gate reflection, Violet Grass Pool, the Pool of Jumping Fishes, Star Rock, Double Turtle Creek, Zhang Liang Tomb, The Meet of a Thousand Miles, Welcome Rock, Drunk Lohan, The Three-Nan Boulders, Water Rapping Around Four Doors, The Scholar and His Books, and Camel Peak.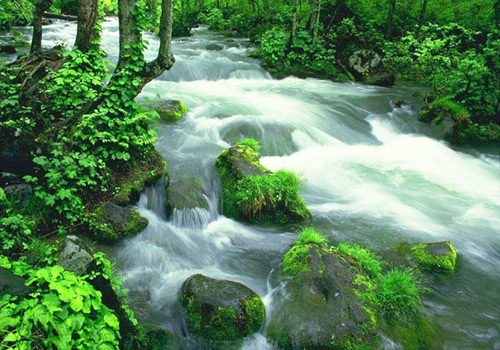 Jinbian brook scenic area is a protected natural park, which means the water and air are both clean, clear and won't hurt you in general. So if you've been traveling around to some of the bigger cities and feel like you haven't had some nice clean air, or haven't seen some clear water in a bit than come on down and enjoy some nature. While you're in the park, you can enjoy a number of things while enjoying all the beautiful sights, such as river trips, rafting, hiking, climbing mountains and so on. This area is home to a vast amount of wildlife and 3000 some on types of plant life. So bring your camera, and get ready to have your mind blown by the all the 239 peaks, wildlife, and plant life that this place has to offer.
Attractions in Golden Whip Stream
- Cutting Into the Mountain to Save Mom (劈山救母)
This hill formation was created by years upon years of water erosion. After the erosion of the mountain what stood was a mountain that in front was fused up until the top half where it seems it to be split equally in half. It resembles an ax ark in the mountain. This goes along with the legend that a man to save his mom split the mountain in half with an ax. It is a beautiful mountain and is worth a stop and a few pictures.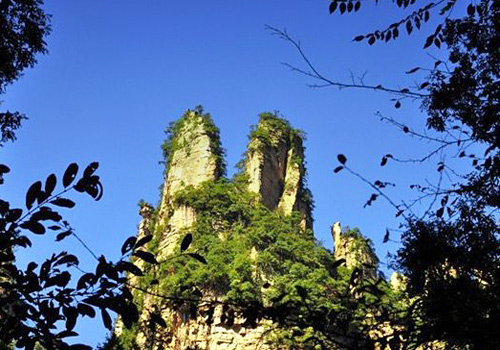 - The Scholar and His Books (秀才藏书)
The scholar and his books is another hill formation that resembles a scholar and his books. Who would of thought. It's a tall slender hill that looks like a scholar, and if you look closely the valley looks like a bunch of books. If you look close enough it looks as though he could just grab a chunk of the valley sit down on a near down pool and just study.
- Jumping Fish Pool (跳鱼潭)
Is a pool that is one of the two eyes (two pools) of the area, it's a hole in the base rock that was formed from a constant flow of water. It then became a common breeding ground for fish, so the pool like its name often has fish jumping about.
- Star Rock (文星岩)
Star Rock is a hill formation that is in the stream of Golden Whip Mountain. It's said that the hill resembles one of China's great modern literary giants, and a great thinker, Lu Xun (1881-1936), so because of this it's called Star Rock, you know because he's a star.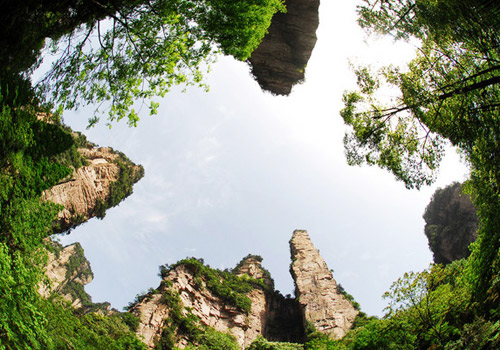 - Double Turtle Creek (双龟探溪)
If you go half way down the creek you'll run into a peak that has two stones stacked together on top of it. If you look close enough they look like two turtles, it's said that they were sent from the eastern part of China to look after the Golden Whip, but with time the water level dropped and the stone that they settled on kept getting higher and higher, until it was to high for them to climb down, and after being stranded thousands of years they turned to stone.
- The Tomb of Zhang Liang (张良, 250B.C.-186B.C.)
Located near the "Water Rapping Four Doors" scenic area is another popular and historical site: The Tomb of Zhang Liang. It is said that Zhang Liang was on the lamb from the government at the time and escaped to this beautiful place, that eventually also became the place of his death. Not a bad place to die, beautiful landscape, clean air, mountains, fish, and water.
- The Meeting of a Thousand Miles (千里相会)
Following a river that passes lakes, and passes other mountains there are two peaks, it is said that these two peaks represent a husband and his wife that finally met after being away from each other for a long time. The husband is the taller mountain, his arm is around his wife, the mountain next to him, comforting her, the two are said to hold a silent, and true sense of love, and tenderness between them, it looks as though they are holding each other tight and whispering like that of a husband and wife reuniting after being away for so long.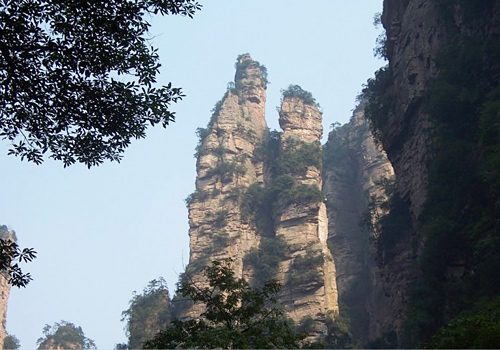 - Welcome Rock (迎宾岩)
There is a rock in the park that resembles a giant with his hands on his chest laughing, next to him is The Door rock, with them next to each other it looks like the door is open, and the giant is welcoming you. That's right you come to this park and you greeted by a giant rock guy.
- Drunk Lohan (Drunk Arhat, 醉罗汉)
Across from the Golden Whip Mountain is a red 200 meter tall mountain that is angled at 70 degrees, which slightly resembles a drunk that looks like he should fall but just won't.
- The Three Nan Boulders (三楠抱石)
The Three Nan Boulders are three boulders that jet out of the water, they're about 5 meters tall, some covered in plants, some not. They are extremely beautiful and should have pictures taken of them, think of them as the pretty triplets of the creek.
- Water Rapping Around Four Doors (水绕四门)
Do to the wild topography of this area, the rivers do not go straight, they twist, and rap around the mountains, in one area four of these corners are referred to as "doors", and because the water raps around them this area is called "Water Rapping Around Four Corners."
- Camel Peak (骆驼峰)
If you go downstream from The Golden Whip Mountain you'll see three peaks that stand very tall, this is Camel's Peak. The first mountain is the camels head standing erect, and behind it is his two humps. There is a pavilion in this area that guest can climb up to.
Quick Questions
Our team is waiting for your questions. Please feel free to ask us any questions you might have about our China package tours, Chinese culture, or the sites available. We will gladly help you with any special needs you might have and all questions, like our trip designing is completely free of charge.