Zhangjiajie National Forest Park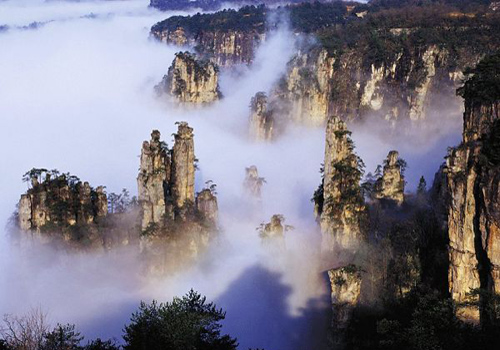 More Photos

Chinese name: 张家界国家森林公园 (Zhangjiajie Guojia Senlin Gongyuan).
Location: in Wulingyuan District, Zhangjiajie City, Hunan Province.
Highest peak: Doupeng Mountain (1890 meters).
Ticket: CNY248 (including insurance expense CNY3 and car fare at the park). A ticket is valid for two days and travelers with valid tickets can pay unlimited visits to the park within valid days.
Opening time: 07:30-18:00.
How to get there: Buses to Zhangjiajie National Forest Park are available at the coach station near the railway station. The buses depart approximately every 10 minutes and it takes about 40 minutes (32 km) to reach the park. The bus ticket is CNY10 normally and is probable to rise up at festivals, holidays and peak season of tourism.
Travel tip: Service of carrying baggage (normally CNY10/bag) up to the mountain is provided by the local at the park.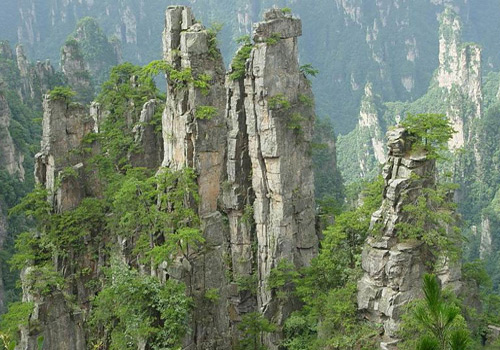 Introduction to Zhangjiajie National Forest Park
Covering some 130 square km, Zhangjiajie National Forest Park wins its fame for being the first national forest park of China and being the highlight of the gorgeous Wulingyuan Scenic Area. The park was originally a state-run tree farm, which was founded in 1958, and then was officially approved to be a national-level forest park in 1982. Featuring the vast forest of peculiar sandstone peaks, the park was added to the World Natural Heritage list in December of 1992 and became a member of the first World Geoparks promulgated by the UNESCO in 2004.
The serried forest of peaks at Zhangjiajie National Forest Park is a rare landform forming under the conditions of specific geographical structure, specific neotectonic movement and external force. There are more than 3000 peaks rising straight from the ground at the park and over 1000 of them are more than 200 meters high. The 350-meter-high Jinbian (Gold Whip) Peak is one of the representative one among all. It meets the Jinbian Stream, the core and highlight part of the park, and is associated to Emperor Qinshihuang (259B.C.-210B.C.). Legend goes that the emperor got drunk by the stream and incautiously dropped his gold whip, which turned to be a towering peak magically.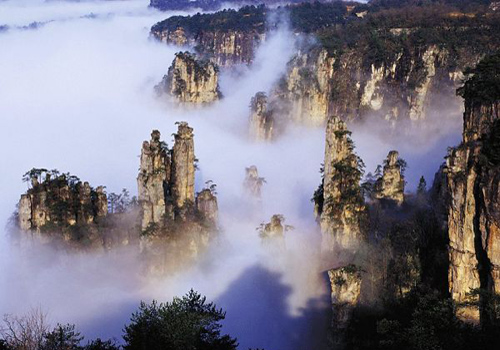 Located in Middle Subtropical Zone, Zhangjiajie National Forest Park is endowed with advanced condition for breeding dense forest and creating the unique "micro climate of forest" there – cool in summer and warm in winter. It is home to abundant flora and fauna including many rare ones, e.g. civet cats, giant salamanders, satyr tragopans, dove trees, maidenhair trees, Chinese yews, Chinese tulip trees. Its percentage of forest cover of about 98% also makes it a treasure-house of organisms and a huge natural oxygen bar. Being the settlement of local ethnic minority, the park is a museum displaying pristine ethnic culture as well.
With five scenic areas – Huangshizhai, Canyon of Jinbian Stream, Yaozizhai, Yuanjiajie, Yangjiajie – opened to tourists, Zhangjiajie National Forest Park has been hosting three million visitors annually in recent years. At present, six travel routes including 468 sightseeing spots have been developed at the park and the hotels ranking from two-star to four-star offer visitors more than 4000 beds. Also, shopping mall and entertainment center are available there.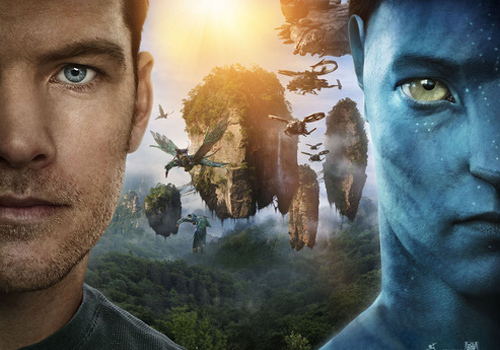 Zhangjiajie National Forest Park and Avatar
The book "The Art of Avatar" has written it that the hanging Hallelujah Mountain in the famous Hollywood movie "Avatar" is designed modeling the karst peaks in Guilin, the Yellow Mountain in Anhui and the Zhangjiajie scenic are. However, that James Cameron, director of Avatar, revealed on the premiere in Beijing that the prototype of the mountain is Yellow Mountain misgave some fans, who insist that it looks more like the peak of Nan Tian Yi Zhu in Zhangjiajie.
Quick Questions
Our team is waiting for your questions. Please feel free to ask us any questions you might have about our China package tours, Chinese culture, or the sites available. We will gladly help you with any special needs you might have and all questions, like our trip designing is completely free of charge.