Yellow Dragon Cavern

More Photos

Chinese name: 黄龙洞 (Huang Long Dong)
Location: Zhangqing Road, Wulingyuan District, Zhangjiajie City, Hunan Province.
Opening Time: 07:00-17:00
Ticket: CNY 100
How to get there: Take Bus No.3 at Wulingyuan Bus Station or the Wulingyuan Scenic Area and debus at Yellow Dragon Cavern, then a 15 min walk will get there.
Best time for a visit: spring, summer and autumn

Yellow Dragon Cavern, the underground pearl
The Yellow Dragon Cavern is a famous scenic spot in Wulingyuan Scenic Area. It is known to the world as ''a wonder of cave on earth'', ''the all-round champion among all caves'' and ''the most beautiful cave in China''. The explored area takes up 24.7 acres. It is a typical limestone cave. The whole cave has four layers, showing us that ''caves in caves, mountains in caves, caves in mountains and rivers in caves''. Geologists from home and abroad unanimously agree that the Yellow Dragon Cavern involves all the knowledge mentioned in speleology with its large scale, diversified landscape and unrivalled beauty. It is unparalleled in the world in terms of cave space, landscape and sightseeing route. It was born as a natural conditioner. Discovered by eight local young men in 1983, the Yellow Dragon Cave was officially open to the public in October 1, 1984. Since its opening, it has encountered with 10 million tourists from near and far.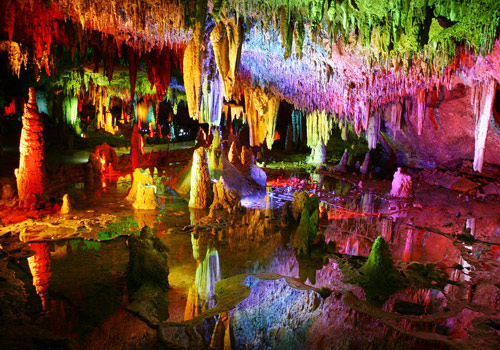 There are one reservoir, two rivers, three ponds, four stone falls, thirteen halls, ninety eight corridors, dozens of hills, thousands of white jade ponds and ten thousand stalagmites inside the Yellow Dragon Cave. It is full of wonders, such as stalagmites, stalactites, columns, cave flowers, stone curtains, cave pearls, cave corals, etc, just like an amazing underground maze. The Yellow Dragon Cavern has five sightseeing spots: Dragon's Palace, Fairy Wate, Rattle River, Paradise Pillar Street and Dragon Dance Hall. There are more than 100 attractions, including Mythical Needles Stabilizing the Sea, Snow Pine, King's Throne, Lift-off of Rocket, Mountain of Flowers and Fruits (Hua Guo Shan), Fairy Waterfalls, Sea-Change, etc.

Formation of Yellow Dragon Cave
The surveyed Yellow Dragon Cave has a total length of 7.5 kilometers and a depth of 140 meters. According to a survey conducted by experts, the region where Yellow Dragon Cave is located was a vast of ocean with limestone and dolomite layers on bottom million years ago. It was not until 65 million years ago the crust uplift gave birth to vadose cave, which finally turned to Yellow Dragon Cave by the force of dissolving rock and running water. No wonder it is the all-round champion among all caves in the world.

More about Yellow Dragon Cave:
Gathering Hall (Dragon Dance Hall)
Entering into the cave, the first place is the first hall - Gathering Hall, which is the smallest hall among 13 halls in Yellow Dragon Cave. It takes up 6000 kilometers. There you will find a Dance Stage where stand stalagmites. Legend has it that Dragon King holds a grand dancing party there every year.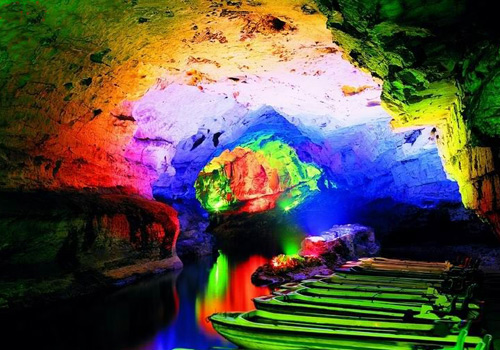 Rattle River
Rafting on the Rattle River is a great experience. It stretches 2820 meters on the second layer. It is 6 meter in mean depth. It provides the ideal living environment for giant salamander, the national country-level key protected animal. Sitting on the boat, you may feel like back in ancient time. Along the Rattle River, landscapes such as seashell in the Air, Dragon-hidden Gorge, and Fairy Bridge are worth seeing.

Fairy Palace and Fairy Water
The Fairy Palace is the widest hall in Yellow Dragon Cave. It measure 96 meters long from north to south and 105 meters long from west to east. On the right, a large group of stone falls fall with a drop of 40 meters, being the largest group of waterfalls in limestone caves in China. It is called ''flowstone'' in speleology, actually the deposition of calcium carbonate formed by running water. It looks yellow with much mud, hence the name ''Yellow Soil Slope''. Where the water comes from? Above the cave is a mountain where streams seep water into the cave.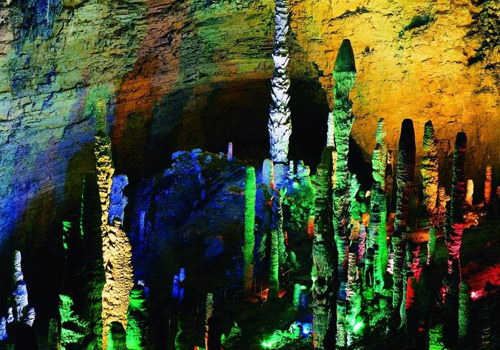 Dragon's Palace
It is located on the forth layer, and is 16-30 meters taller than the third layer. The Dragon's Palace is the biggest and oldest hall in the cave. With a floor space of 1, 4000 square meters, and a height of 40 meters on average, the Dragon's palace is magnificent with 1705 stalactites and columns, which are densely distributed. Some look like persons in different postures; some are like animals; some like towering cedars; some look like lift-off rockets. Sancerre, the advisor of World Natural Relic Commission, once comment on the Dragon's Palace in the following words after his personal caving ''This is the place with most stalactites and most vivid postures among all the caves I've seen...Yellow Dragon Cave deserves the title of ''a wonder of cave in the world'', it couldn't be more fantastic.'' The most famous attractions in Dragon's Palace are the King's Throne, Ten Thousand Years Old Snow Pine and See-suppressing Needle. See-suppressing Needle is the tallest stalagmite in Yellow Dragon Cave. King's Throne is the biggest stalagmite in the cave. It is 12 meters tall and 50 meters round. The Ten Thousand Years Old Snow Pine has been proved by scientists to be ten thousand years old.

Paradise Pillar Street
Paradise Pillar Street is located on the third layer. It is the ''street in heaven'' with Mountain of Fruits and Flowers. Here you will see many stone columns. It is worth mentioning that there are two hollows stone pillars which can be used as natural instruments.

Legend about Yellow Dragon Cave
The water in the cave is called ''Yellow Dragon Spring''. It runs tirelessly, tastes sweet and leaves us many beautiful and sad stories. According to legends, a long time ago, a drought lasted one hundred years in the region. A master called He Junru came to the cave to ask for rain at the request of local citizens. The Dragon King spitted out drops of water, and instantly a rain fell outside the cave. But Master He was unaware and considered that the Dragon King was unwilling to save them, so he wielded the broadsword towards the Dragon King, who was so outraged that spitted out of waterfall. At a moment the cave and outside were flooded. After Master He escaped from the cave, he found he was injured and his broadsword had been left in the cave, more importantly, the village had been destroyed and people were washed away here and there. Out of regret for what he'd done, Mater He carved a saying on the cave ''Would rather thirsty to death, never offend the Yellow Dragon Spring''.
Quick Questions
Our team is waiting for your questions. Please feel free to ask us any questions you might have about our China package tours, Chinese culture, or the sites available. We will gladly help you with any special needs you might have and all questions, like our trip designing is completely free of charge.