Shibaozhai
ShibaoZhai
Originally built in late Ming Dynasty (1368-1644) on the northern bank of Yangtze River, 45 kilometers from Zhong County, Chongqing City, Shibaozhai, literally Stone Treasure Fortress, is now a 4A tourist attraction and a national protected culture relic site. Renowned for its unique shape and related fancy legends, Shibaozhai is an architecture wonder existing as the largest column and tie wooden construction with most storeys in China, which is also listed in the Eight Strange Structures of the World.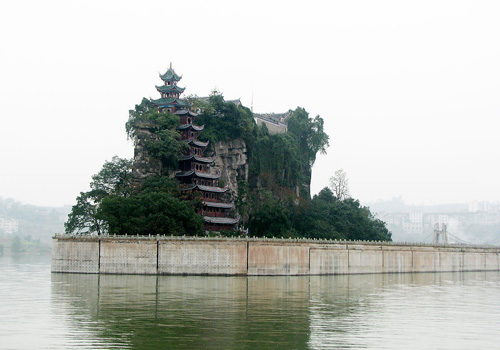 Legend goes that this isolated huge stone standing over 30 meters high by the Yangtze River was a missing colorful stone when Nv Wa mended the sky, hence the name Shibao (stone treasure) Hill. Late in Ming Dynasty, when the peasant uprising team leaded by Tan Hong come here, they occupied the hill and had a fortress build, named Shibao Fortress.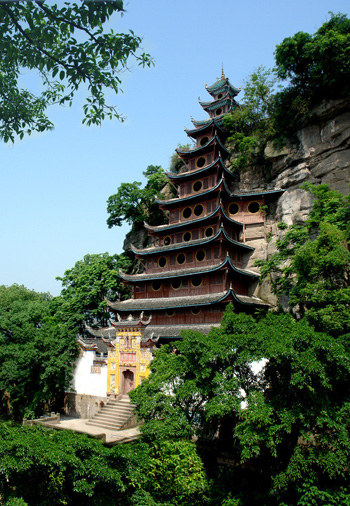 The spectacular 12-storey wooden Shibao Pagoda, which was built leaning the hill with overhanging eaves and standing 56 meters high, is consisting of gate, body and the top pavilion. It was originally a 9-storey building symbolizing nine tiers of the sky (in Taoism); while the three-storey top pavilion was added in 1956 when the pagoda was repaired. The pagoda gate is a masonry structure higher than 6 meters, on its both sides are exquisite vivid basso-relievo.The pagoda houses three sculpture groups; on its top is an ancient temple Lanruo Hall and at its foot is a Shibao Street. Inside the pagoda on the cliff are find inscriptions and there is also a cultural relics exhibition hall for visit.
Since its opening to visitors in 1979, Shibao Pagoda became famous and gained the titles "a pearl on Yangtze River" and "little Penglai" (Penglai means a fabled abode of immortals in Chinese). Ascend to the top of the pagoda, a superb commanding view of the surging Ynagtze River is attainable.
;