Yangtze Gold Cruises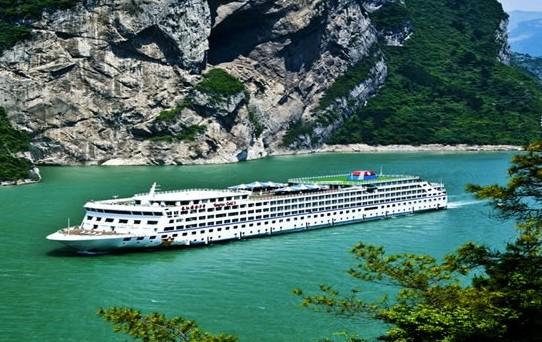 In March 2010, Chongqing Yangtze Gold Cruises Co., Ltd was officially established, as a subsidiary company of Chongqing Tourism Investment Group. It carries out the investment, construction, operation and management of Yangtze cruise. The company is devoted to developing the high-class cruise market of Yangtze Three Gorges Tourism, beginning with the development of 10 "Yangtze gold" series luxury cruise ships.

Yangtze Gold Cruise is the largest company of super 5 star luxury cruise ships for the world's inland rivers. They sail from Chongqing to Yichang, Wuhan, Nanjing and Shanghai. The ships are 19-32 meters wide, and 136-154 meters long; they have gross tonnage of 14-23 thousand and total area of 15-23 thousand square meters; and are designed to carry 350-700 passengers. All ships are equipped with a variety of facilities for entertainment, recreation, business conferences, shopping and food services. As a palace on the river and the best place to enjoy the beautiful moving pictures along the banks, each ship is the first choice for holidaymakers and businessmen. The first one, the "M.S. Yangtze Gold 1 ", launched on May 28, 2011, will be the milestone of Chinese inland river luxurious cruises, setting a new standard for the world river traveling. By the end of 2013, 10 cruise ships will come out, which will be the largest cruise ship fleet on the inland river of china.

Yangtze Gold Cruises is the newest and best cruise line sailing the Yangtze River. Featuring the most luxurious and technologically advanced river cruises in the world. Marvelously built with 21st century standards and technology. The ships have viewing decks over 40 thousand square feet, ocean wave simulating swimming pool, cigar bar, panoramic river viewing bar, fitness room, spa (both western and Chinese), and large cabins each with its own private balconies for viewing and tranquility.