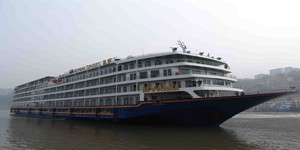 Victoria Cruises
Victoria Cruises is the only American cruise line currently sailing China's Yangtze River. Based in New York, Victoria Cruises established new standards of excellence for sailing China's Yangtze River when its first ship edged out of port in 1994. Victoria Cruises has a fleet of seven Five–Star Ultra–Luxury vessels. Their ships are all newly built or structurally rebuilt, and all refurbished with a modern blend of European–Asian design. The architecture emphasizes spacious rooms with modern amenities including private balconies, bathtubs, and cable TV. All ships are fully equipped with wi–fi and international telecommunications systems.

Victoria Cruises' fleet are named the Victoria Grace, Victoria Lianna, Victoria Selina, Victoria Anna, Victoria Katarina, Victoria Sophia, and Victoria Jenna. Victoria's vessels range in size from 200 to 400 passengers and are built to international maritime regulation standards. Onboard entertainment includes activities geared towards showcasing the culture of China and its spellbinding Yangtze River. Among the daytime pleasures: informative lectures, painting demonstrations, acupuncture demonstrations, Tai Chi as well as lessons in the Mandarin language, calligraphy, mah jong and the making of silk kites. In the evening in the elegant Yangtze Club, guests can delight in colorful cultural presentations, traditional fashion shows and the sounds of authentic Chinese music.

Victoria's ships are refurbished every year, and its management is always seeking to innovate. Victoria's Executive Deck Program has been hailed as a major success by tour operators with whom Victoria Cruises partners to provide the Yangtze River cruise segment for packaged China vacations, particularly those catering to upscale passengers. The program features "white glove" service, enhanced ship placement, access to the exclusive Executive Lounge, complimentary beverages, exclusive shore excursions for groups of six or more, enhanced dining privileges, exclusive happy hour, and complimentary internet access.

Victoria Cruises is an allied member of the American Society of Travel Agents (ASTA), an associate member of the United States Tour Operators Association (USTOA), and a member of the New York Chapter of the Pacific Asia Travel Association (PATA).

Victoria Cruises proudly features the following services and amenities:
- The only American cruise line on the Yangtze River
- International multi-lingual cruise directors
- All cabins are outside
- All cabins have private balconies and bathrooms with bathtub and shower
- Luxurious suite accommodations feature a private sitting area
- All ships are fully air conditioned
- Fabulous breakfast, lunch and dinner buffets served in a single seating, and alternate dining arrangements available in our a la carte dining room
- Captain's farewell banquet
- Facilities include a business center, reading room, fitness area, gift shop, and beauty salon
- Onboard activities feature lectures on Chinese history and culture, Tai Chi lessons, and calligraphy demonstrations
- Narrative by knowledgeable river guides while sailing through the Three Gorges
- Departures year round
- Latest satellite communications, HBO, CNN, and internet access on every ship
Search Cruise Ships
About Yangtze River Cruise
Yangtze River Cruise Travel
Jan.
Feb.
Mar.
Apr.
May.
Jun.
Jul.
Aug.
Sep.
Oct.
Nov.