East Lake Park

More Photos

Name in Chinese: 东湖风景区 (dong hu feng jing qu)
Location: No.1 East Lake Road, Hongshan District, Wuhan City, Hubei Province.
Entrance fee:
- 60RMB for Mo Hill ,
- free for Tingtao scenic area;
- 10RMB for Luoyan scenic area;
- 20RMB for World of Birds;
- 10RMB for Ma'anshan Hill in Chuidi scenic area;
- 15RMB for one-way cable car and 25RMB for round-trip cable car.
Opening time: 07:30-19:00
Best time to go: March-October
How to get there: you can ride the buses No.14, 36, 401, 402, 411, 413, 515, 605, 701, 712, 578, 573, 537, 643, No.1 or 8 electric bus.
Recommended amount of time for visit: 2 hours
Brief introduction to East lake- a slice of heaven in the city of Wuhan
Much like New York's central park, Wuhan East Lake is located within the city itself. Wuhan East Lake is China's largest in city park, all in all the lake encompasses 73 km of land and the lake itself takes 33 km of that 73. It was built in 1950 and by 1982 was named China's civilized tourist area, and again in 1999, and by 2000 it became a 4A tourist attraction. I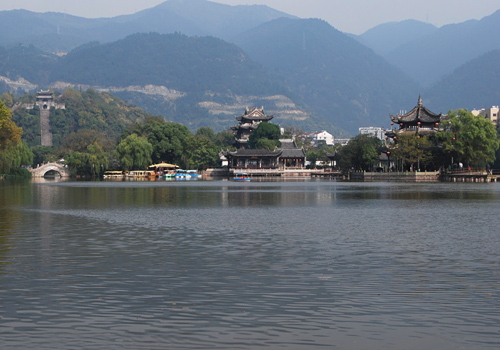 Famous as the second residence for Chairman Mao after the founding of the People's Republic of China, East Lake is 6 times larger than West Lake of Hangzhou in relation to water area. With some 26 universities in the vicinity of the lake, it is a cultural hub for both modern higher education and the traditional Chu culture (a famous ancient culture of Chu Kingdom thrived in the middle reaches of Yangtze River during Eastern Zhou Dynasty, 770-256B.C.). Embracing the largest cherry flower park of China and the largest plum flower garden of south region Yangtze River, East Lake is also sanctuary away from the city for locals and travelers alike.
The park has many tourist attractions, and the popular scenic areas include Mo Hill, Tingtao, Luoyan and Chuidi.
Tingtao Scenic Area (Listening-to-waves Scenic Area, 听涛景区)
As the major scenic area of East Lake and originally a private garden of a entrepreneur, the Tingtao area is an island of fun, on the island there are many things to do such as the skating rink, open air theatre, many towers to take photos of, many of these towers are surrounded by pine trees, and water. The scenery on this island is one of a kind, and can only be found in this park.
Mo Hill Scenic Area (磨山景区)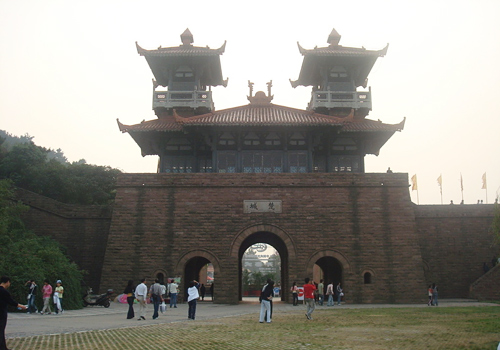 Mo Hill, or Mill Stone Mountain, is one of China's main tourist areas and is the park's famous area consisting of Chu Culture (with Chu flavored architecture) and 13 specific categorized plants gardens (including plum garden and cherry flower garden with the 78 cherry trees being most famous which were presented as a gift by Japanese former prime minister Tanaka Kakuei on memory of the 78th anniversary of Primer Zhou Enlai's birth). The mountain has 6 peaks to it, and is in a picturesque scenary, if you find yourself here you'll truly understand what it feels like to be in a painting. This one tourist spot attracts roughly 1 million tourists a year.
Luo Hong Area (珞洪区)
Luo Hong is another painting-like area, in this area there is the Chinese famous Wuhan University in the mountains, the area's forest like scenery and flowers attract guests from all over every year. Its flowers include cherry flowers, and osmanthus flowers along with a ray of others.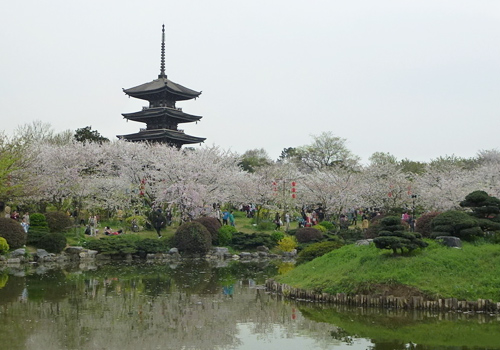 Luoyan Scenic Area (落雁景区, Wild Goose)
It is said that this area was where wars, and army's advances were enounced by the beating of the drum. This area is extremely rich in culture, and if you're interested in Chinese history should not be missed.
White Horse Area
This area got its name because of what happened here, in 208 during the Warring State Period (475-221B.C.) Lu Su was coming back from war when his horse fell into a hole and died, lu su was pinned under his horse and died there, thus the area is called white horse.
Horse Pond
Is Wuhan center and as Wuhan center is also the center of Hubei province, E Wang (King E of Chu Kingdom) a man who highly praised this place asked after he died to be buried in the northwest shore of East Lake.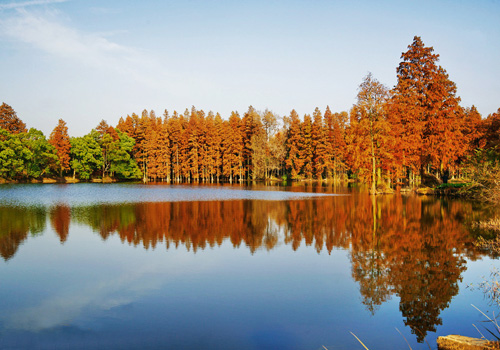 Wuhan East Lake has an immense amount of plant life in the park, and is one of the three biggest cherry blossom places on the world, depending on when you come you can see cherry blossoms. You can see orchids in the spring, lotus in the summer, osmanthus in the autumn, and plum blossoms in the winter, Wuhan has many other attractions to offer visitors, such as their botanical garden, and bird forest which boasts an outstanding 200 kinds of birds. There's also the rope way, slide way, boats, tandem bikes, and some playgrounds for kids. Regardless of your age, or what you would like to do, East Lake has something for you.
Quick Questions
Our team is waiting for your questions. Please feel free to ask us any questions you might have about our China package tours, Chinese culture, or the sites available. We will gladly help you with any special needs you might have and all questions, like our trip designing is completely free of charge.