Red Cliff

More Photos

I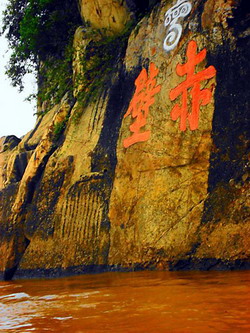 f you don't know the history of Chibi (Red Cliff), the place won't look much more than a village to you. But back in 208AD, Chibi was the site of a major battle. At the time, after unifying the north, Caocao lead massive navy forces down the Yangtze River to threaten Sunquan, Emperor of the South Wu State. Sunquan's advisers suggested surrender. But Zhuge Liang, the famous strategist, persuaded the emperor to join forces to resist the invasion. A spy known as Pangtong tricked Caocao into chaining all his fighting boats together to keep steady. Zhuge Liang used Taoist magic to hail the east wind and send a flotilla of burning hulks, disguised as surrendering ships, into the opposing forces. The fire destroyed Caocao's armada, reddening the cliffs. Caocao was totally defeated, abandoned his troops and drew back to the north with only a few hundred followers.
The battle is a classic tale of the underdog overcoming the odds. On Nanping Hill, f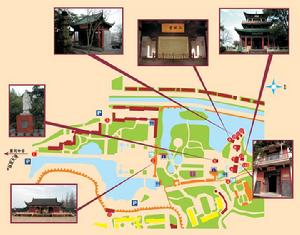 our statues commemorate the heroes of the incident. Wuhou Palace and Baifeng Terrace are good places to see more statues and weapons from the era.
Chibi is about 80 kilometres south west of Wuhan. The train from Wuhan to Chibi City (formerly Puqi) takes about 2.5 hours. There are minibuses from downtown to Chibi for about RMB7. The best accommodation can be found at Jinqiao Hotel (Tel:0715-5355888) at No.92, Hebei Dadao. Standard twins with attached bathroom are RMB186.

Quick Questions
Our team is waiting for your questions. Please feel free to ask us any questions you might have about our China package tours, Chinese culture, or the sites available. We will gladly help you with any special needs you might have and all questions, like our trip designing is completely free of charge.