VOC's Travel BLOG
Our Travel Blog is the place to share our real life, travel experiences in China with you. Besides, we will provide information related to Chinese culture and China travel guide. "A bosom friend afar brings a distant land near." Traveling makes us to be closer, let's discover China together!
Enjoy the Blossom to China During March!
2010-02-25 | China travel Guide | Comments(6) Views(1220)
Spring has come from March and everything revives in this season in China. Farewell to winter, it is time to enjoy the warm sunshine, mild wind and beautiful flower seas in China!
Plum Blossoms of South China
Plum Blossom blooms best in South China in early spring. And the best places for appreciating this flower are
Suzhou
and
Hangzhou
. There are many routes for plum blossoms enjoying: Xixi Wetland Park of Hangzhou, Xiangxue Plum Blossom and Plum Blooms Sea in Linwu of Suzhou...
There are four places for plum blossoms enjoying: Chaoshan of Yuhang, Gushan Mountain, Lingfeng of Yuquan and Xixi Wetland Park. It is said that the plum blossom of Xiangxuehai has six petals and is especially beautiful. When enjoying plum blossoms of Linwu, you can taste the true Suzhou flavor with small bridges and flowing streams.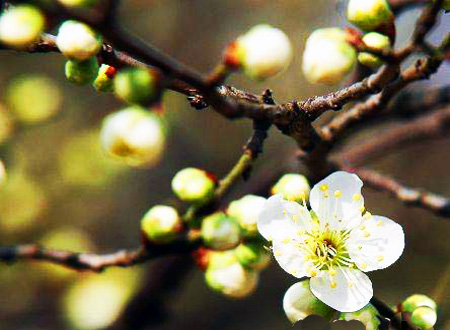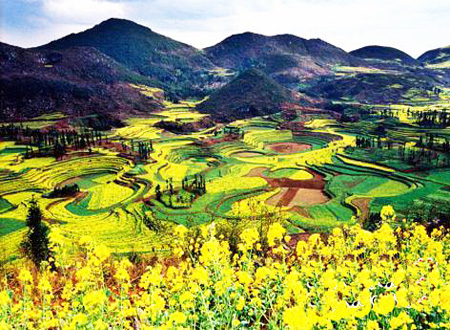 Yellow Rape Flowers Bloom Everywhere
Talking about rape flowers, Luoping of Yunnan can not be ignored. And the yellow rape flowers bloom everywhere in February, making up a large-scale yellow sea. It is also the time when the rape flowers bloom in Wuyuan, Jiangxi. The rape flower in Wuyuan has its lingering charm: surrounded by mountains, the rape flowers and Huizhou dwellings compose a wonderful picture. In addition, Longji Terraced Feild in
Longsheng County
of
Guilin
has started to plant rape flowers already. When the rape flowers boom, it is yellow all around the field, truly amazing!
Blooming Peach Blooms in Spring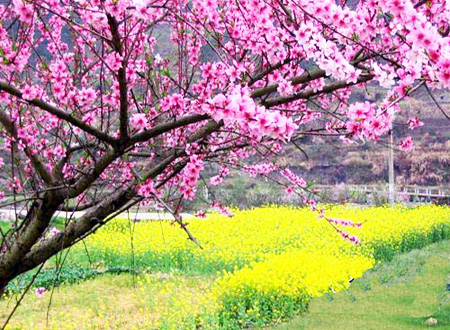 Tao Yuanming, a famous poet of Dong Jin Dynasty has given as a detailed description of a perfect peach blooms land so the peach blooms land has become a good choice of appreciating peach blooms. There are over 30 types of peach blooms in Taoyuan County of Hunan Province. Peach Blooms Festival is held here on March 28th every year.
Longquanyi District of
Chengdu
, Sichuan Province is also a good place where over 1400-mu peach bloom forest is distributed. When spring comes, the peach blooms here are splendid and constitute an excellent picture with delicate farmhouses, green vegetables and yellow rape flowers, attracting endless blooms enjoyers.
Brilliant Sakura
You can appreciate beautiful sakura in China as well. The sakura in
Wuhan
University is about 80 years old already. Another ideal for enjoying sakura is
Guangzhou
Sunflower Garden where more than 6000 sakura in different colors are located: pink, yellow, bicolor…
Ice Flowers, Wild Flowers and Rape Flowers-Colorful Ermei Mountain
Arriving in
Ermei Mountain
, you must enter a colorful flower world: crystal ice flowers, bright red azaleas, golden rape flowers and pink peach blossoms…the ice flowers form on the golden top of the mountain, like your dream flying in the sky; the azaleas and winter jasmine are brilliant and beautiful, covering the whole mountain. Peach blossoms and rape flowers make the country beautiful as painting.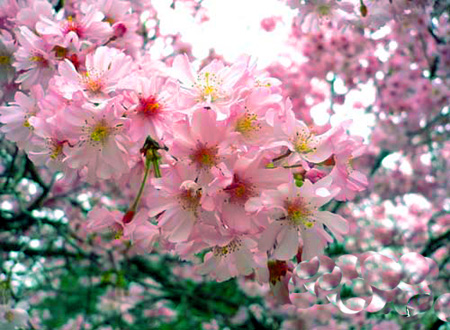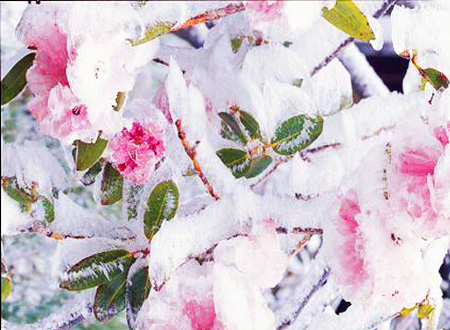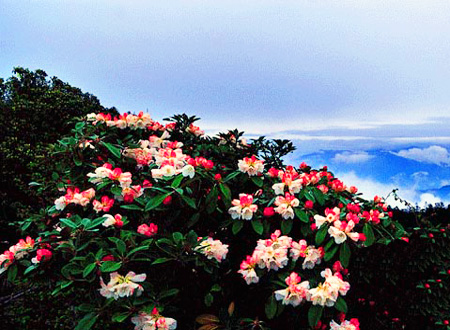 --- By Haphine (VisitOurChina)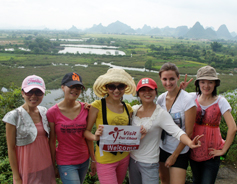 Calendar
Categories