Ten places in China that differe from the others
2013-09-06China travel Guide
No. 1 The Old Town of Shuhe – Sweet time beyond Lijiang City
Shuhe is known to local people as Longquan Village (Dragon Spring Village, 龙泉村) which is said to be the birthplace of the eminent Mu Family of Naxi minority ethnic group. Renowned as "Village of Leather", the Old Town of Shuhe has a prosperous market in the central square covering an area of 250 square meters which used to be fur and leather trading center in Lijiang and has many excellent artisans that good at fur and leather processing. Ancient shops stand around the square with dark red painted wood doors opened and old people sitting and chatting that shows leisurely characteristic of the old town. Observing carefully in the center of the square, visitors will find that Sifang Street in Lijiang Ancient Town is similar to this square.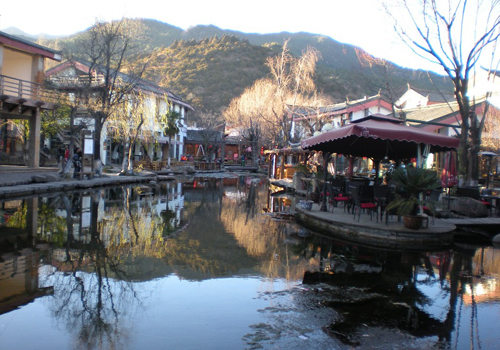 Walking northward along Shuhe Street for 100 meters, visitors will get to the fountain head of Jiudinglong Pool (九鼎龙潭) which is regarded as a holy spring by the local people. The Beiquan Temple (北泉寺, North Spring Temple) built near the pool is the same style as other temples in Lijiang. The Sansheng Temple (三圣宫, or Three Saints Temple) standing by the spring is a traditional Chinese quadrangle.
No. 2 Taohua Island of Zhejiang Province– Listen to the melody it starts but should be completed by you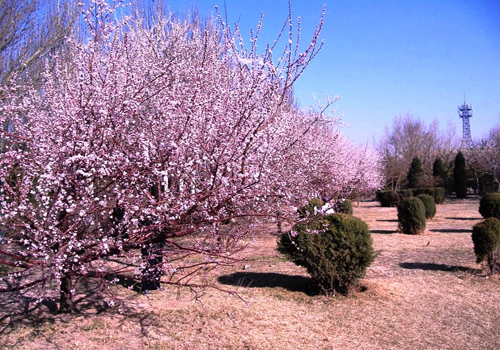 Taohua Island (Peach Blossom Island)... This name sounds like a dream full of expectations. Being the second place I visited in China, this is important for me to present it to you as I was literally speachless in front of its beauty. The "Peach Blossom Island", Tao Hua Dao (桃花岛) in Mandarin Chinese, is part of the Zhoushan (舟山) archipelago located in northeastern Zhejiang Province (浙江省). The island south of the biggest Zhoushan island one (Dinghai Island), just represents 42 squeare kilometers but is a marvel of botanical diversity, lush sceneries of natural rich flora and fauna.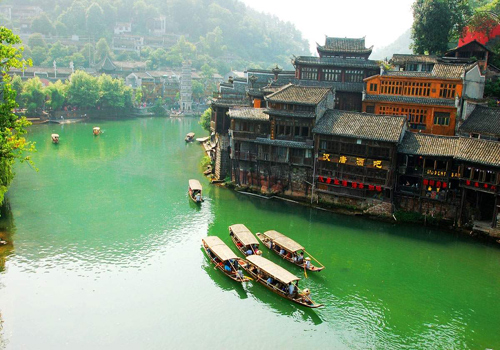 The ancient town of Fenghuang also means the Phoenix Town in China; it was described as the most beautiful town in China by the Zelanian writer Louis Aileen. The town is the only path between Huahua, Jishou (Hunan province) and Tongren (Guizhou province) and a must-visit place to enjoy the real amorous feelings of the west part of Hunan province.
The town is very small with only a main street; however, it is a green corridor and charming place. It is located on the river bank of Tuojiang River (Tuojiang, 沱江), the small town was once the rallying point for politicos, warlords, bandits, and the local Miao minority people, we should say it was once a standard "barbarian" land.
No. 4 The Old Town of Shuixi – Clan Culture Continues in Modern China
It is a common name in China's numerous villages, but its connotation always arouse people's imagination: to the west of the waters – what kind of sceneries will it present? It is located in the east of Guangzhou, and the most impressive thing about there is the people's leisure life. Hundreds years old lychee trees give them good harvest in barely no effort. Except for countless lychee trees, there are also many olive trees, red bayberry trees.
No. 5 The Ancient Town Potan in Zhejiang Province - Precious Records of Chinese Agricultural History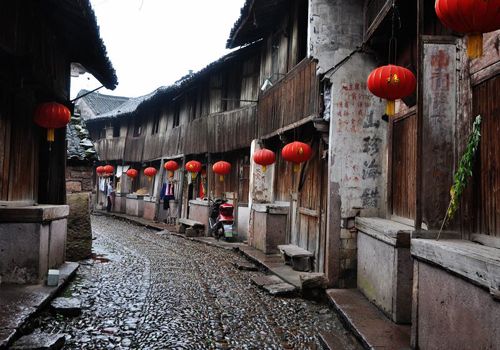 It is a typical ancient town that show Chinese southern agricultural culture, and also the precious records of Chinese agricultural history. After thousands years of cultural accumulation and vicissitudes, Potan still keeps its dragon shape ancient streets which was built out of cobblestones. The town used to be the central place that connected the east sea and the inland. But as the decline of the water transport, all its glories vanished and just left it with its spirit - the cultural foundation.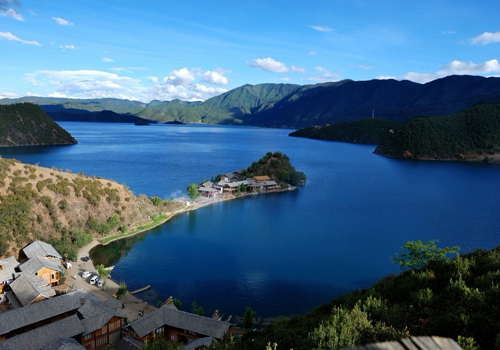 Lugu Lake is over 50 square kilometers, and it is of an elevation of 2690 meters and an average water depth of 45 meters. It is the highest lake of Yunnan province and one of the deepest freshwater lakes in China.
The lake includes 5 islands, 3 peninsulas and 1 seawall island, the Heiwawu Island, Liwubi Island and Lige Island are renewed as the "the three islands from the fabled abode of immortals", the three islands are also the most popular place worth to see at Lugu Lake.
There are about 1,300,0 people living along the bank of the lake, 45% of them are Mosuo minority people, other nationality are Yi, Han, Naxi, Tibetean, Bai, Zhuang and Pumi. Mosuo people is an ancient minority, it keeps the matriarchal society way of living, the people and minority is regarded as the 'living fossil of matriarchal society of human', unique and quite interesting.
No. 7 The Old Town of Xitang - where you can not tell which part is heaven, the town or the one in your heart?
Xitang Ancient Town is located on the northeast edge of Fujian Province next to Jiangsu Province and Shanghai. It is within 100km from Shanghai, Suzhou, and Hangzhou. Crisscrossed by rivers, the town presents what a typical water town is like in southeast China. In the town stone-paved lanes run between age-old dwelling houses of white walls and black tiles. Riverside corridors are connected into a totally one-thousand-meter long corridor that is covered with roofs that protect walkers from rain and sunshine. Long and serene alleys and roofed corridors create a charming and picturesque scenery that can not be found in other water towns.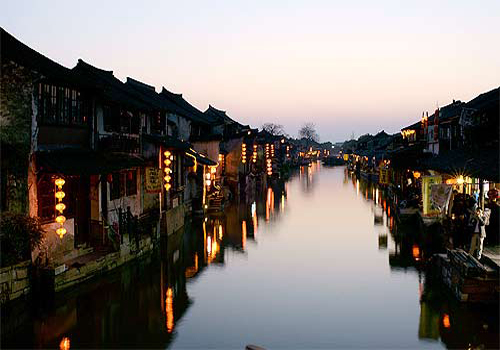 But Xitang Ancient Town' glamour goes far beyond natural beauty. It has long history, rich culture and gives birth to a number of talents, such as Yangmao, a Yuan Dynasty (1271-1368) master of arts and crafts, Gu Xidong, a famous playwright, etc. With a history of more than 1000 years, Xitang has entered the list of UNESCO's World Heritage Tentative Site. The trip to Xitang is also a cultural journey.
Xitang is also famous for its numerous bridges, alleys and roofed corridors. With simple folk custom, melodious paddling sounds, and unique cultural trait, Xitang draws tourists and photographers from all over the world. It is one of six famous water towns (Zhouzhuang, Tongli, Luzhi, Xitang, Wuzhen, and Nanxun) in Lower Yangtze River Region.
No. 8 Huaxi (means flower stream)Scenic Spot - a place more beautiful than its name
Huaxi (Flower Stream) Park is the centerpiece of Huaxi Scenic Spot, which is hailed as "a pearl inlaid in plateau". Blessed with green mountains, limpid water, ample foliage, Flower Stream Park is great place for excursion. Early in Qing Dynasty, a local governmental official began to construct pavilions and cultivate flowers and trees over there. Flower Stream, the "First Love River of China" winds through the park and clearly reflects the beautiful surroundings. Chenyi, a marshal of Chinese Community Party, was once inspired to write an excellent verse to highly praise the beauty of Huaxi Park: Fine mountains and water are everywhere here; the layout of Huaxi is even more natural. Ten miles course of river is as clear as mirror; flower beds and farmlands are only steps away.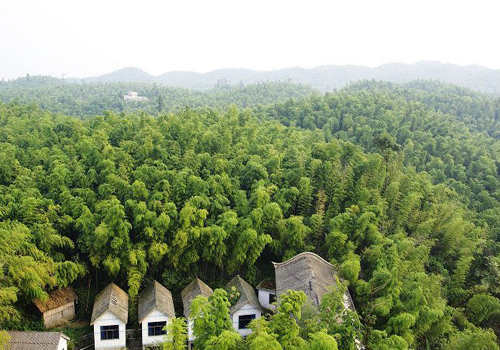 Bamboo Sea in southern Sichuan (Chinese:蜀南竹海) is located in a southern city of Yibin. Covering an area of 120 square km, there are totally 10 scenic areas including 134 scenic sites in the attraction. With a vegetation rate of 87 percent, the Bamboo Sea is just a natural oxygen bar within the most anions in China. About 58 species of bamboo can be found here making an emerald green forest with mountains, caves, lakes and waterfalls, attracting visitors and nearby residents everyday especially in summer. The attraction is also the location for the famed film Crouching Tiger, Hidden Dragon (Chinese:卧虎藏龙).
No. 10 Lake Nam Co - Swim in a 4718 - meter - high place!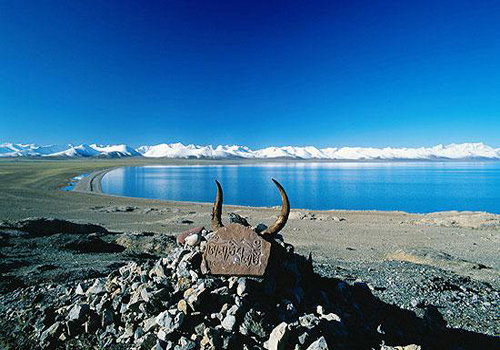 Nam Co means 'Lake in heaven' in
Tibet
Language. It is about 240 kilometers far from Lhasa. With 4718 meters' elevation and a length of 70 kilometers, a width of 30 kilometers, it is the biggest salt water lake in Tibet, and the lake in highest elevation of China. In the south of the lake, stands grand Mount Nianqingtangla, and in the north and west, lies magnificent highland hill. Broad lake shore and fertile grassland breed the people and culture.
Comment