Eating like a local in Guilin
2013-09-13China Food
Beyond the green mountains and clear waters,
Guilin
is all about food. I'v been living in Guilin since my birth and the more I'm here, the more I fall in love with Guilin. Growing up in this small but lively city, I was used to being surrounded by rich and spicy flavors and fed with a constant stream of Guilin Noodles, rice, and Li River fishes. Although Guilin Rice Noodles has been widely spread to everywhere of the country, only in Guilin that you can get the absolute taste.
It's easy to get caught up in those big name celebrity chef restaurants of Guilin. It's easy as a foreign tourist to get lost in the thousands of food and entertainment choices in Guilin. Today, I want to share some known but not-so-well-known restaurants to eat and drink in the Guilin downtown,
Yangshuo
, and the
Dragon's Backbone Rice Terraces
.
1. Downtown area of Guilin.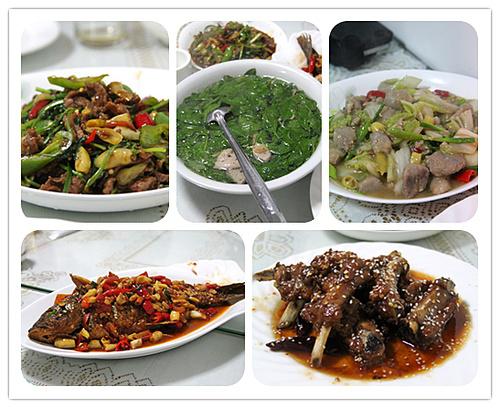 Xiucheng Restaurant

Xiucheng Restaurant - It is about ten years older than me, which means that it has been there for over 30 years. If you wanna know what Guilin tastes like, go and eat there. Some dishes like Spicy Fish in Doe Bon Sauce with Garlic seasonal, Sesame pork ribs, Taros, Braised Toufu in Home Style, they are real essences of Guilin cuisine and very cheap. The waiter there knows what you like and he will recommend dishes to you and you will definitely like them if you do not take the order in ten seconds. You gotta try this if come to Guilin. These years I went there several times annually with my friends.

Shiji Rice Noodles - Over 30 years good reputation (famous and tasty) will not let you down. The boss says that the recipe for the brine never changes, with more than a dozen ingredients braised 24 hours, so the taste maintains.

Chunji Roasted Goose - My favorite goose restaurant in the city. They make the best goose I've ever had - ones so crisp and tender and delicious that it's like taking a shower in the morning (maybe weird analogy).

2. Yangshuo

What to eat in Yangshuo? The most famous dish certainly is Beer Fish. You can find thousands of Beer Fish restaurants in the West Street. Surely, except Beer Fish, we still have other nice food and drinks for you.

Fuguilou (Treasure Island Fish Hot Pot Restaurant) - I recommend its Grouper Hotpot. It is a very popular restaurant in Yangshuo. I ensure you that you will love it. One of my friends Amy, came from Chicago, said it was fantastically delicious when she ate there.
Qing Wu Cong Cong (Don't hurry) Western Restaurant&Cocktail Bar - Operated by a Dutch couple. They came to Yangshuo for vacation but fell in love with it and wanted to stay there. So they opened the restaurant, not for money. You can have real western breakfast and coffee There.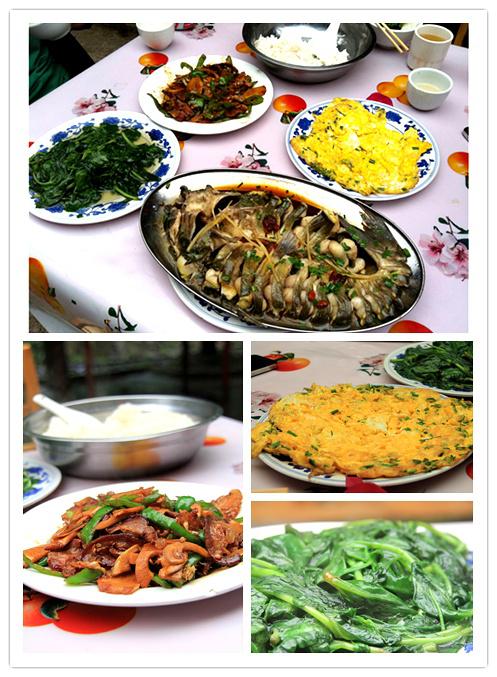 Li River Tuburenjia Leisure Villa
Li River Tuburenjia Leisure Villa
- Located in the halfway of
Li River
cruise path, this is another fancy drink place. Beautiful and quiet, it's a good place to go for fresh Li River fishes with friends or a date. It's not expensive, and the other dishes are good.
Molaoye Farmers Restaurant - Located in a bamboo forest nearby Li River. I has very nice environment. A good place to go if you do not want to eat in the county town. Ride a bike to look for real delicious food in the surrounding villages, you will like it. Recommended dishes: Domesticate chicken stewed in bamboo tube, Stewed pork with taros.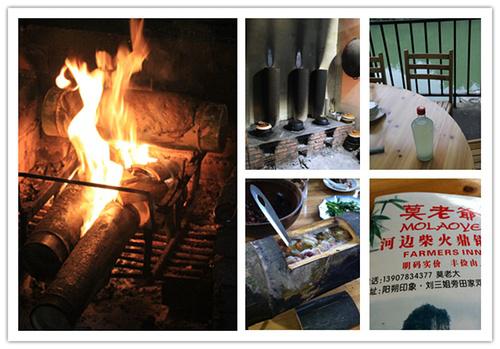 Molaoye Farmers Restaurant
Guanjiapo Farm
- Not far from the
Moon Hill
, this farm locates in a grapefruit forest. Its Beer Fish will surprise you. Stewed pork and snails and soup with night willow herb are also very special.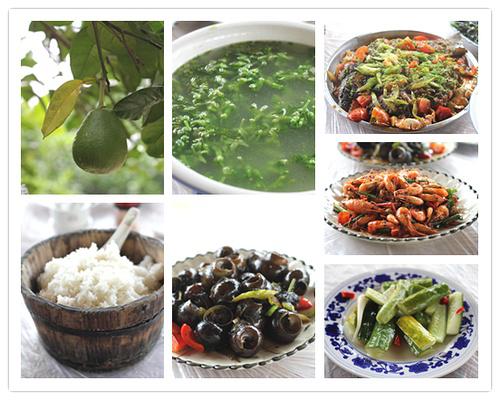 Guanjiapo Farm
Bars of Yangshuo

When you walk in the
west street
and hear the old farmer ladies speaking fluent America accent English, please do not feel surprised, because except for the native Yangshuo language, English is also their daily language. There is a foreign travel guide magazine describing Yangshuo: Western-style coffee, Hollywood movies, banana cookies - it seems Yangshuo is not real China, but who cares? This is a great place for leisure, see the sights, have a cup of coffee or go clubbing, all your tiredness washed away, which is exactly why Yangshuo impresses us.

Gongfu Jiuguan (功夫酒馆 Kung Fu Bar) - Not like other bars, music there is quiet and make it a good place to drink, think or talk. The singer is said to be the boss of the bar. Many foreigners like to be there.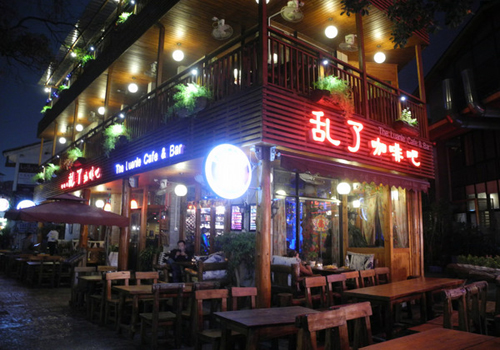 The Luanle Cafe & Bar
The Luanle Cafe & Bar (乱了咖啡吧) - If you do not like the noisy and chaotic bars in the evening, this cafe & bar can be your good choice. Singers here perform well.

Ruguo Jiuba (If Bar) - If I got to know you earlier, my previous life would not be that hard; If I got know you too early, I would not understand how to cherish nowadays reunion; If we knew all the results, how could we try so hard to enjoy the experience? If you came with no story, hope you leave with memories - This is the manager's explanation to the bars' name.

3. Dragon's Backbone Rice Terraces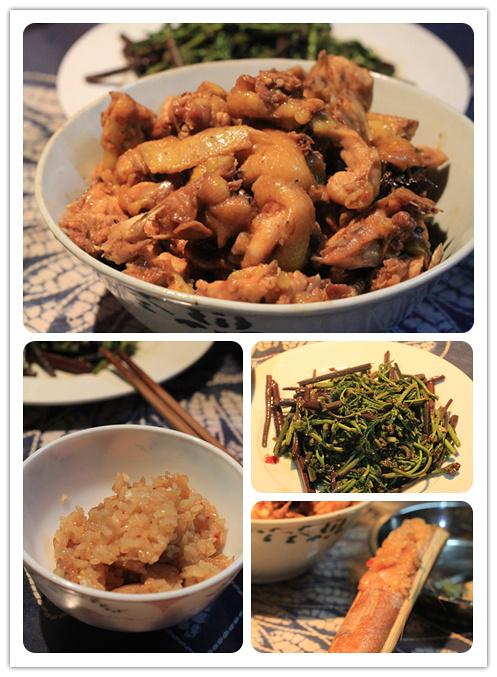 If you come to the Dragon's Backbone Rice Terraces, you absolutely want to taste the chicken raised by the farmers, delicious, beyond your imagination.  
Comment