A Trip to the Little Zhangjiajie - Lotus Mountain
2013-02-01China travel Guide
Jinxiu Yao Autonomous County, located in the mid-east Guangxi Zhuang Autonomous Region, is also called Jinxiu Da Yao Mountain because of the main mountain ranges of Da Yao Mountain are just situated within the county. The whole county covers an area of more than 2,500 square kilometers, among which, over 500 square kilometers are provincial scenic areas. Since the forest coverage rate reaches more than 87%, primitive forests cover more than 400 million square metres, Jinxiu Yao Autonomous County enjoys the reputation as the largest green reservoir of Guangxi, as well as the National Forest Park and natural reserves at national level.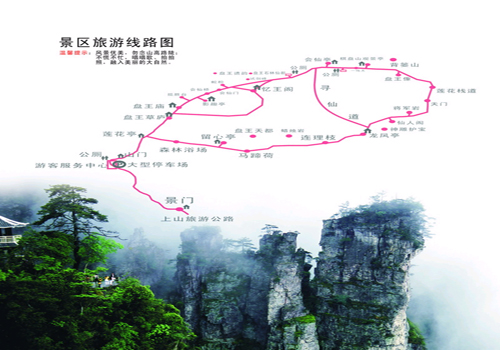 This national AAAA scenic spot - Lotus Mountain Scenic Area, located 14 kilometres away from the northwestern part of Jinxiu Yao Autonomous County, covers an area of 16,000 square metres, with its main peak reaching a height of 1,350 metres above sea level. Seen from afar, the ranges upon ranges of mountains look like lotus in bud, hence the name.
Due to sufficient rainfall, seldom damage, and ideal location close to the Tropic of Cancer, Lotus Mountain boasting scenery beyond description, looks grandiose and towering, sometimes, you would feel as if you were placed in the spring whenever you tour around. According to tourism experts, Lotus Mountain is a perfect combination of precipitous Huashan Mountain in Xi'an of Shaanxi province, mists of Hengshan Mountain in Hengyang of Hunan province, picturesque stones of Yandang Mountain in Wenzhou of Zhejiang province, delicate Zhangjiajie of Hunan province, refreshingly cool Mount Emei in Emeishan of Sichuan province, boundless Yellow Mountain in Huangshan of Anhui province. In short, it is so delightful that one may be enchanted and do not want to go home. The climate of the Lotus Mountain Scenic Area is agreeable, without mind-numbing winter and suffocating summer. The annual temperature is 17 ℃ on average, and the average content of air anion here reaches 9193/cm3; to some degree, it can be considered a summer resort, and an excellent place for health care, recuperation. In the eyes of tourists who have been here, Lotus Mountain wins the acclaim as "Little Zhangjiajie" in that both of them are grand, precipitous and serene!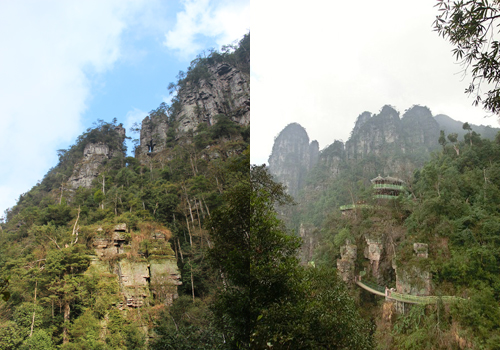 Generally speaking, there are three ways to get to Lotus Mountain. From Liuzhou, 150 kilometres away from Jinxiu Yao Autonomous County, take a shuttle from the bus station; it takes you about 180 minutes. If you happen to pay a visit to Guilin you can get to Jinxiu from the bus station within four hours. Since Jinxiu is situated at a distance of 380 kilometres from Nanning, you have to spend five hours on the way. Of course you can also choose a self-drive way or follow a tour group to reach the destination.
VisitOurChina, a member of Guilin Tianyuan International Travel Service Co., LTD. once had a wonderful experience in Lotus Mountain on 21st January when the annual gathering of the company was held. On the basis of the plan, we got about climbing at 14:30 after half-an-hour drive.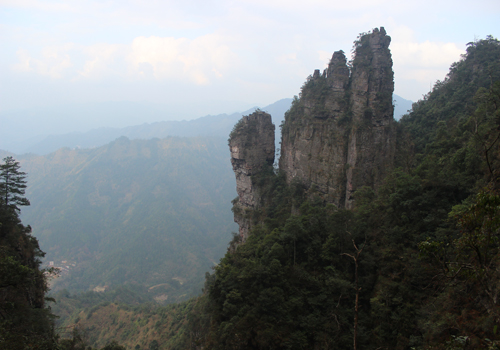 After entering the gate, what heaved into our sight is Lotus Pavilion, which is constructed against the mountain and whose base looks like a lotus. In the heart of Yao people Lotus Mountain is one of their holy mountains. The reason for Lotus Pavilion as the prologue to the trip is that pure lotus reflects the wishes of safety along the way. Overlooking westward, I found the remote mountain lying quiet as if she were a sleeping beauty. After quite a few steps, a solemn temple can be discovered on the right. Called Panhu Temple, it was named after the forerunner of Yao ethnic minority. Legend has it that brave Panhu having had been to an expedition and being conferred the title of king, went back to the lotus mountain and blazed a trail together with Yao people for the generations. For thousands of year, the ordinary Yao people have been in his debt, thus building the temple for Panhu in the hope that he would bring fortune and well-being to the county. Following the stream of our colleagues, I caught a sight of Yingqu Pavilion, which is on the slope on the left side of Panhu temple. For photographers, it is absolutely the best place to shot pictures of the mountains from different angles. Heaven-kissing stone forests, exuberant virgin forests, and age-old trees were caught on our cameras.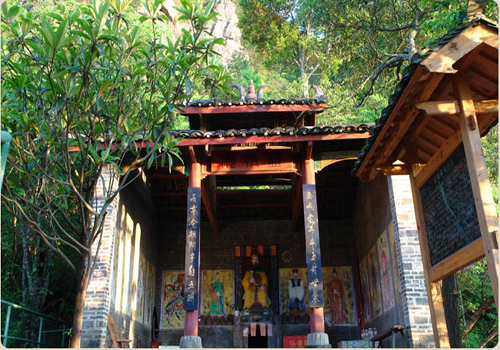 Several minutes later, we restarted our trip. The stairs twisted and turned across the mountain. Unknowingly, along with my colleagues I had already stood on a shaky bridge called Huixian Bridge! It is a cable suspension bridge spanning the barranca, 15 metre long and 2 metre wide, with steel wire gauze as the rails. At the west end of the bridge, I found four Chinese characters on the cliff – "桃源仙国", meaning paradise in english. Since many of my colleagues are girls, I can hear a shriek of joy from time to time. Huixian Gate is not far from Huixian Bridge. As a natural stone gate, the five-metre-tall and one-metre-wide crumbling stone can be deemed as rare natural scenery.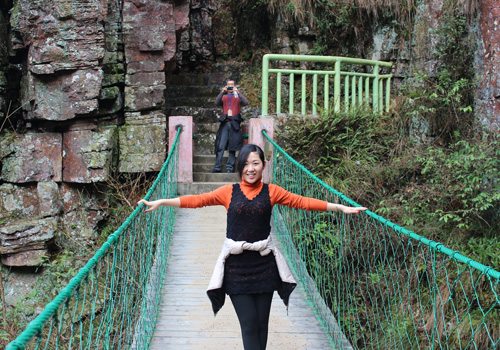 Though it was in winter in the northern hemisphere when we scaled, we all felt it a sweaty day. Most of us undid buttons, letting a blast of pure air get into our sleeves. In company with the refreshing air, our team came to the centre as well as the essence of Lotus Mountain Scenic Area – Celestial Stone Forests (Shilin Xiandu), where you can let go of your imagination, finding mountains and peaks resembling plum blossom state, May and December romance, lotus faerie, gorilla and so forth. At the sight of marvelous stone forests, sometimes I thought I had been Zhangjiajie National Forest Park, where serried forest of peaks rise straight from the ground. In the opposite of Shilin Xiandu is Yiwang Pavilion, which the Yao people built for Panhu's exploits.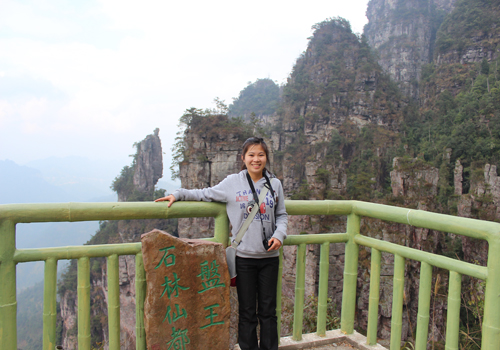 We walking out from the pavilion, the roads half way up the mountain led us a level ground. On its left a small peak drew my attention. Gripping the guard rails, our team ascended to the top one after another. Five-leaved pines and pinus taiwanensis showed enormous vitality of themselves and the scenic area, too. Crossing this pine forests, we took a rest in Songtao Pavilion because of fatigue. Renewing our strength, we set foot on the trip again. In the next few hours, descending from the north side of pine forests, via Shanwai Qingshan, One Line Sky (Yixiantian), and Longevity Valley with Nine Bend (Jiuqu Changshou Gu) we saw quite a few mountains in vivid shapes, some are Buddha, some ostrich.
On the left side of the gap of Jiuqu Changshou Gu protrudes a peak. We yelled with excitement in that we found this renowned Checkerboard Mountain (Qipan Shan). Legend has it that Panhu was so fond of playing chess that he often invited immortals to join him, thus the name. On the south, we found the pavilion as a record of the story, which is called Checkerboard Mountain Pavilion. There, we came across a British botanist accompanied by the local guide. According to them, we knew they were picking up Rhododendron simiarum Hance var. versicolor (Chun et Fang ) Fang f..At least for my part, it has never occurred to me that our friends overseas will come here for research!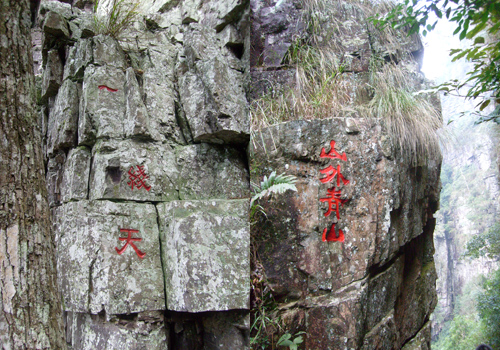 All the way we could hear melodious sounds reverberating through the mountains; we could feel drops of spring dripping down onto our faces. It is shrouded by the mists all the time, leaving us the impression that we were walking on the clouds. By way of Checkerboard Mountain, VisitOurChina team caught a glimpse of plank road of Lotus Mountain. Standing on its opposite, I saw as if a python were slithering about in the mountain. Soon, we scurried to the following routes as the sky darkened rapidly in the stone forests. Ten minutes later, we entered the Sky Gate (Tian Men) where a lofty rock on the left attracted me. It is called General Rock and I was amazed at the magic power of Mother Nature. Passing General Rock brought us to the Dragon and Phoenix Pavilion. Overlooking from this pavilion I suddenly found the view opening up to a vast panorama.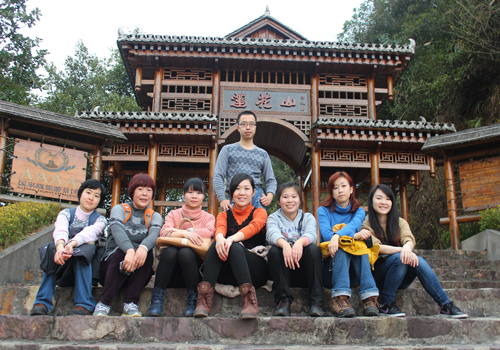 The following roads are not so steep as the previous ones. We kept on descending while chatting with one another cheerfully. When it came to half past five in the afternoon, we at last, reached the foot of the mountain. For us, bittersweet trip always ends up too fast.
Lotus Mountain, maybe a less known natural scenic area in China, is really a supreme place for hikers and nature lovers.



---Gaea (VisitOurChina)
Comments
Comment