Happy Chinese New Year 2013!
2013-02-08Cultures
Spring Festival, or new year in Chinese lunar calendar, enjoying a history of more than four thousand years, can date back to 104 B.C., when the first day of the first month in lunar calendar was set as "nian" (which means the beginning of the year), thus the dates of "xin nian" (which means new year in Chinese lunar calendar) were fixed. It is the grandest festival all over China. To a great extent, therefore, what Christmas to Westerners is what Spring Festival to Chinese. Usually, Spring Festival often refers to the lunar new year's eve and the first day of the lunar year; however in the traditional sense, people usually celebrate Spring Festival from the eighth day or the twenty-third or the twenty-forth day of the twelfth lunar month according to traditions of different regions until the fifteenth day of the first lunar month, with the highlights falling on the lunar new year's eve and the first day of the lunar year.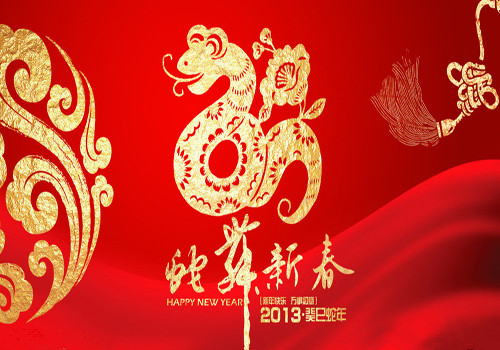 The coming year 2013 is the year of snake, whose adorable images are in sight either on the streets or in the shopping malls. Now before the arrival of the Chinese New Year, impassioned Chinese people are busy with a variety of activities, such as cleaning houses to ring out the old and ring in the new, putting up Spring Festival couplets to make the atmosphere more jubilant, pasting paper-cut for window decoration, preparing special purchases, enjoying family reunion feast, and watching Spring Festival Gala with their family members on the eve. And when it comes to the new year, people often do the yangko dance, lion dance, set off the firecrackers to express delight and call on their relatives; the senior give out red envelopes (lucky money) to children as best wishes.
The Chinese New Year 2013 will last from 10th February to the Lantern Festival 24th February, and we will have statutory days off from 9th February to 15th February this year. Wherever you are, whether or not you spend the Spring Festival season, we are always your friends in China and welcome you to explore this land of wonder anytime. May the coming Year of Snake bring you good health, good fortune, happiness, and prosperity!



---Gaea (VisitOurChina)
Comment