2013, We Gather in Xiangzhou and Jinxiu
2013-01-30Working at VisitOurChina
As is custom, Guilin Tianyuan International Travel Service Co., LTD., which VisitOurChina belongs to, often organizes an annual gathering before the end of the Chinese New Year (in lunar calendar). This year is with no exception. With the arrival of 20th January, we started off our three-day impressive group outing in Xiangzhou County and in Jinxiu Yao Autonomous County, where we not only took a bath in the hot spring, savoured the joyous moments of the highlights of our trip, that is, the annual meeting party of the company, but also embraced Mother Nature, paying a visit to the renowned "Little Zhangjiajie" – Lotus Mountain.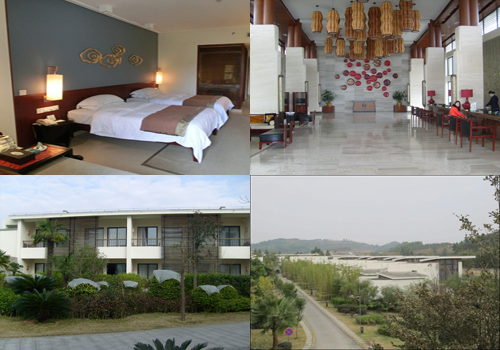 Day 1 (20th January): Guilin – Xiangzhou County

Xiangzhou County, located in the middle of Guangxi Zhuang Autonomous Region, facing Yao Mountain in the east, and Liu River in the west, covers an area of 189,847 square metres, and is 232 kilometres away from Guilin. As an unsophisticated place where sixteen nationalities including Zhuang, Han, and Yao inhabit, it has such a long history that can date back to Neolithic Age, and possesses abundant resources, water resources in particular. Due to the agreeable climate, Xiangzhou has always enjoyed the reputation of being a "Granary of middle part of Guangxi" and "Home Town of High-quality Rice". Admittedly, east and west, Guilin scenery is the best; in fact, surrounding scenery of Guilin like Xiangzhou is also worth touring, for instance, bathing in the hot spring, strolling around Yunjiang Ancient Town, visiting Former Residence of Zheng Xiaogu.
Nine o'clock of 20th January saw us set foot on the happy trip from Guilin to Xiangzhou County. All staffs of the company on the buses were overjoyed beyond themselves to the point that they kept on chatting, singing and telling jokes, without feeling excessive fatigue of the four hours' drive. After lunch at Zhuang Village Restaurant, which is situated three kilometers away from eastern Xiangzhou, we headed for our destination – Guxiang Holiday Village of Hot Spring.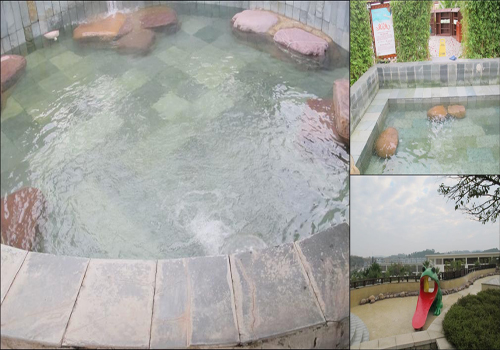 Guxiang Holiday Village of Hot Spring is situated in the Hot Spring Holiday Resort which lies seven kilometers away from the east suburb of Xiangzhou County, which is a National AAAA Scenic Area and which wins the acclaim as the Best Hot Spring of Middle and South China. In the Guxiang Holiday Village of Hot Spring, we appreciated the refreshing air, verdant mountains, simple but exquisite villas. What a wonderful world! More thrillingly, many of our colleagues took a bath in the hot spring. More than ten hot springs are scattered around; seen from afar, the holiday village as a whole is an enormously huge steamer. Small wonder that Xiangzhou Hot Spring is widely known as Fairyland of Coloured Pond. Water in the hot spring is of high quality, limpid and rich in such trace elements as sodium, potassium, calcium, magnesium, iron, zinc and so forth. In the meanwhile, it can benefit your health. According to those who had a shower in the hot spring, you would feel warm and hot all over, face rosy and ruddy, blood coursing in the veins.

Highlight: the Annual Gathering of the Company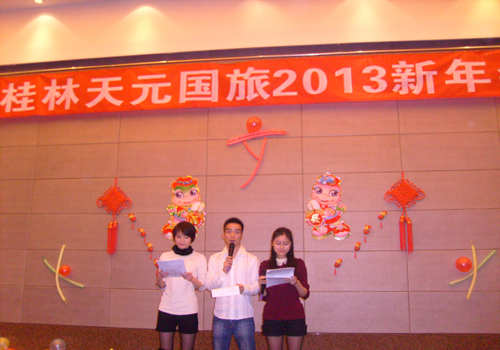 The 2013 annual meeting party of Guilin Tianyuan International Travel Service Co., LTD. was held in banquet hall of Guxiang Holiday Village of Hot Spring. All of the staffs were present and seated awaiting eagerly the celebration. When the bell of six o'clock in the afternoon struck, the party began. Before the dinner, Manager Mr. Yang gave a speech to express his gratitude for the hardworking of the staff. Next Manager Mr. Cao proposed a toast to the prosperity of the company. Then sumptuous meals were just before us; to a large degree, it was really a feast to the eyes! Lusty singing by Japanese Department, voguish dancing Tianyuan Style by Outbound Travel Department, heart-stirring lucky draw, and fascinating games were staged alternatively. What performance did we VisitOurChina give? It was solo plus mixed chorus! Each of us first sang a nostalgic song like "More Than I Can Say", "God Is a Girl", "My Heart Will Go On", "Sailing", "The Day You Went Away" and "Edelweiss", before all the members of the team ending up our performance with the famed "Take Me Home, Country Roads". During the party, peals of laughter and hearty rounds of applause lingered in our ears. The carnival lasted for around three hours and each of us got at least one souvenir.

Day 2 (21st January): Xiangzhou County – Jinxiu Yao Autonomous County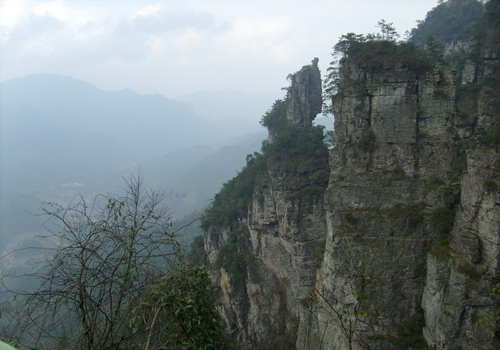 Jinxiu Yao Autonomous County, lying on the Big Yao Mountain which is in the mid-east Guangxi, is 400 kilometres away from Nanning, and 180 kilometres away from Guilin. Covering an area of 2,518 square kilometers, this county is inhabited by five branches of Yao nationality, namely, Chashan Yao nationality, Pan Yao nationality, Ao Yao nationality, Shanzi Yao nationality, Hualan Yao nationality, thus being known as the place that is in possession of the most braches of Yao nationality and where the traditional culture of Yao nationality is well preserved. Within the county, forest coverage rate reaches as much as 87%. Because of unique geographical location and ecological environment, mind-numbing winter and sweltering summer seldom hit the county. Moreover, the average content of air anion here is 9193/cm3 ; staying around you will feel as if you were in a natural oxygen bar.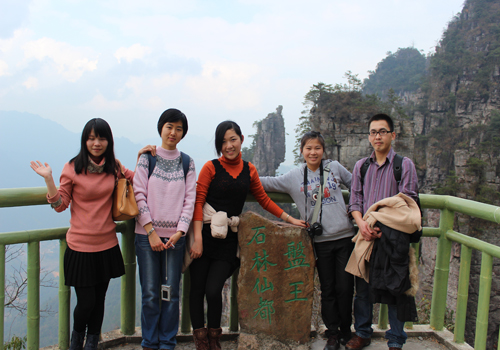 After having had buffet in the banquet hall, we leisurely got on the bus and started our one-and-a-half-hour trip from Xiangzhou County to Jinxiu Yao Autonomous County. Along the way, lush trees, layers of layers of mountains leaped to our eyes, all of which made me somewhat exhilarated. As more and more Yao-style architectures were approaching, I realized we were nearing our hotel. Since time was pressing, we had to scurry off to have dinner. In this at-the-foot-of-Big-Yao-Mountain hotel, we tried some local dishes such as dried bamboo shoots fried with cured meat. Sometimes, to have specialties is a way of understanding a new place.
Around two o'clock in the afternoon, the staff of the company took a mini-bus to the local celebrated Lotus Mountain by group. The Lotus Mountain Scenic Area, located 14 kilometres away from the northwestern part of Jinxiu Yao Autonomous County, covers an area of 16,000 square metres, with its main peak reaching a height of 1,350 metres above sea level. Seen from afar, the ranges upon ranges of mountains look like lotus in bud, hence the name.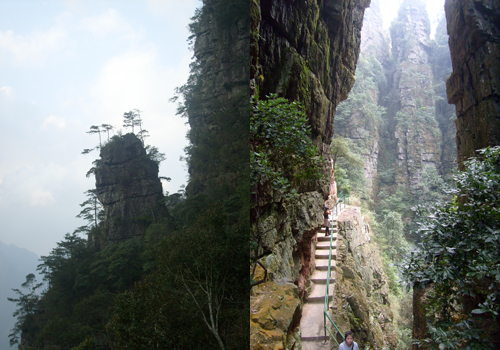 Half-an-hour drive led us to the foot of the mountain and when all colleagues were present, we got about climbing. It was really a gripping tour! The heaven-kissing stone forests, exuberant virgin forests, age-old trees, and Rhododendron simiarum Hance var. versicolor (Chun et Fang ) Fang f. all composed a mirage and graceful picture spreading before our eyes, which gave a delightful dimension to our hard and steep way of hiking. As it was getting late, we hastened our paces and at half past five in the afternoon, we eventually returned to the gate of the mountain. Fatigued as we felt, we were beyond ourselves in that we not only conquered the precipitous mountains but challenged ourselves.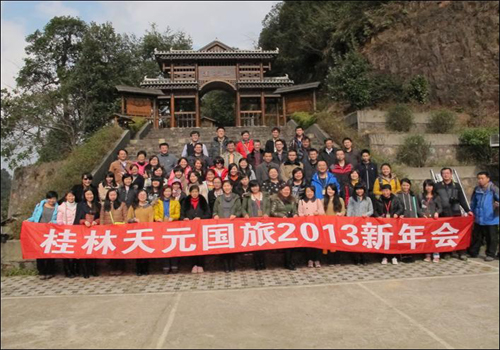 Day 3 (22nd January): Xiangzhou County – Jinxiu Yao Autonomous County

It was the last day of our three-day group outing. In the early morning, having had buffet in the hotel, we left for Guilin at nine o'clock in the morning by bus. Probably physical tiredness overcame us because of yesterday's ascent of Lotus Mountain; most of us fell asleep the moment we got on the bus. To be honest, this trip aimed at enfolding Mother Nature is not long enough, but we do not deplore too much, that is because in this rewarding annual gathering, on the one hand, we feel more proud of marvelous landscapes of our nation, on the other hand, we are getting to know more about each other and seeing more merits and talents in our expert colleagues.



---Gaea (VisitOurChina)
Comment