One Day Shanghai World Expo Experience Tour
2010-09-06China travel Guide
During my business trip in China, I went to visit the Shanghai World Expo although my schedule was very tight. This year it would be a big pity if you did not see the Expo if you had the chance to visit Shanghai. I did not want to miss the big highlight of Shanghai since I have been there.
Due to my schedule, I can just enjoy a one-day Expo Tour, so I bought the Standard Day Single Day Admission (Notice: there are different kinds of Expo tickets depending on the date or length, such as Peak Day Single Day Admission, Peak Day Special Admission, Standard Day Single Day Admission, Standard Day Special Admission, 3 Day Admission, 7 Day Admission, Evening Admission, Group Admission, Student Group Admission, so you can choose the right ticket style based on your condition). I stayed in the Expo Park for about 10 hours.

Some tips for Shanghai World Expo Tour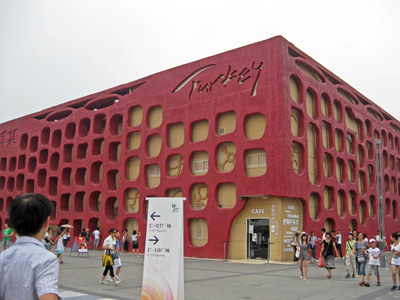 Normally the Expo Park opens at daily 9:00AM and closes at daily 22:00PM, but the reality is that you can not see everything within one day, the park is too huge and there are too many pavilions to see; even if you have 3 days' time to visit the parks, I am afraid it is also very hard to see all. So firstly, how to see more expo pavilions and performances in limited time? Before starting for your Shanghai World Expo Tour, you need to have a clear plan or purpose in your mind, and do not waste too much time to hesitate inside; otherwise, you would see few. Of course, you also need to forecast it would be a busy and tiring day, get ready well.
And please attention that any kinds of liquid are not allowed to take into the park. I suggest you take an empty bottle as the pure water is free and available to serve in the Expo Park. Coco Cola, fruit juice, ice cream are also available inside with higher price, so is the food.
As for the eating, it is smarter and more reasonable to take some food with you to the park, as you need to have two meals at least in the park if you want to stay long; the normal snack inside is about RMB30-50 per deal. If you a la carte in some appointed restaurant, the price is much higher. Anyway, do not spend much time on eating so that you can visit more highlights of Shanghai World Expo.

My one day Shanghai World Expo Tour
For my one day Shanghai World Expo tour, I entered the park from the No.8 Gate in Puxi area as my hotel was close to it. I want to mention another important tip, although the park opens from 9:00AM, many tourism groups start waiting from 7:00AM, even much earlier as I know. As a result, you have to queue up for long time behind many Chinese groups. So I recommend it is better to avoid the rush hours, i.e. you can get the park after 10:00AM. For me, I arrived at the park at 10:30AM and went into the park directly. Lucky!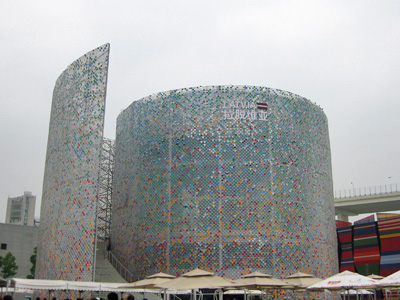 Because many national pavilions were located near the No.8 Gate, I visited lots of American and African national pavilions; you can select some ones which you are most interested. Then I continued to go and get to the European National Pavilions Area; the architectures are quite attractive in this area. The most impressive ones in my mind are Britain Pavilion and Spain Pavilion. Britain Pavilion is just like a dandelion, in the evening, the architecture becomes colorful, very fancy. The materials of Spain Pavilion are very unique; it is a big Network of Bamboo and Rattan, so-called 'Basket of Spain' and the 'Bamboo House' of Madrid as clear examples of technical innovations in construction with these sustainable materials.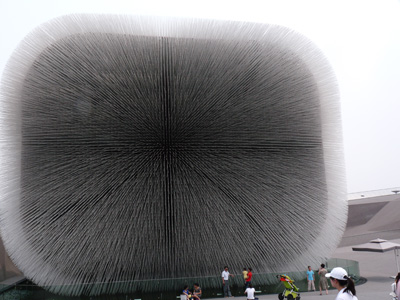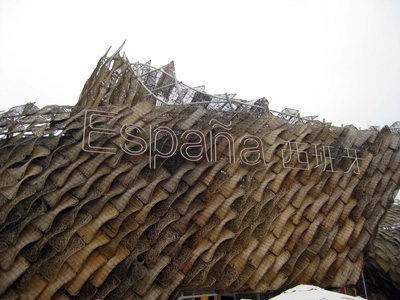 I have to say the most popular pavilions are also with most crowded people to queue for. But I did not try my patience to wait because the queue line is too long, some even takes 5-6 hours to one popular pavilion, it is really crazy! So, I chose to visit next area, I saw many Asian national pavilions after crossing the axle wire, including the amazing China National Pavilion; the bright red color of it just stands for China. Unfortunately, people can not go inside of China national pavilion if you did not preengage, so I just enjoyed the architecture.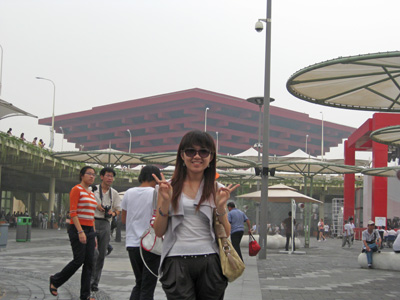 Just go ahead, I found more Asian national pavilions, like Japan National Pavilion, South Korea National Pavilion and Saudi Arabia National Pavilion. They are all very popular, especially Saudi Arabia national pavilion. Reputedly, there is a 4D movie in Saudi Arabia National Pavilion; most people want to feel this high-tech. To save time, I still did not wait as I wanted to see as more as possible.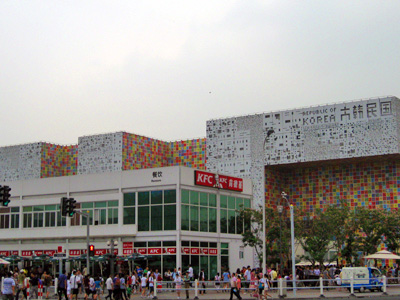 Till now, the Puxi area had been nearly explored well, I went to the Pudong area. The transportation from Puxi to Pudong is very convenient, you can choose free public bus or ferry boat. In Pudong area, there are mainly Theme Pavilions and Corporation Pavilions and less people. So you can visit more pavilions.
The Expo Park has different views in daytime and night, many photographers prefer night views, and many pavilions with the lights decoration are more beautiful and charming. In the evening, I lingered in the park for a while, it is neither crowded nor hot, standing on the bridge and enjoying the Huangpu River, very peaceful.
It is impossible to introduce all details of the Shanghai World Expo in one day or in one article. And also, everyone has his own taste. If you come to Shanghai this year with enough duration, you should go to the Shanghai World Expo Park personally to explore your own Shanghai World Expo. In additional, you can also visit some neighbor cities of Shanghai, such as Hangzhou and Suzhou, both worth visiting. At last, I have to repeat the slogan of Shanghai World Expo "Better City, Better Life". Wish our life would be better and better in near future!
--- By Sandy (VisitOurChina)
Comments
Comment