China's Five Great Stone Forests
2010-09-02China travel Guide
China is famous for its stone forests and there are large areas where incredible and strange stone structures shoot from the ground like large ancient trees. These amazing forests rarely leave tourists without a sense of wonderment and awe. It is south China which is home a majority of these amazing destinations, principally in Guangdong, Guangxi, Guizhou, Yunnan and Hunan. Here are five of the most remarkable:
1. Peaks in Yangshuo, Guilin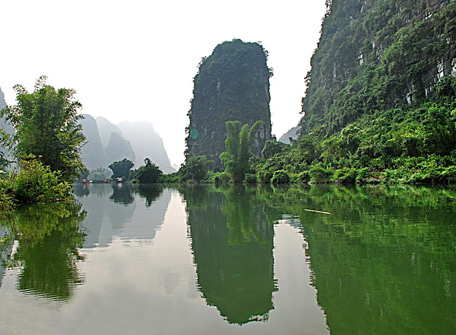 With a temperate climate, Yangshuo is a county rich in natural beauty as well as a productive agricultural economic entity which has become one of Guangxi's most important and well regarded economic centers. Being hailed as "Travelers' Paradise on the Earth", it is famous across China, and even across the world for its breathtaking natural scenery and abundance of historic culture. In 1980s, a travel almanac named Lonely Planet was highly regarded as "Holy Bible" by western backpackers for its introduction of West Street in Yangshuo and gradually Yangshuo became their paradise of travel. Today Yangshuo has been a hive of commercial activity offering western meals, adventure tourism and accommodation and the West Street has become a main stop for so many tourists visiting China.
2. Wulingyuan Peaks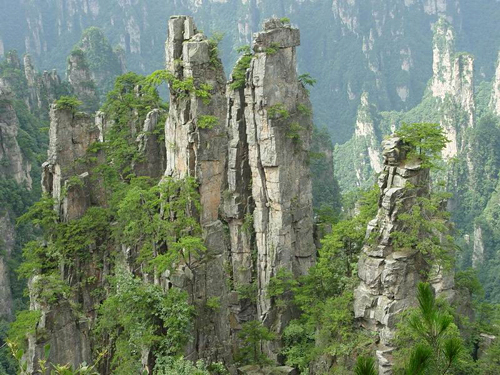 The Wulingyuan Peaks are a collection of thousands of tall straight peaks in Hunan Province, the distinguishing factor that makes these peaks so unique is unlike their cousins in Guangxi and Yunnan. These peaks are not a lush green but a fiery red, like that of a setting sun. It has still yet to be explained why these peaks look as they do but it certainly makes for a most remarkable spectacle, especially at dusk, when beams of fading sunlight hit these mountains making it appear as if the countryside is on fire.

These peaks are also famous for their incredible formations, with some of them verging on eerie, especially when the shadows of late afternoon hang low, some of them appear to be human being, birds or even monsters.

3. Ten-thousand peaks
Xingyi City, the home of the Ten-thousand Peaks, is at the junction of Yunnan, Guizhou and Guangxi. It is home to some of the largest and untamed Karst formations in southern China. The total area covered by these peaks stretches over 2000 square kilometers and includes other natural wonders like deep gullies and bottomless limestone caves. For the amazing sights, it has been hailed by noted travel journalists as the most perfectly formed and spectacular rock formations in southern China.
The beautiful Qingshui River runs through this maze of stone pinnacles, adding to the natural beauty of the region, it is not surprising that the scenery in this region has been liked to that seen in the hit Hollywood movie Avatar.It seems that this place has melted of a Chinese painting and into reality. The most amazing thing about the Ten-thousand Peaks is how different it can look in different weather: in the rain and mist it takes on a new beauty, while at night these silent statues emitted an eerie glow, fog often floats through these peaks in the winter months, giving the impression that they are floating on clouds.
4. San Qing Shan Mountain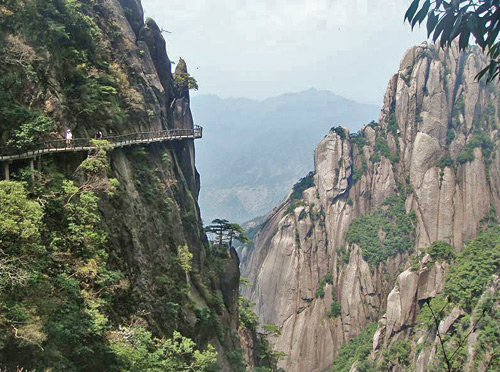 San Qing Shan Mountain is located at the junction of Yushan County and Dexing County of Jiangxi Province. The mountain mainly consists of three peaks, namely Yuhua, Yuxu and Yujing which is the main peak sitting at 1820 meters above sea level, that is why its called the 'three peak mountain' and is the inspiration for the amazing waterfalls and seas of cloud often seen in traditional Chinese art.
San Qing Shan Mountain has deep spiritual significant to Taoism with the three peaked mountain representing the ancient Tao. Early Taoist monks moved to the mountain and climbed to its summit to meditate, years later it was decided that a Taoist monastery would be constructed on the mountaintop. Today part of the temple still remains, there is an ancient pagoda that sits on the peak and is often referred to as 'the open air Taoist museum'.
5. Luoping Peak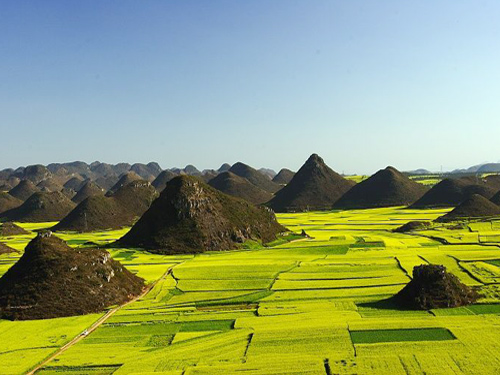 Luoping Peak, Yunnan Province's most spectacular geographical destination, is located in Luoping County, which is 240 kilometers from the provincial capital Kunming and runs along the belt of mountains that passes through Guangxi and Guizhou. It has a temperate climate with the warm wet summers and temperate winters.
The region is famous for its distinctive Karst landforms that fold like a Chinese screen along the eastern backbone of Yunnan, but Luoping also has another distinctive feature - becomes 'the world's largest inartificial garden' with 300,000 acres of cole flowers bursting into life creating one of the most remarkable sights from late winter to spring every year.
Golden Rooster Karsts: The Golden Rooster Karsts is a large area of Luoping especially rich in Karst formation and rich local culture. The indigenous ethnic minorities have myths and legends attached to almost every formation. The reason why it is called the Golden Rooster Karsts is because the largest peak always protrudes from the morning mist that swirls around the other peaks, thus like a rooster. It is the top (beak) of this peak that welcomes daylight. There is also a golden Buddha peak, a double lion peak and many others, all of which have rich histories developed by the local population.
Sea of Cole Flowers: Every year after the Chinese Spring Festival, the area around the Luoping dam normally bursts into life, to create possible the most unusual sea ever seen, a sea that gently sways in the breeze and emits a light fragrance - it is a sea of cole flowers. Passengers on the Nanning to Kunming railway are treated to an amazing sight as their train steams through acres upon acres of cole flowers. It has become an annual pilgrimage for many Chinese to travel to Yunnan every Spring Ffestival to watch the first of the flowers to bloom.
Luoping Nine Dragon Waterfall: The Luoping Nine Dragon Waterfall is located behind the banks of the Nine Dragon River. This amazing multi-level waterfall has been formed through hundreds of thousands of years of erosion, creating a most amazing tourist destination. The waterfall includes several stagnant pools of emerald green water it is if a length of fluid green silk is running from the river down the falls, small schools of fish dart about as water flows and cascades down from the several waterfalls above, this is just one of Yunnan's natural wonders.

--- By Brett Hartley-Wilson (VisitOurChina)
Comments
Comment