A Cultural Tour in South Anhui: Hongcun - Xiuli - Bishan
2014-07-24China travel Guide
South Anhui Province is known to travelers for its historic villages, famous Hongcun, Xidi, and many other unknown Xiuli, Bishan, Nanping, Guanlu…. all of them were built in Ming (1368-1644) and Qing (1644-1911) dynasties in typical Hui-style: white walls, black tiles, standing by the water and elegantly mirrored in it. The comfortable beauty of such picture captivates many tourists.
First days' stop 1: Hongcun
It was a rainy day when we drove to Hongcun, a village hailed as "the Village in the Chinese Painting". Rain added charms to Hongcun with romantic mist and cloud. Compare with the scenery in sunny day, I like that in rainy day better. Lotus blossomed of more vitality with raindrops in Nanhu Lake, the whole village was just a poetic ink wash painting with distance mountains in the mist, elegant dwellings and dotted green grasses and trees. In south Anhui, cycling tour is recommended no matter in which of these ancient villages, Hongcun, Xidi, Xiuli…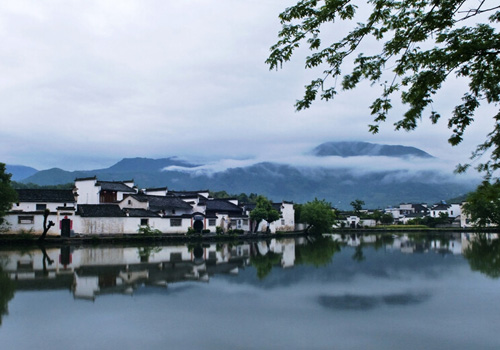 Hongcun, located in She County of Huangshan, was originally built during the rein of emperor Gaozong of Song Dynasty (1131-1162), about 900 years ago. It was inhabited mainly by Anhui merchants. Water is the soul of the village. It has two pools, Nanhu Lake (South Lake) and Yue Lake (Moon Lake), the former of which is the most important part of the village and around it were the residences of those respected persons in the clan.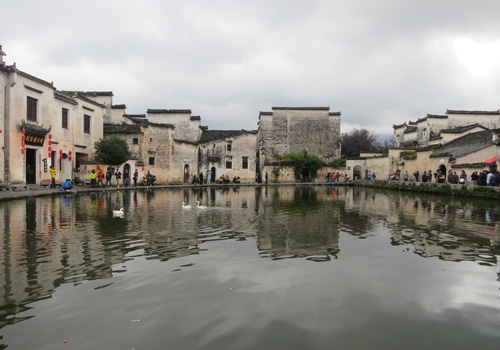 There are top five attractions in Hongcun you cannot miss, South Lake, Yue Lake, Chengzhi Hall, South Lake School, and the night market. Chengzhi Hall was the residence of the richest merchant in the village, and now opens up and is praises as "the Palace Museum among dwellings". Its architecture is a model and the most luxurious nearly applied all advantageous and features of Anhui merchants' residences. The whole architecture occupies 2100 square meters, with 7 buildings, 136 columns, 60 rooms and 60 doors.
First days' stop 2: Xiuli Studio City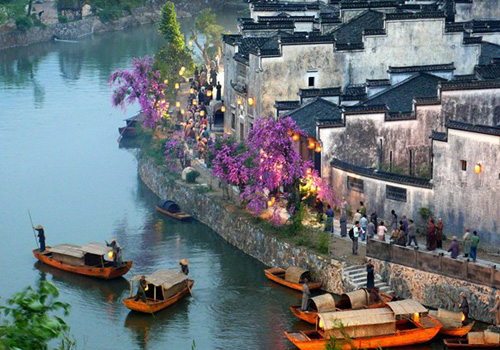 After the visit in Hongcun, we transferred to Xiuli, a village located on the way from She County to Hongcun Village. It is an ancient village with convenient transportation and graceful natural ecological environment. Now it is also a studio city and often appears on the screen.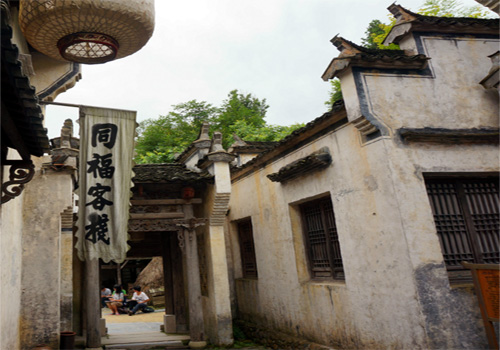 Xiuli is separated into two parts by a river, which are connected by two gallery bridges. One part is a scenic village, the other is a business street of Ming and Qing dynasties style. But the interior of all those houses in Xiuli are re-decorated into diversified styles, retro, modern, traditional Chinese, western, simple, luxuriant…The village has a unique guesthouse, named Weiyou. What makes Weiyou so special is its rooms,which are scattered in the village. Each residence of Xiuli may have a room under the management of Wieyou, and each room is in a unique style with fine details.
Second days' stop: the picturesque Bishan
We resided in Hongcun for the first day, and on the second day, got up earlier for more peripheral scenery. After breakfast, we bought some fresh cucumber, corn in local market, then transferred to Bishan Village not far away.
Compare with world heritage sites Xidi and Hongcun, Bishan is more tranquil without flows of visitors but with free beauty. Bishan boasts its beautiful scenery as in a Chinese ink painting and profound humanistic connotations. The village well preserves more than 100 residences and ancestral halls built in Ming and Qing dynasties, a private garden of Song Dynasty, Peiyun Garden, an old-style private school, an ancient pagoda Yunmen Pagoda of Qing Dynasty….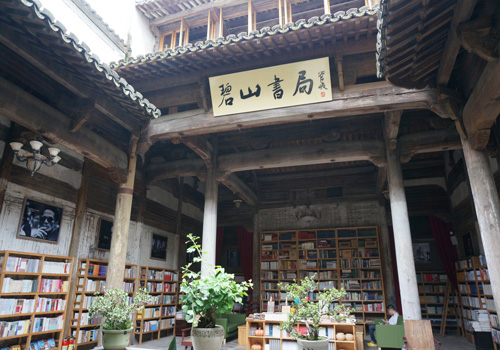 For those love culture and art, Bishan's biggest appeal is Bishan Bookstore, a branch of China's most beautiful bookstore Xianfeng Bookstore of Nanjing. Bishan Bookstore is set up in an old ancestral hall of two storeys. People can read free on the first floor, and have a tea or relax on the second floor. No matter reading or relaxing in the store, green scene of mountains and paddy fields is just out of the window.
After a cup of tea in Bishan Bookstore, we finished this cultural tour in She County and drove back. On the way we passed many other beautiful attractions of Anhui, Taiping Lake, Tanjiaqiao Town, Jiuhua mountain…Though visited only a few attractions in 2 days, we were totally relaxed and got a meaningful culture edification, the beautiful ancient villages of Hui style has turned to an elegant painting deeply in our minds.

--- April (VisitOurChina)
Comment