One day essence Tulou tour in Hongkeng, Yongding
2014-07-30China travel Guide
Yongding Tulou (earth building) of Xiamen is unique rural dwellings of the Hakka people in Fujian Province. Tulou is a gem in Chinese architecture for its long history, distinct styles, magnificent scale and exquisite structure. In total, there are about 360 circular Tulou and more than 4000 circular ones in Yongding. Among Yongding Tulou, those in Hongkeng are regarded the essence attracting numerous tourists.
I have passed by Hongheng for several times, each time left in a hurry. This time, I finally designed a time for a one-day tour in this famous Tulou cultural village with my friends.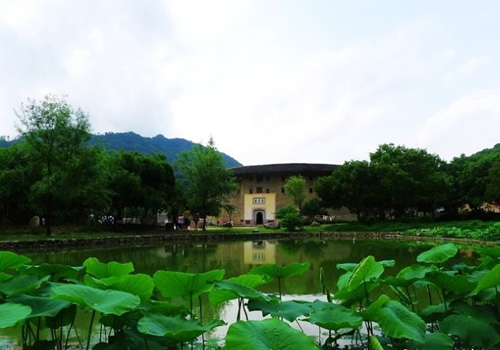 Hongkeng is a well-proportioned village perfectly matches with its ambient green mountains, hills, bridges and idyllic scenes. It is composed of earth buildings built in different shapes, scales and times, ancestral halls, temples and private schools. The earth buildings here are in the shapes of circular, cube, palatial, mansion-style, etc. built from the middle of 16th century to modern times by Lin family.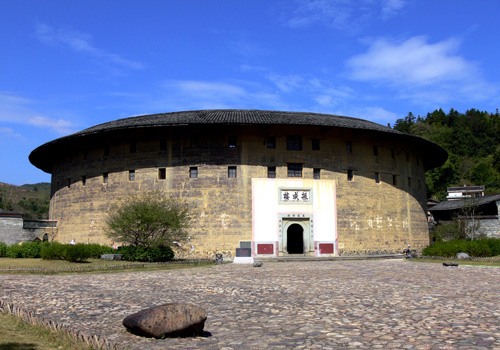 The first earth building we stopped for is Zhencheng Building, or "the prince tulou", the most famous in Hongheng. Built in 1912, the building is composing of two circles. The outer circle is designed in eight tri-grams shape with 48 rooms. The inner circle is 30 rooms embracing the ancestral hall, now used as a stage. It is said that the iron lattice handrails on the corridor were transported from Shanghai. On both sides of the building, there are two other noticeable buildings. On the right is a private school while on the left is an indigo one seems incompatible with ambient earth buildings. It is Risheng Cigarette Knife Workshop, the business site of the founder of Zhencheng Building. In it, visitors can buy kinds of handmade rolled cigarettes and see a cigarette knife exhibition.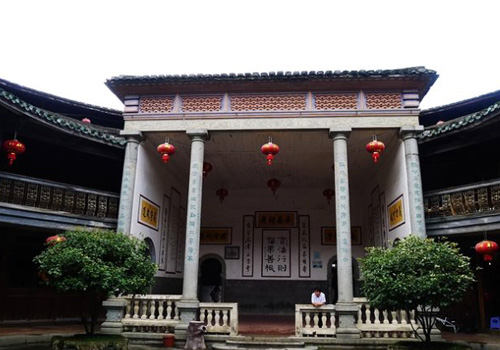 After visiting Zhencheng Building, we walked to Rusheng Building, a pocket-size earth building in Hongkeng. Though small in size with the diameter being only 8 meters, Rusheng Building is equipped with complete functions just as other earth buildings, and residents here maintain their traditional life style. We saw old people peacefully sitting in the sun, others leisurely splitting firewood, fetching water from well, feeding the hens and playing with the dogs.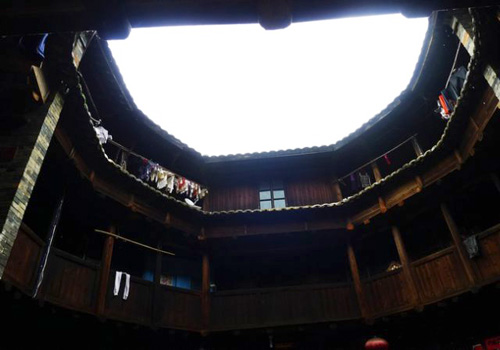 Just faces Rusheng Building from a river is the magnificent Fuyu Building, an outstanding representative of Yongding mansion-style earth buildings. Fuyu Building was costly built in 1880 with meticulous workmanship, fully reflects the property of this family. Furthermore, it was also the law court in the past and now you can still find some clues of its solemn silence. But, the former majestic chair now is just a cosy nest for cats, and the present building also managed as a popular guesthouse among backpackers thanks to its well preserved original taste and flavor as an earth building.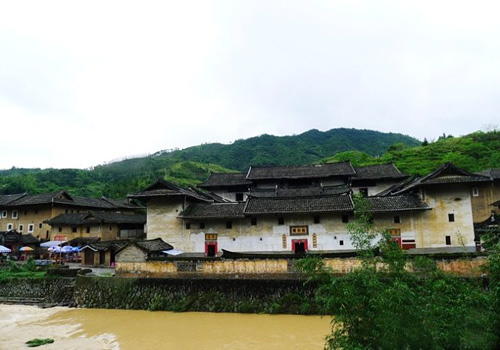 Out from Rusheng Building, we got pleasant surprise in Qingcheng Building. Peacefully seated by the lotus pool, Qingcheng Building is in the shade covered by Zhencheng Building. However, in the building, we met the famous vocal performer who has won the Guinness World Records, he lives here. We boosted our courage and accosted him. To our surprise, this kind folk artist specially performed for us at our request; we know at ordinary times he just performs for appointed tourist groups and celebrities visitors. A leaf, coke bottle, plastic flower, umbrella, silk cloth…and anything in sheet, can be changed to wonderful music by his mouth. What made us moved was that he even blew-out our familiar melody when he got our hometown.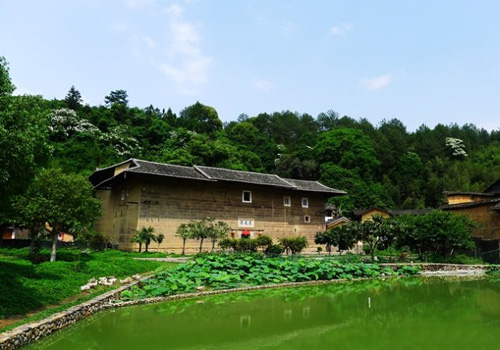 Left Qingcheng Building with happiness and satisfaction, we continued our visit in Kuiju Building, a building has raised men of talents since its founding in 1834. Kuiju Building is a palace style cube earth building, with a slight similarity to the momentum of the Potala Palace if see from distance. Then we chose Yucheng Building as our last stop for the day's tour. Yucheng maybe the most inglorious one among all Hongkeng tulou. If it has something special, it is its full-bodied aroma of rice wine. In the courtyard are neatly placed wine pots, even its rooms are kinds of cellars. It was a nice experience here to drink the glutinous rice wine, eat two or three green peaches and some wild honey directly drop from the honeycomb.
--- April (VistOurChina)
Comment