Nanping Ancient Village

More Photos

Chinese name: 南屏村 (Nanping Cun)
Location: at the foot of Nanping Mountain, 4 kilometers southwest of Yi County, Huangshan City, Anhui Province.
Ticket: CNY43
Opening time: 07:00-17:30
Recommended time for a visit: 2 hours
How to get there: take private vehicle or take shuttle bus at Yi County Bus Station.

Introduction to Nanping Ancient Village – a rare ancient ancestral halls complex, and a museum of China's feudal patriarchal system

Nanping Ancient Village of Huangshan, located at the foot of Nanping Mountain, 4 kilometers southwest of Yi County, is a millennium-aged, grand scale habitation for ancient Huizhou merchants. To this day, the mysterious Nanping Village still well preserves nearly 300 ancient dwellings built in Ming and Qing dynasties (1368-1911); the criss-cross 72 lanes among high walls constitute a mysterious maze, and 36 ancient round or square wells still produce limpid waters; what is more, on the 300-meter-long axes from the end to the other end of the village is the spectacular architectural complex of 8 quaint ancestral halls.

Originally built in Yuan Dynasty (1206-1368) by Ye family, Nanping Village is inhabited by over 1000 people of Ye, Cheng, Li and other several families today. A typical ancient village in Southern Anhui with unique features of its ancestral halls, Nanping Village was also a battle field of both Three Kingdoms (220-280) and the Taiping Heavenly Kingdom (1851-1864, a influential peasant uprising), and further, a shooting site for many a films, e.g. Oscar-winning film Crouching Tiger, Hidden Dragon.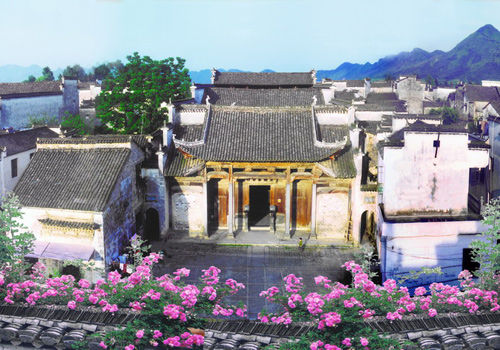 Now, Nanping is s a 4A scenic spot, a national culture relic protection site, and a famous historical and cultural village. It is a good destination to explore the history, culture and patriarchal system of ancient Huizhou.

Features of Nanping Ancient Village

- Ancestral halls complex
Ancestral halls complex is the most distinct feature of Nanping Village. One of the eight ancestral halls is of the entire village, some are branches of a family name, and some are family ancestral halls of one or several households. In general, family ancestral halls are smaller but more exquisite, while others are more spacious and gorgeous. Ancestral halls are the sites for sacrifice; participators are required to dress according to their status in the family, and it has specific rules for offerings and complicated ceremonies. In fact, ancestral hall is the spirit symbol of a family.

Generally, the branch ancestral halls and the one of single household were built for those people who secured an official position or made big fortune.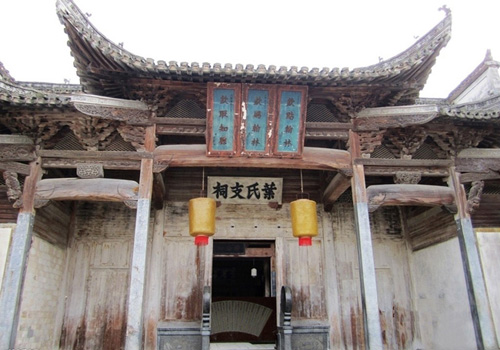 - Ancient private schools & gardens and ancient dwellings
Nanping Village boasts many ancient private schools, gardens and dwellings. A Banchun Garden, also named Mei Garden, was built in Qing Dynasty (1644-1911) by a merchant of Ye family as a private school for his sons and daughters. The garden consists of three spacious study rooms and a half-moon-shaped courtyard. Another famous garden in Nanping is West Garden, which was built earlier than Mei Garden also in Qing Dynasty; built also for children as a study space, the garden covered nearly 1 hectare, and had four small parts for peony, pulm & bamboo, waters and pine respectively. However, the West Garden was destroyed with only some remains for visit.

- China's movie village
A beautiful village with unique architecture and elegant landscape, the ancient village of Nanping is hailed as China's movie village which serves as a hot shooting site for many a famous Chinese film, such as Crouching Tiger, Hidden Dragon (an Oscar-winning film), Ju Dou, The Sky of the History, The Great Transformation, and so on.

What to see in Nanping Ancient Village? – The architectures in Nanping

- Baoyi Study - A private school for Li family
It was built by Li Huomei, who studied only for two years and had to earn a living because of poverty when he was young; he knew very well the importance of study and when he got success in career, he returned hometown to have three private schools build for the children.
- Muxian Hall
A classroom with portrayal of Confucius hanging on the wall. And the courtyard was built the similar as Suzhou private gardens with winding corridors, pavilions, and resting seats.
- Bingling Pavilion
Built in the middle of Qing Dynasty with a history of over 200 years, the pavilion is constituted by main hall, side halls and winding corridors. The whole pavilion is designed delicately and has exquisite carvings on doors.
- Nanxun Villa
Built about 170 years ago by a rich merchant, the villa is small but exquisite with quiet environment, rational layout and elegant wooden carvings.
- Ye Family's Ancestral Hall (Xuzhi Hall)
Located in the center of Nanping Village, Xuzhi Hall was originally built in Ming Dynasty (1368-1644) about 530 years ago. Occupying approximate 1000 square meters, the ancestral hall is imposingly standing with 54 massive columns supporting it. It is divided into three parts, the front hall for activities and musical ensemble, middle hall for sacrifice ceremonies and important events, and back hall, which is a two-storey building, is the worship hall and the place enshrining memorial tablets of ancestors.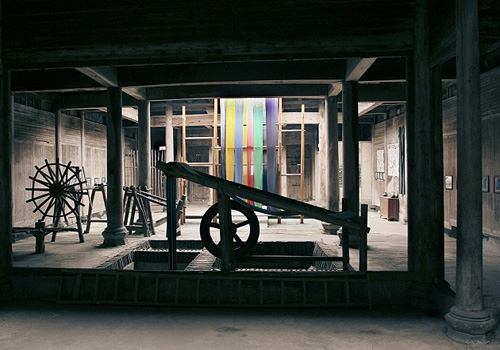 80% of the shooting of the film Ju Dou, directed in 1989 by China's famous director Zhang Yimou who is also the director of the Impression of Sister Liu of Yangshuo, were finished just in Ye Family's Ancestral Hall, in which most of the scenes of the film are still maintained for visiting, like the dyed cloths, winch, dyeing pool, etc.
- Branch Ancestral Hall of Ye Family (Kuiguang Hall)
Built 490 years ago in Ming Dynasty, Kuiguang Hall is a historic and cultural site protected at the county level. It well preserves three horizontal inscribed boards, and a delicately carved marble mirror. The hall is also the Security Company in the Oscar-winning film Crouching Tiger, Hidden Dragon, directed in 1999 by Li An.
Quick Questions
Our team is waiting for your questions. Please feel free to ask us any questions you might have about our China package tours, Chinese culture, or the sites available. We will gladly help you with any special needs you might have and all questions, like our trip designing is completely free of charge.