West Street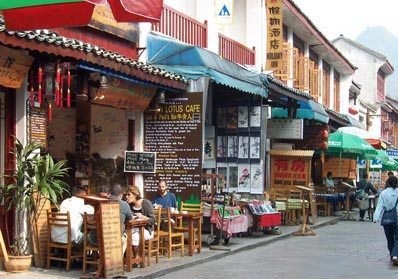 More Photos

Chinese name: 西街 (Xijie)
Location: connecting the Li River and the Yangshuo Bus Station, at the central area of the county seat of Yangshuo, Guilin City, Guangxi Zhuang Autonomous Region (aka Guangxi Province).
Opening time: all day long
Best time for Visit: all year round
How to get to the West Street from Guilin:
Generally speaking, most travellers leave for Yangshuo (阳朔) from Guilin (桂林) by the two following ways:
- By buses at the square in front of Guilin Railway Station, about 15 Yuan / person (it usually rises up to 20 Yuan / person during Chinese festivals and holidays), departing every 20 minutes, about 90 minutes' drive to Yangshuo. Passengers can get on or get off the buses on the way, so travellers planning to stop at Yangdi for a Li River hiking or bamboo rafting usually take these buses.
- By shuttle buses at Guilin Bus Station which is some 500 meters away from the Guilin Railway Station, 18 Yuan / person at ordinary days and 20 Yuan during the Spring Festival, departing every 20 minutes, about 80 minutes' drive to Yangshuo. Please notice that the shuttle buses are non-stop, so travellers who plan to stop at Yangdi for a Li River hiking or bamboo rafting should not take them.

Introduction of West Street
The history of West Street in Yangshuo can be traced back to 590 AD (Sui Dynasty in China) and it is more than 1400 years old to this day. The street was 200 meters in length and less than 4 metes in width when the county was founded, and got its name because of its location at the west of the county seat.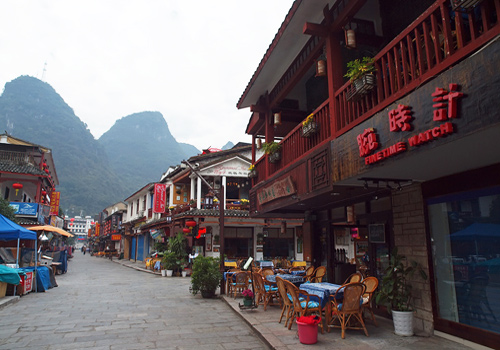 It is the oldest street of Yangshuo when Yangshuo was just opened to the world and discovered by western travellers at the beginning of 1970s. Charmed by its picturesque landscapes and simple and unsophisticated folk custom, they could not help writing their experiences and feelings in Yangshuo especially the West Street into guidebooks, which made it more mysterious and attractive for the western world.
Stretching for less than 1 km now and paved with flagstones, West Street is an amazing global pedestrian street with old traditional Chinese dwellings on both sides of it. It is in such a small street that all kinds of shops, restaurants and bars with English signs assemble. Every year hundreds of thousands of people from all over pay a visit to it, some of them find their love and open their own shops here, which makes the street the biggest "English Corner", "global village" and "foreigner street" in China.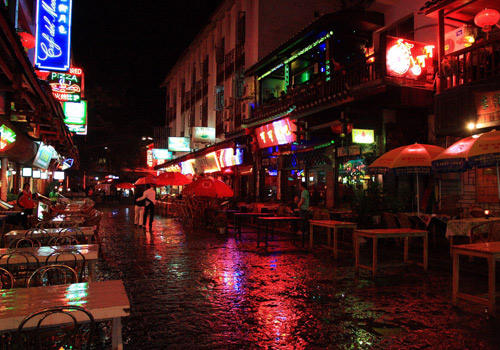 Most of the shop assistants and the shopkeepers and even packmen at all ages in the street can speak English more or less and foreign visitors do not need to worry how to communicate if they want to do shopping. Hence, travellers hardly feel lonely or strange no matter where which corner they come from in the world.
The daytime is the ideal time for travellers to leisurely observe the architectural style and the exquisite decorations in the street, while the street will become a world full of people and excitement when the night falls.
Yangshuo Travel Tips
- Accommodation in Yangshuo
There are many hotels with air-conditioner scattering in this small county. Most of the star-rated hotels locate in the county seat or by the Li River, with breakfast and English service; also many youth hotels and family inns can be seen everywhere including in the West Street, but most of them do not offer breakfast and professional English service.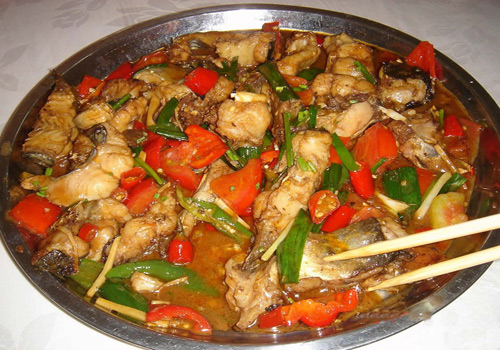 - Food and Restaurants in Yangshuo
There are many restaurants at all levels in Yangshuo, both Chinese and western restaurants running by Chinese and westerners, offering various cuisines, snacks and drinks. Most of the local restaurants in the town offer dry-hotpot and soup-hotpot, Chinese casserole (with rice, vegetable and meat or fish), fried rice noodles, porridges, and everyday Chinese fried dishes. But almost all of the ones offering western food gather in the West Street, where you can easily find a western restaurant/café and enjoy a leisure time with a coffee and snacks. Guilin rice noodle and the various local snacks are also seen as a must-try in Yangshuo.
- Transportation in Yangshuo
Yangshuo is a small town so it is possible for travellers to stroll from here to there on foot. Public minibuses are available in main streets and some of them run between attractions.
Classical Biking Routes in Yangshuo
Biking to the outskirt is a must-do in Yangshuo as well as visiting the West Street and watching the Impression. Bikes for rent can be seen everywhere in the town. It costs 5 Yuan / day for a single-seat bike and 10 Yuan / day for a tandem bike at ordinary days and the prices commonly double during the May Day and the National Day holidays.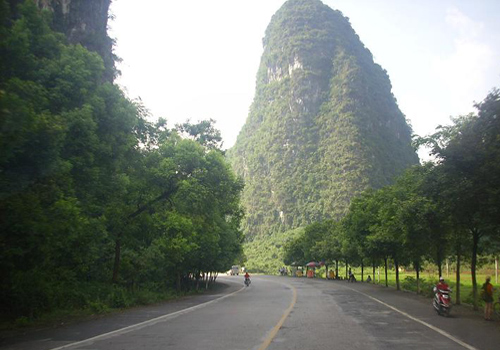 Route 1: Yangshuo Town – Gongong Bridge on Yulong River – Big Banyan – Moon Hill –Moon Hill Village – Fushan Temple – Yan Village – Tianjia River – Yangshuo Town
Distance: about 20 km, on road and country path
Feature: the most classical biking route in Yangshuo with the highlight landscapes of Ynagshuo
How to go: start off from Yangshuo Town and reach the Gongnong Bridge after 20 minutes, continue to bike for 500 meters to the Big Banyan scenic spot, then move forward for about 1 km. Turn left to the other side of the road and bike back, watch the Moon Hill at the Moon Hill Village (the best place for watching the hill, travellers can also have lunch or check in the family inns at the village). Go back to the road from the village and keep biking, pass by the Fushan Temple, reach the Yan Village by a stone-arch bridge, continue to move on and have a rest by the nice Tianjia River which is famous for sunset. The next stop is the Ai Hill, out of which is the road. Then bike along the road for around 5 km to get back to Yangshuo Town.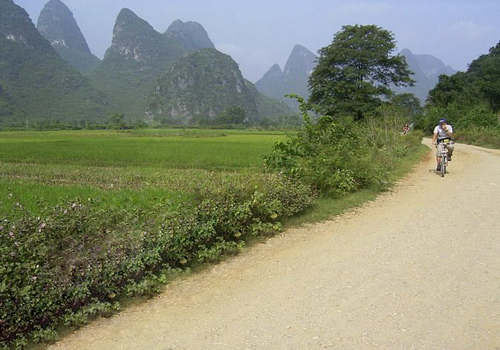 Route 2: Yangshuo Town – Gongong Bridge on Yulong River – riverside small villa – Yangshuo resort – Tongmen Rock – Fenglou Village – Moon Hill – Big Banyan – Yangshuo
Distance: about 20 km
Feature: center on the Big Banyan scenic spot
How to go: depart from Yangshuo Town, turn right at the Gongnong Bridge, bike for some 500 meters until reach the riverside small valla which faces the beautiful Yulong River (travellers can stop in here, have a pot of tea and enjoy the amazing landscape). Then go across the river by the barrage, continue to bike forward for 1 km to the Yangshuo resort where travellers can have their lunch, and then cross the river again (about 1-2 Yuan, it is possible to walk on the barrage in dry season), move along the path by the river for less than 1 km and it is the Tongmen Rock where rock-climbers from all over the world practice this exciting sport. Then turn left and bike on the intermontane path for some 500 meters and get to the Fenglou Vilage which is located at the back of the Moon Hill, then bike along the road and bike back to Yangshuo Town.
Quick Questions
Our team is waiting for your questions. Please feel free to ask us any questions you might have about our China package tours, Chinese culture, or the sites available. We will gladly help you with any special needs you might have and all questions, like our trip designing is completely free of charge.