How to walk in your hiking tours?
2013-09-18China travel Guide
We humans are truly a remarkable species, discovering all kinds of entertainments. Recent years, hiking has been widely favored by those who want to sport their unique passion. There are also many places where you can enjoy magical hiking experience:
the Great Wall hiking
,
Mt. Siguniang hiking
, Yangtze River Three Gorges hiking,
Li River
hiking of Guilin, and etc. It seems rather simple that you just need to walk different places during hiking, but you would know that walk needs many skills to keep you well protected, or you will absolutely get hurt. Here are some walk skills for you.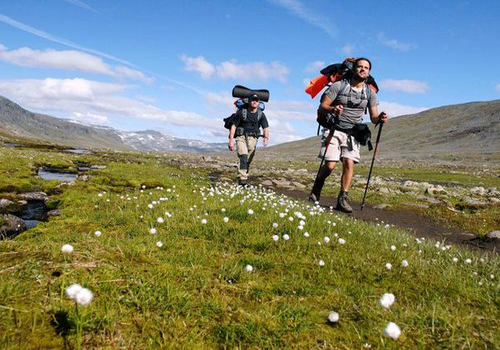 1. Please walk in a speed that you feel comfortable: do not walk too fast, that will waste your energy and get you tired soon. If you are walking with many other people, you'd better choose a companion who walks in the same speed with you.
2. Know clearly how long or far you are capable of walking: keep walking several hours and you will know your limit, and next time make your walk much longer. You are getting better and better.
3. Don't ignore the sceneries along the way: tone up your body is just one of your goals of hiking, so do not make yourself too tired to appreciate other beautiful things. Remember that most appropriate speed is which you can walk a whole day with.
4. Find your own way of walking: everybody walks a lot in the daily life, so you know clearly the most suitable way to walk, by which to use your energy to the fullest extent.
5. "Eat and drink more in your hiking" - do not misunderstand it. It means drink and eat frequently, but small quantity in every time. You need to drink some water before you climb up a huge slope, and make your drinks salty if it is a hot day.
6. You need to take a 10 minutes' break in every 50-minute-walk. Of course that depends on your own physical condition.
7. Foot blister: it is because the sweat makes the epidermis soft, and after long time's scraping, some tissue fluid leaks out and makes a blister. So be careful: do not start your steps too fast, to make your body adapted to the sport situation, or you will be flustered, faint or vulnerable, etc.
8. Stride in level road or gentle slope. It is a scientific way to reduce your legs' swinging and save your energy.
9. Stay focus: taking, tracing and playing with each other burn your energy and divert your attention. Thus, sight watching, communication, and little entertainment should be done when you are not walking forward.
10. Hold out a little longer when you feel exhausted, and then you will become energetic again.
11. Keep a certain distance with each other in your group: it is generally 2-3 meters to keep the whole group's integrity and safety.
12. Catch your rhythm of walking: look forward, and do not stare at your shoes. Make your hands easy and make your kneel straight after you stepping out. Do not put one of your hands in the pocket and another one holding your baggage, it will make you easily get hurt if slip up. Wear gloves if it is cold out there.
13. Do not forget to take enough supplies.
These tips will greatly help you in your walking.  
Comment