Unforgettable Li River Cruise Tour
2013-06-14China travel Guide
Thanks to my dear colleagues' support, I had a chance to visit most of attractions in Guilin by accompanying our guests from Singapore at the end of May. During this one week tour, I had not only seen beautiful sceneries but also been impressed by our guests' enthusiasm and vitality, especially the grandma who was called "Happy Sister" by our tour guide, so active and funny, made our tour filled with laughter, time passed by so quickly with joy when I saw them off at airport that I realized.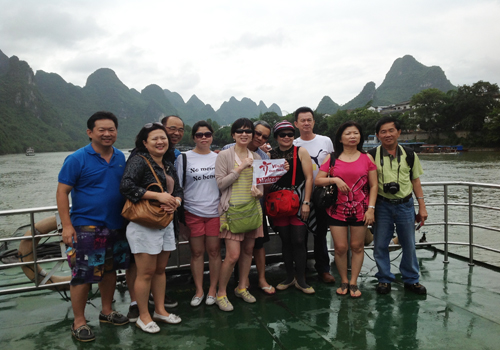 Life is a journey, keeping optimistic mood you will remain young, that's I learned from our Singaporean guest. Of course, it is not the point I want to probe into here, discussing more the ones really full of life experience would say "Hi, Sophy, how old are you?" OK, let's change the topic to attractions in Guilin. Actually, among the places I visited this time, Li River is the most astonishment to me. When I am writing this blog, I find my language mastering ability so limited that I cannot even express what in my mind.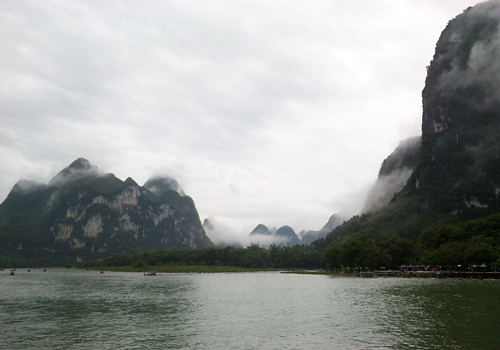 On the day of Li River cruise tour, I got up early because our cruise starting time was 9:30am, and it took about forty minutes from downtown of Guilin to Zhujiang pier, I couldn't miss the cruise as I longed for visiting this national AAAAA tourist attraction and the essence of Guilin beautiful scenery. When we boarded I found the ship was almost full due to other tourists had arrived there much earlier. Maybe they were excited as I was. The cruise afterwards proved that our expectation was worthwhile. At beginning of the cruise, some men taped the window of the ship to sell litchi, mangoes, mangosteen and other fruits, standing on bamboo rafts which kept pace with the cruising ship, the men aroused my worries, are their swimming skills good enough to deal with falling into deep Li River in case? It seems that my worries were unnecessary because they didn't follow our ship too long and would not be far away from the pier, naturally my attention moved to the scenery out of window. To be honest, the beginning part of the cruise was not too much attractive, what's more, it was raining outside, Effie (our tour guide) and I thus started to drink some coffee, chat casually in the cabin.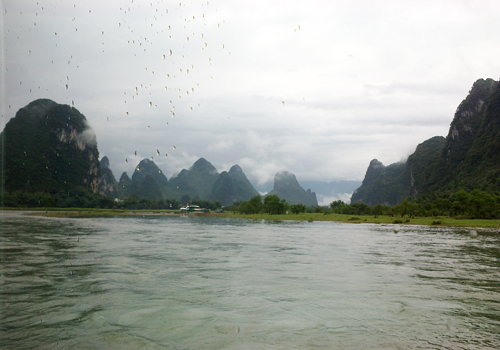 "Wow, excellent!" an exclamation of joy drew our attention. Looking out of the window, the weather relented, "Let's go to the second floor" Effie said brightly. Definitely enough you could not imagine how surprised and excited I was when I reached the deck. "amazing" "marvelous" "excellent" "fantastic" "perfect" all adjectives flew into my brain, but no one could exactly describe the dreamlike Li River cruise, especially the part from Yangdi to Xingping. Mist wreathed the peaks far away, while looking closer, green and luxuriant on the beach were bambusa multiplex, rowing on the river were dotted bamboo rafts. It was just like a giant ink and wash painting hanging from sky to earth. So quiet and harmonious the whole scene was in spite of noise from the ship and flapping of some ducks under small waterfall. Most of tourists ran out of the cabin, took photos and expressed their admiration heartily. I was also busy, besides trying to remember the breathtaking scenery with mind and heart I wanted to record the moment by camera. On river bank are the sceneries named Crown Cave, Painted Hill of Nine Horses, Snail Hill and so forth, we could see some "fishes" or "horses" on cliffs, with the ship heading, hfills look like snail or pen holder or other things could be imagined by human gradually jumped into our eyes. "One hundred miles of Li River, one hundred miles of art gallery", it's true.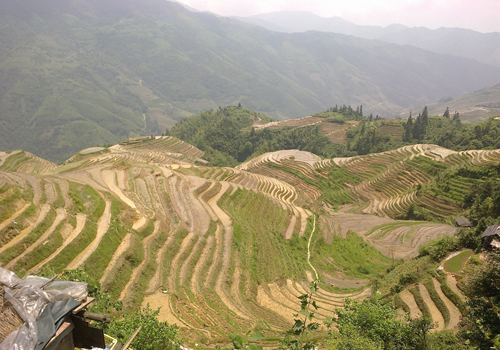 We were totally absorbed in the Li River cruise, and imperceptibly be transferred to the terminal point in Yangshuo at around 13:00. Near the pier is the famous West Street, a place which would attract you to slow down your pace. A variety of souvenirs, local specialities, jewellery, clothes and other commodities are surely a feast for the eyes. If you were good at bargaining enough you might find some small articles on the street with favorable prices.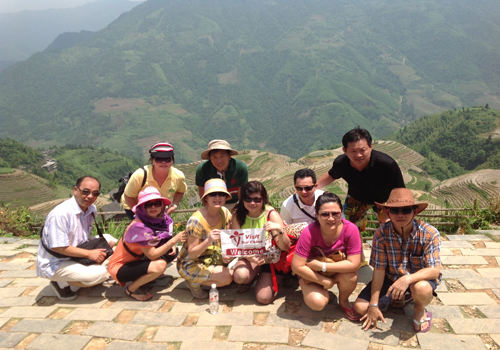 Highly recommending Li River cruise doesn't mean that other scenic spots here are not attractive, Dragon's Backbone Rice Terraces (Longji), Reed Flute Cave and other places are also worth visiting, and Li River is only one representative in Guilin. Welcome to Guilin to explore this wonderful land by yourself and share your experiences with us!
-- Sophy (VisitOurChina)
Comment