Legend, Seascape, Seafood and Bar Street -- Weekend at Fisher Girl Statue of Zhuhai
2013-06-07China travel Guide
Fisher Girl Statue is a must go place of Zhuhai, a seaside city faces Hong Kong and Macao over the sea. Choose a sunny weekend, together with some friends, start off!
Overview: Statue at present and fairy maiden in history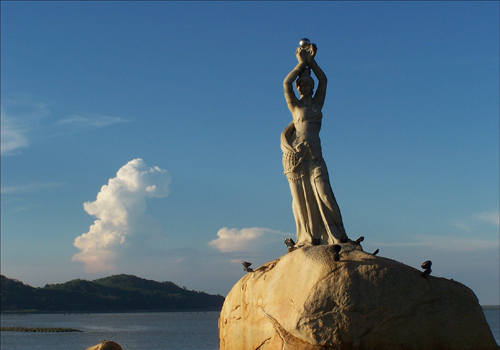 Zhuhai Fisher Girl is a tour place with extensive entertainment, because many tourist attraction gather around it, such as the Haibin (Seashore) Park, Jingshan Park, Bathing Beach, Zhuhai City Museum and etc. It is also very close to the downtown of Zhuhai (about 10 minutes' drive). You can find Department Store and Jusco there. Perfect sight-seeing and shopping choices will definitely made your day.
Beside the beautiful Xianglu (censer) Bay, Zhuhai Fisher Girl stands gracefully with her hands holding up a sparkling pearl. She is decorated with necklace and wearing happy and timid smile, showing brightness and dedicating treasure to human race. The China's famous sculptor Pan He created the statue with 8.7 meters height, 10 tons weight, and 70 granite components.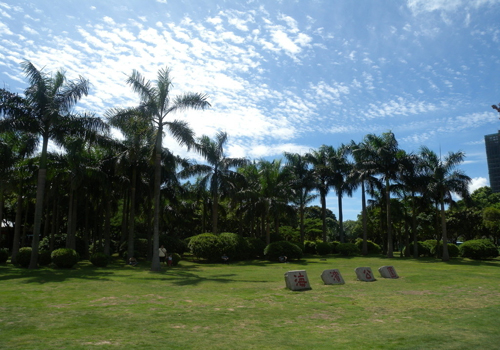 She is just a simple statue, but behind which it hides a touching story. In the ancient time a fairy maiden was deeply attracted by the amazing sceneries of Xianglu Bay. So, she descended to the mundane world in fisher girl's disguise, and was widely favored by the fishermen for her cleverness and beauty. She pledged to marry a frank and practical fisherman Haipeng (means roc) without her parents' permission. But Haipeng was misled by someone and insisted on demanding for her bracelet (the guaranty for living in mundane world) as a token of love. The fairy maiden removed the bracelet to show her mind and died in her lover's arms. Haipeng was so regretful that he cried day and night, night and day. The Jiuzhou eldership was moved by the couple and led Haipeng to find the Huanhun Straw (a medicine which can make the dead alive). From then on, the fairy maiden became a complete fisher girl. In their wedding day, she presented a pearl with matchless beauty to the Jiuzhou eldership, which posture was what we can see nowadays from the Fisher Girl Statue. At present, the statue has become the symbol of Zhuhai City and the pride of Zhuhai people.
How to get there Fisher Girl Statue and what to do
You can easily get there by self-driving or No. 9 or 99 bus, getting off in Zhuhai Fisher Girl. The whole place can be freely visited all day long.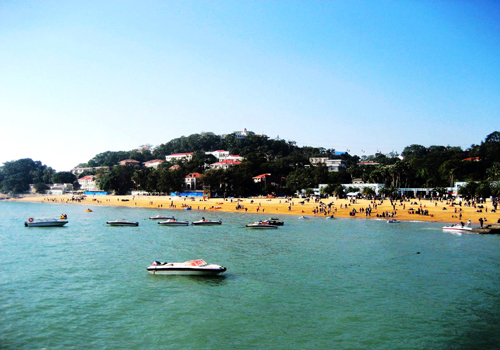 We spend half an hour enjoying the surrounding sceneries. It's lunch time. Cross the nearby Haibin Park lies the Jiuzhoucheng commerce trading centre, where you can find all kinds of restaurants from over the world, including Chinese noodles, seafood, native food, western-style food and etc. We decided to purchase food alone but enjoy it together in the green grassland of the park. The afternoon warm sunshine, fresh clean sea breeze, soaring kites in the sky… all of our worries were erased by these beautiful experiences. Sure you can also join in the kids flying kites which you can buy from the store nearby (costing 10- 100 RMB).
It may be a little hot in the afternoon, but not obvious for the breeze from the ocean. You can choose to swim in the Bathing Beach or go back to downtown for shopping. We went to the Zhuhai City Museum for the butterfly exhibition (the museum conducted many activities every year). Its collection was quite abundant. I was extremely impressed by the cannons and dragon skeleton. It is an epitome of Zhuhai history, from which you can get a little knowledge of Chinese culture.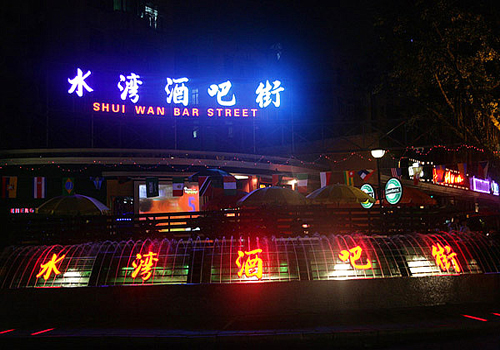 Soon, the sun set and night came. But wonderful night life of Zhuhai just started. Even you feel tired, Zhuhai has her own way to arouse your interest and energy—seafood and parties. Seafood is everywhere in Zhuhai. Here I recommend the Shishen (God of Cuisine) Restaurant (about 90RMB per person) and their famous dish-- Stewed Cheese and Fresh Oyster (fresh, tasty and crisp).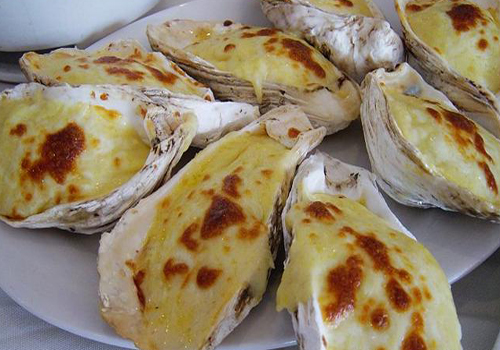 The Bar Street of Zhuhai is about 20 minutes drive from Zhuhai Fisher Girl Statue. It is place of clubs and bars, where you can find many friends who love parties from all over the world. Just enjoy the passion and cuisine in Chinese style. Welcome to China.

--- Xavier (VisitOurChina)

Comment