Prince Gong's Mansion
In the southwest of the beautiful Shichahai historic and cultural scenic area of Beijing, there is a tranquil street stretching in the shade of willow, on which an imposing mansion in traditional Chinese style sits – that is the famous Prince Gong's Mansion of Qing Dynasty, the best-reserved prince's mansion in China. Consisting of houses and gardens, the whole mansion covers an area of around 61,120 square meters (about 330 meters in length and 180 meter in width), with houses and gardens occupying 32,260 square meters and 28,860 square meters respectively.
This grand mansion was originally built in 1776 as a private one by He Shen, a powerful corrupted minister in Qing Dynasty. After He Shen was deposed and granted suicidal death in 1799 by Emperor Jiaqing, the mansion was bestowed on the emperor's brother Prince Qingxi (Yonglin). In 1851, Prince Gong (Yixin), a great political figure in late Qing Dynasty, became the third owner of the mansion and it was renamed Prince Gong's Mansion since then.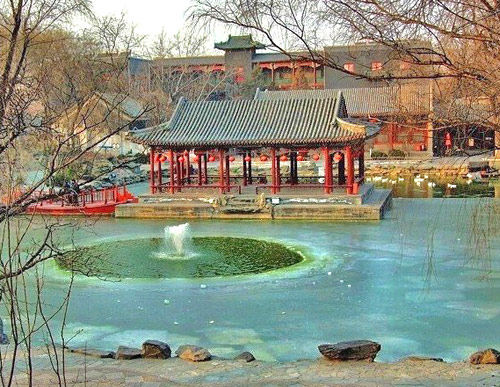 Making a general survey of the mansion, it is regular and neat in architectural composition and sophisticated in technology, with exquisite pavilions interlacing passages and gardens. The design perfectly combines and fully embodies the glory and elegance of the royal family and the simplicity of the commons. Divided into three sections, the buildings inside the mansion are strictly located in traditional quadrangle courtyards. The main structures are Yinan Hall and Jiale Hall, with the roofs paved with green vitreous tiles, which shows the dignity of the imperial family according to ancient Chinese etiquette. And other houses include Duofu Pavilion (as principal room), Ledao Hall (as living room), Baoguang Room and Xizhai Room, etc. Deep into the mansion, there is a two-storeyed building with 88 windows and 108 rooms, which imports good implied meaning inTaoist. In Qing Dynasty. Prince Gong is a first-class nobleman, for this reason those whose position is inferior to his could not build greater mansions no matter in number of houses, the form of roof or the color of tiles.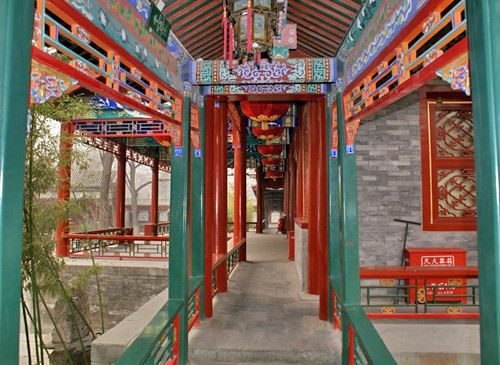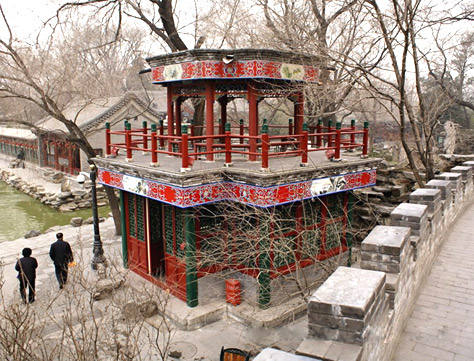 In ancient China, people attached great attention to Fengshui (Fengshui: an ancient Chinese system of aesthetics believed to use the laws of both Heaven (astronomy) and Earth (geography) to help one improve life by receiving positive Qi) before starting building. On site selection, the mansion sits at absolutely superexcellent position in Beijing. It is believed there are two "Dragon Veins" (Long Mai, very essential and important places) in Beijing City: one is "earth dragon" in Summer Palace and the other one is "water dragon", which the Prince Gong's Mansion is right situated on, as a result, the mansion is said to be in very good Fengshui. Consequently, there is an interesting rumor about its good fortune that the number of the long-life people living around the mansion tops in Beijing.