A short exploration for Guilin Hotels
2012-02-10China travel Guide
To have a better knowledge and to learn latest news about our frequently recommended hotels in
Guilin
, our company organized a short visit to some
Guilin hotels
on Feb.7. With great honor, I had the chance to visit the eight selected ones with my other three colleagues from Russian Department. The hotels we had visited were Jin-tong Guilin Hotel (精通桂林大酒店), Fubo Hotel (伏波山大酒店), Hotel Universal Guilin (桂林环球大酒店), Guilin Eva Inn (桂林四季春天酒店), Hotel Grand 0773 (贵客0773酒店), Guilin Osmanthus Hotel (桂林丹桂大酒店), Hanting Express (the Elephant Hill Park branch) (汉庭快捷酒店象山公园店) and Guilin Inn (桂林驿皇家别院).
Most of these hotels are located in the downtown Guilin within 15-minute-walking to the most prosperous streets and department stores as well as to the
Li River
or some of other attractions of the city. Each of them holds different features and appeals and has been designed in different styles. Our visit paid much more attention to the standard rooms and some deluxe rooms, which are always the most popular room types. In terms of room size, hotel decorations and service, I have divided these eight into four types personally, which may helpful to you in selecting an appropriate one according to your needs.
1. Economic choices for backpackers -Hotel Grand 0773 & Hanting Express
Enjoying a preferable location with only several minutes walking to Guilin Department Store and the bustling Zhongshan Road, Hotel Grand 0773 is especially convenient for shopping and local food hunting. It is an exquisite hotel featuring European-American Postmodernist style which has a medium-sized lobby and comfortable and clean rooms. As for Hanting Express, which belongs to Hanting Hotels, is situated not far from the
Elephant Trunk Hill
. As a new built one which just opened in 2011, it offers rather comfortable new rooms with new furniture. Thought the lobby is small, it is warmly decorated and provides free use of computers.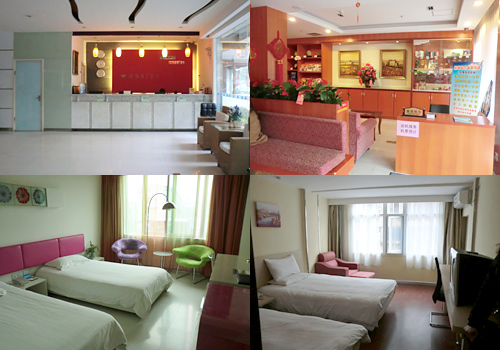 (Photo: left is the Hotel Grand 0773, and the right is Hanting Express)
2. Recommended three-star hotels – Fobo Hotel & Hotel Universal Guilin & Guilin Osmanthus Hotel
Standing on the bank of Li River and next to
Fubo Hill
, Fobo Hotel enjoys a beautiful ambient and provides some rooms with river views. The hospitality and the amenities in the hotel guarantee a pleasant stay. About Hotel Universal Guilin, it just seated in the city center and set along side of Li River, in which the river views from room windows are really marvelous. In addition, the hotel is very convenient in terms of traffic and within walking distance to shopping arcades.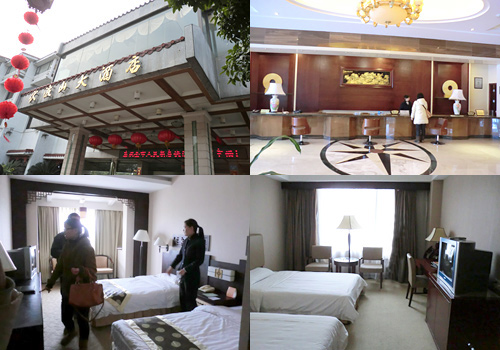 (Photo: left is Fobo Hotel and the right is Hotel Universal)
Guilin Osmanthus Hotel, which is located on the scenic riverside of Taohuajiang (Peach Blossom River) in downtown Guilin, has a spacious lobby and larger standard rooms than that of Fobo Hotel and Universal Guilin. Furthermore, as a long time operated three-star hotel, it is not only expert in receiving guests with excellent service but also an ideal place to stay both for shopping and sightseeing within walking distance to shopping center and the cute Elephant Trunk Hill.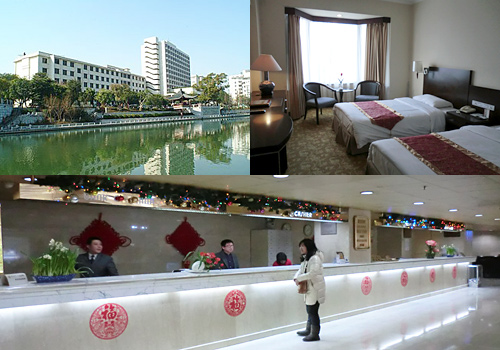 3. Deluxe choices – Jin-tong Guilin Hotel & Guilin Eva Inn
Jin-tong Hotel is situated in bustling downtown with scenic Gui Lake,
Solitary Beauty Peak
and
Folded Brocade Hill
in sight. Its lobby is spacious enough and has been deluxe decorated with an elegant café. Its rooms are just comfortable and clean.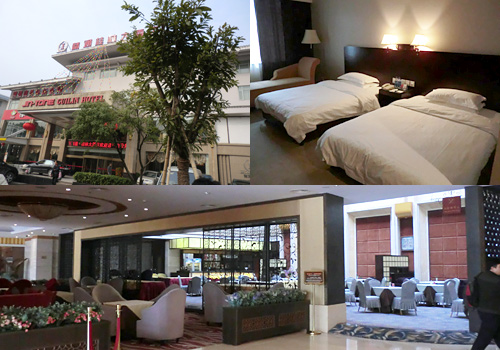 Guilin Eva Inn also enjoys a good location by the river bank of Li River, and faces the
Zhengyang Pedestrian Street
in the west. It provides kinds of rooms, such as standard rooms, deluxe rooms, family suits, etc. The standard room is large and comfortable, and some deluxe rooms are even equipped with a balcony, possessing the charming Li River Sceneries in the distance. More to the point, the Tianyue Café (Sky Moon Café), which is at the top floor of the hotel, is gracefully decorated with a outdoors area, which offers amazing combined scenic beauty of Li River, Elephant Trunk Hill, Chuanshan Mountain and Tashan Mountain, all of which are the highlights of the city.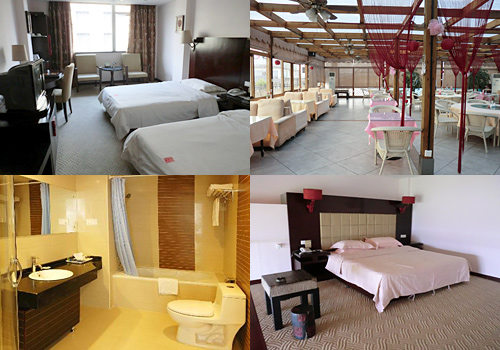 4. Luxurious and secluded resort hotel – Guilin Inn
Just opened in September last year, Guilin Inn is a rather superior resort hotel with buildings being designed in traditional style of classical garden and architecture of Tang Dynasty (618-907). Located in peaceful Guilin Botanical Garden, the hotel itself is built into another garden with Chinese pools, pavilions, rockeries, corridors and bridges. It is just a secluded vacation paradise. Each room of the hotel is equipped with a private garden or a sightseeing balcony, and even the standard room is in large size and equipped with two queen-size beds and luxurious furniture and bathroom appliances.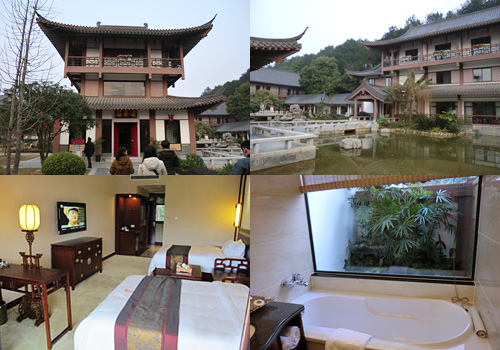 --- By April (VisitOurChina)
Comments
Comment