An ancient stone town by Li River, Guilin
2012-02-14Life in Guilin
At the Yangmeiling (杨梅岭) of Putao (葡萄) Town of
Yangshuo
County there hides a small stone town with four stone gates, which need 3-4 hours to walk through all of them. Embraced by continuous mountains, this ancient stone town is apparently isolated from the bustling and hustling outside world. Thanks to that, it still looks like an unaffected Shangri-la where the local live a simple and autarkical life and remains a wonderful destination for hiking lovers.
There are no exact historical materials or stone tablets introducing this old stone town, so it is quite hard to tell when and why it was constructed. But according to the elders living at the town and some relics such as the old command post and the military camps, a conclusion can be estimated that the stone town has had a history of 200-300 years at least.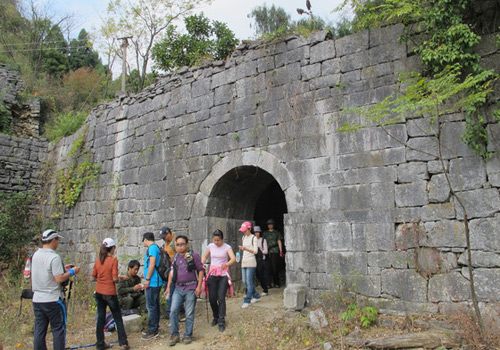 Walking around the town, visitors could easily find everything in the town seems to be relevant to stone. No matter the thins or the thicks, stones are made good use of here – stone houses, stone paths, stone cowsheds and pigsties, stone-surrounded vegetable gardens and orchards.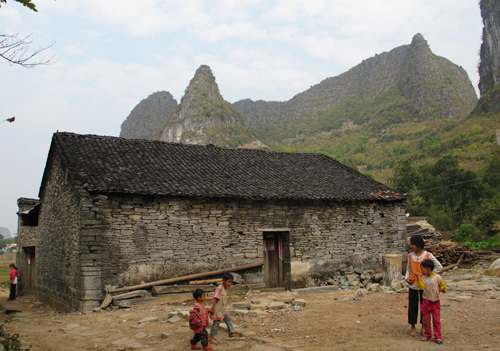 Surprisingly, the old houses at the stone town are commonly constructed without concrete but still stand firmly there. Four children are playing in front of an old stone house in the picture above. The tallest girl is at grade 6 at present and boards at school, and it takes her more than one hour from her home to school, on foot.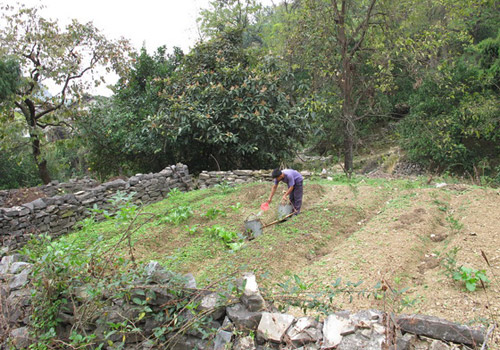 A man is watering vegetable at a garden. Traditionally, it is a common way in rural areas of China to grow vegetables with water and farmyard manure only, in which way vegetables are much tender than those grown with chemical fertilizers in Vegetable Greenhouses. Nowadays, however, such "green vegetables" seem to be rarer and rarer with the going on of urbanization.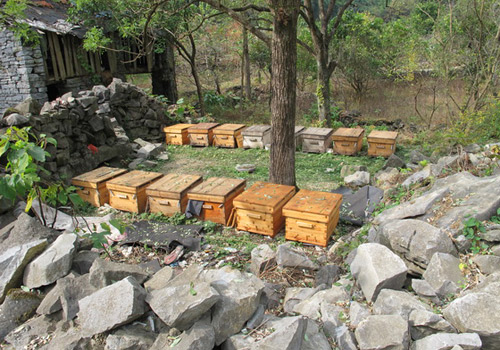 What do these wooden boxes remind you of? For those who live in cities and always go shopping at a supermarket or a department store, I guess it racks their wits about the key. Sweet, brown, liquid (crystallizing below about 15
degree Celsius), pollen… Yes, honey! You have a chance to witness a mini but pristine production base of natural honey at this ancient stone town and the owners are probably glad to sell some, without any food additives or food colorants. But, do NOT get close to observe them without permission, as a queen bee usually dislikes uninvited guests.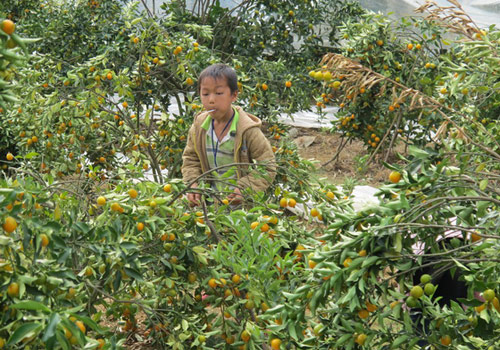 Kumquats, a small oval citrus fruit with thin sweet rind and sweet or acid pulp, are the major agricultural product of the town as well as of Yangshuo. Normally, this small fruit fully ripens in January or February depending on planting date and weather condition, look golden yellow and taste sweet. In spite of the unripened season, we still want to try some, so we gave some candies and biscuits to the boy in the picture, and in return, he gave some kumquats of his family to us.
Travel tips:
1. Due to the inconvenient traffic, there are no direct buses to the town at present. The way we got there was driving on our own. After one hour's drive from downtown
Guilin
, we turned left upon arriving at Putao Town of Yangshuo. It took some 20 minutes to drive on the narrow concrete country road and reached the foot of the mountain on which the stone town locates. Ensure that you wear a pair of strong sneakers, as the 40 minutes of climbing on the rugged mountain paths is the biggest challenge for your physical agility.
2. It is normally cloudy, rainy and cold between November and February in Guilin and its adjacency, so it is suggested to check real-time weather report before departing to the town.
--- Lu Yaoyun (VisitOurChina)
Comment