Zhengyang Pedestrian Street

More Photos
In downtown Guilin, there is a 1000-year-old road named Zhengyang Road, which used to be an important commercial occasion in Guilin in history and has been Guilin's political, commercial, cultural and opera centre since Tang Dynasty. The famous Zhengyang Pedestrian Street is situated on this road.
Constructed strarting from October, 1999, Zhengyang Pedestrian Street was opened to the public on New Year's Day in 2001. It is paved with flagstones and stretches for six hundred and sixty six meters. Amidst of the street stands a red 17.5-meter-high bell tower, which has now become the most eye-catching symbol of the street. It is a very popular street that mixes leisure, shopping and entertainment together. The width of the street varies from 12 to 14 meters and the buildings along the street are mainly in traditional Chinese style with Guilin local feature and stone carvings of Guilin landscapes, which well presenting the street's long history and culture, accompanying with some classical structures in Japanese, South Asia and European styles. Wandering along the street, both charm of the Yangshuo West Street in South China and jollification in Beijing temple fairs in North China can be found surprisingly.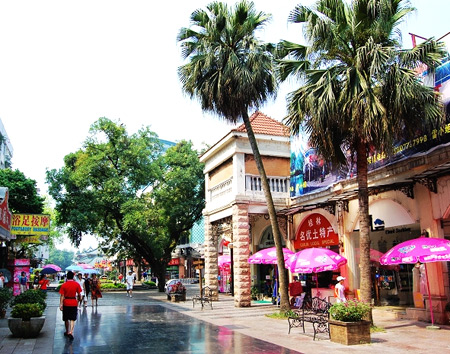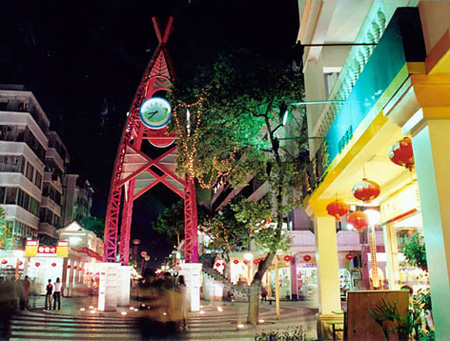 As one of the most renowned commercial and leisurely streets in Guilin, Zhengyang Pedestrian Street is bristle with all kinds of shops for local snacks, drinks, cuisines, fashions and entertainments. Hence, it is a paradise for those who long for reaping traditional and modern Chinese and Guilin local elements.
Around the street there are some famous hotels in Guilin, e.g. Guilin Li River Waterfall Hotel, Sheraton Guilin. Due to the nice location, with Fir Lake to the south, Mansion of Jingjiang Prince of Ming Dynasty to the north, Li River to the east and Guilin Central Square to the west, local people and tourists keep coming and going through the street in streams all year long, tasting the city flavour of Guilin.
Quick Questions
Our team is waiting for you questions. Please feel free to ask us any questions you might have about our China package tours, Chinese culture, or the sites available. We will gladly help you with any special needs you might have and all questions, like our trip designing is completely free of charge.