Four most famous classical gardens in Suzhou
2011-08-26China travel Guide
Classical Chinese garden is time-honored with a history of over 3000 years, which has developed to a distinctive style of its own that enjoy a high reputation in the world garden family. A Classical Chinese garden is always a comprehensive one which combines traditional Chinese architecture, literature, Chinese calligraphy, Chinese painting, engraving and craftship. Generally, there are four garden schools in China according to regional characteristics, namely, south Yangtze River gardens (shortly known as southern gardens), south of the Five Ridges gardens, Sichuan gardens, and northern gardens, southern school of which is the most famed home and abroad. Among the four most famous gardens of China, the Humble Administrator's Garden in Suzhou, the Summer Palace in Beijing, the Imperial Summer Villa in Chengde and the Lingering Garden also in Suzhou, two of them in Suzhou that belong to the southern school.
Southern gardens are famous by classical Suzhou gardens for featured exquisite and beautiful gardens. A typical Suzhou garden occupies a relatively small area but ingenious in the layout and creative in the landscape-making with small spots as much as possible. Classical Suzhou gardens are the best representatives of Chinese gardens and included in the World Heritage List. Most Suzhou Gardens are private built from the residence of socialites of senior officers or rich dealers of the time. The oldest gardens were built in Song Dynasty (960-1279), while others are mostly built in Qing Dynasty (1636-1911). It is said that in the late of Qing Dynasty (the end of 19th century to the early of 20th century), there were over 170 private gardens in Suzhou, of which over 60 are well-preserved today within 17 are opened to the public. Among them, the Humble Administrator's Garden, Blue Wave Pavilion, Lion Grove and Lingering garden are the most famous crowned as the Four Gardens of Suzhou, representing the style of four dynasties of Song, Yuan (1206-1368), Ming (1368-1644) and Qing.
1. H

umble
Administrator's Garden (
拙政园
)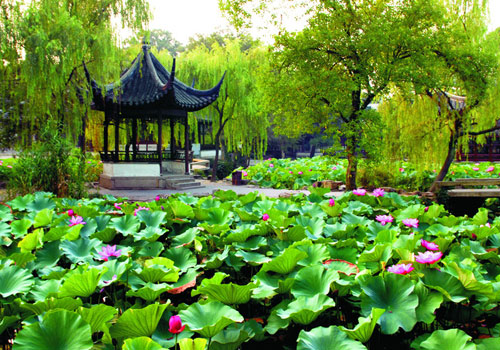 Humble Administrator's Garden
is considered to be one of the best in China that nearly contains all the features of classical Suzhou gardens. In fact, it is also the largest and most famous in Suzhou. It was constructed in Ming Dynasty on a former site of a residence of Tang poet which then rebuilt as a temple in Yuan Dynasty. Designed by a painter, the garden is full of concepts of poetry and traditional Chinese painting. Unlike other Suzhou gardens which are all quite "hidden" and "winded", Humble Administrator's Garden creates a very open feeling that overcomes the "smallness" but well reserve all the "delicate" and "detailed" features of
Suzhou
gardens. The garden's 5 hectares focus on a central pond and feature streams, bridges, pavilions, terraces, chambers, island of bamboos and towers nearby. It also contains a teahouse and a small museum that interprets Chinese landscape gardening concepts.
2. Blue Wave Pavilion (
沧浪亭
)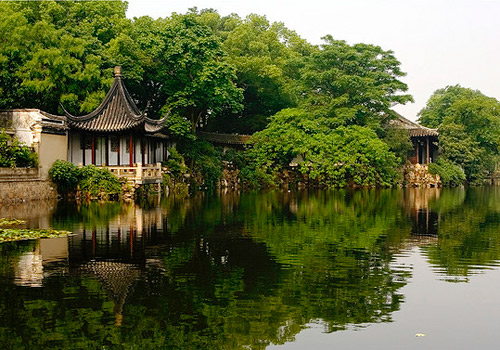 Blue Wave Pavilion, or Canglang Pavilion in Chinese, is the oldest UNESCO garden in Suzhou originally built in Song Dynasty by a Song poet and scholar Su Shunyin on the site of the house of a prince. Characteristic of a natural water barrier and a long sightseeing corridor with the water barrier on one side and the beautiful sceneries on the other side, the garden has created optical illusions with the scenery both outside and inside. It is a pavilion that perfect for relaxation with lots of exquisite small pavilions, brooks, pools, hills and green trees.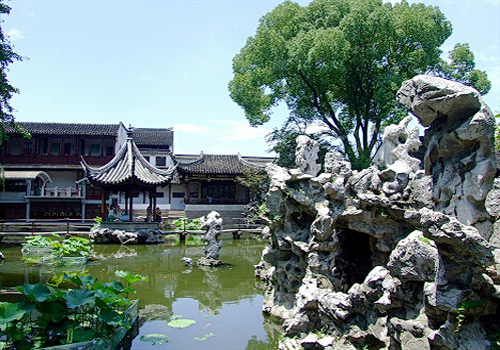 Lion Grove is the most distinctive one in Suzhou gardens that hailed as "rockery kingdom". It is the only existing garden that built in Yuan Dynasty. Lion Grove got its name from the shapes of rocks which are said to resemble lions. Seated on a bustling street in the city, the garden blends the splendid landscape in the graceful of garden. Home to the largest ancient rockery, the highlight of the garden is just its huge array of gnarled, strangely shaped rocks, making a maze with pools and pavilions. Calligraphies of the four most famous calligraphers of Song Dynasty Su Shi, Mi Fu, Huang Tingjian and Cai Xiang and the Poem for Wintersweet by Wen Tianxiang are inscribed on the walls of the corridor.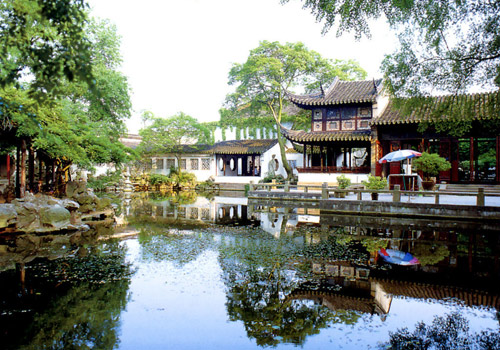 Originally built in Ming Dynasty and improved to present layout in Qing Dynasty, Lingering Garden is a quite fine and delicate garden. It is one of the largest gardens in Suzhou City, noted for storing two UNESCO intangible world heritage arts, Pingtan (
评弹
) and Guqin music, as well as its adroit partitioning with building complexes, which are large in quantity in the garden and smart in layout. In this over three hectares garden, various sceneries of waters and hills, pastoral, woods and gardens can be well appreciated in its four sections. Just as its name "linger" implies, the garden was built lingering for centuries with a succession of small beautifully landscaped gardens, pavements, pools and pavilions for each season. Its wonderful covered walkways connect major scenic spots with perfect windows for a variety of perspectives on the garden, and dotted by elaborately carved corridors and a wealth of plant.
---By April (
Visit Our China
)
Comment