Chengde travel guide
Chengde, charming little town lying in the Hebei Province, is an important historical town just a few kilometers away from Beijing. Being part of a mountainous region typical of northern China, Chengde enjoys a lush landscape made of beautiful natural sceneries and rivers. Primarily called Jehol or Rehe, the city is renowned for its historical importance as a summer resort capital of the Qing Dynasty (1644-1911): a role that can still be seen through the historical masterpieces present here. Divided in 3 districts, 5 counties and 3 autonomous counties of Manchu and Mongol natures, Chengde offers to travelers the opportunity to enter in another China, the life there being definitely smoother. Owing to its surrounding mountains, Chengde constitutes today the largest city in the Hebei Province, but has the lowest level of population. For years now, this delightful city has been a peaceful retreat away from the turmoil of its neighbor metropolis. History of Chengde The Emperor Summer Resort place Chengde is without any contests the city where life goes smoothly. Tracing back to the Neolithic Age, Chengde was in ancient times the place of many nomadic ethnic gro... More information about Chengde »
Top Attractions in Chengde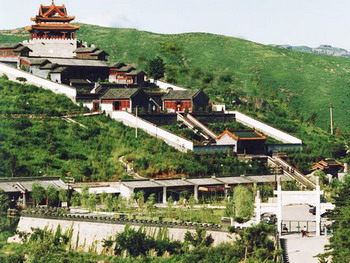 Imperial Summer Villa (Bishu Shanzhuang) & Mountain Resort and Outlying Temples
Chengde Mountain Resort, also known as Chengde Summer Villa, Chengde Bishu Shanzhuang, Chengde Li Palace and Rehe Imperial Palace, is a popular summer resort for emperors and dignitaries in Qing Dynasty and also the biggest Imperial Garden in the world. It has made perfect combination of the natural sceneries. This attraction was built from 1703 to 1790 during Qing Dynasty. The emperors of Qi...
More about Imperial Summer Villa (Bishu Shanzhuang) & Mountain Resort and Outlying Temples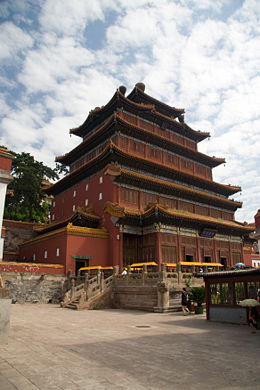 Puning Temple
Chinese name: 普宁寺 (Pu Ning Si) Location: in Shuangqiao District, Chengdecity, Hebei province. Admission fee: from 1st November to 31st March, 60yuan; from 1st April to 31st October, 80 yuan. Opening time: 08:00-17:30. How to get there: - By bus No.6. - By taxi. It costs 5 yuan from Xumi Fushou Temple to Puning Temple, or from Qingchui Peak to Puning Temple. Best time to visit: autumn, gen...