Short Visit in Guangzhou
2011-03-22China travel Guide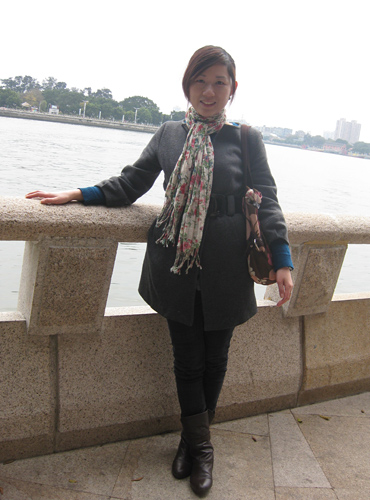 Once referring
Guangzhou
, people like to compare it with
Beijing
(Peking) and
Shanghai
, even
Hong Kong
. Indeed, Guangzhou is one of the 3 most important cities in mainland of China, although Guangzhou is not a municipality like Beijing and Shanghai, it also plays an irreplaceable role in Pearl River Delta area. If we say Beijing is the city of ancient culture and politics, Shanghai is the city of finance, commerce, fashion and internationalism, then Guangzhou is just the city of economy and delicious food. In the mean time, Guangzhou is also a crucial transportation hub and trading port, convenient to access to
Shenzhen
,
Zhuhai
, Hong Kong and
Macao
.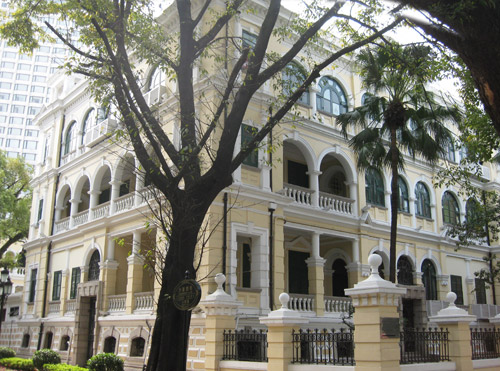 Guangzhou is also named Canton, since the local have their own dialect - Cantonese, the same language with Hong Kong. Guangzhou has some other nicknames, like The Flower City, Five Goats City, Goat City, and Ceiba City. Because my duration in Guangzhou is too short and I had only one free day, I decide to take half day for the key sightseeing and half day for shopping and tasting Guangdong cuisine. In Guangzhou, there are many parks like Chen Clan Academy /
Chan Clan Ancestral Hall
,
Western Han Nanyue King Tomb Museum
,
Temple of the Six Banyan Trees
,
Sun Yat-sen Memorial Hall
, Shamian Island / Shameen Island, etc. Before I came to Guangzhou, I heard about Shamian Island which is more famous because of the 16
th
Asian Games, then I was keen to visiting there. Shamian Island is a historical area with many buildings built in the European colonial period, with tranquil pedestrian avenues. On Shamian Island, there are several churches like Our Lady of Lourdes, British Protestant Church, maybe you would feel curious why it is available to see churches on the small island? Actually, Shamian Island was an important port for Guangzhou's foreign trade from the Song Dynasty to the Qing Dynasty, however, this territory was divided into two concessions and was forcedly ceded to Britain and France after the Second Opium War (Britain and France's invasion of China) during the 19
th
century (Qing Dynasty), that's why today people can see so many European style buildings on Shamian Island.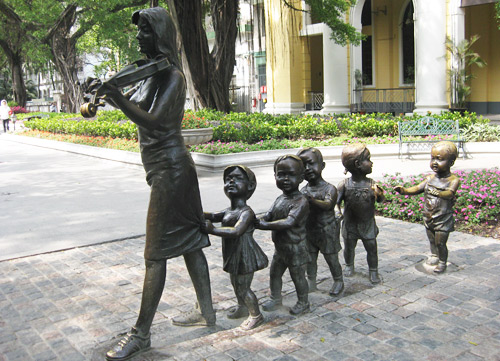 Besides, there are many various bronze statues standing on the island which depict the life during its colonial period. When you see the statues, it seems that you can hear the dialogue between the past and the current, and sometimes you even can not help recalling your own childhood life.
Going ahead, I arrived at the other side of the island, where I had a full view of
Pearl River
. Standing at the bank of Pearl River and feeling the breeze, I felt it was so enjoyable. So, if you visit Guangzhou and your time permits, just spend half day visiting the Shamian Island. It is the best place to kill leisure time.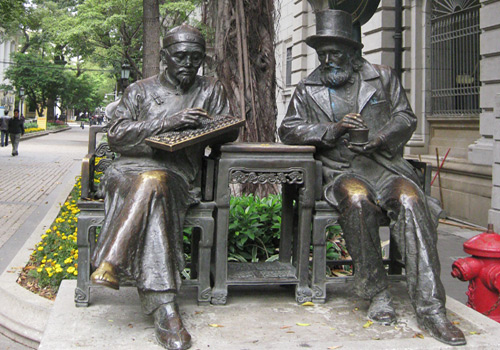 After the wonderful visit on the exotic Shamian Island, I continued my tour in
Guangzhou
. Traveling in Guangzhou, you would feel that it is hard to extricate yourself from shopping and cuisines, no wonder people always say "eating in Guangzhou". A highly recommended place is Shangxiajiu Walking Street. In the big commercial area, you can not only buy many fashionable clothes at low prices, but also you can taste various local Cantonese snacks which are called "Dim Sum" in Cantonese. If you are a gourmet and want to get the culinary experience, Guangzhou would be the right place, with developed catering trade.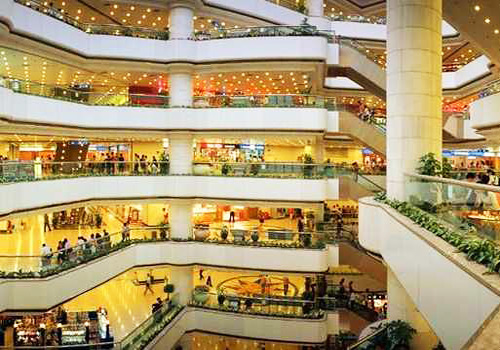 Cantonese like cooking their food by steaming, braising, frying and baking, and the local food features being fresh, tender, smooth and crisp. The cooking stresses the use of strong fire to cook to keep the full taste and flavor of the dishes. Since I had heard the high reputation of Guangzhou food for a long time, I did my best to taste as much food as I could and here I would like to recommend some Guangzhou snacks and desserts: steamed ball (烧卖Shao Mai), hot fresh porridge (生滚粥Sheng Gun Zhou), barbecued pork bun (叉烧包Cha Shao Bao), dry cook (干蒸Gan Zheng), Rice noodle roll (肠粉Chang Fen), steamed turnip cake (萝卜糕Luo Bo Gao), glutinous rice in lotus leaf (糯米鸡Nuo Mi Ji), twisted cruller (油炸鬼You Zha Gui), milk custard (双皮奶Shuang Pi Nai), red bean soup (红豆沙Hong Dou Sha), coconut tapioca (西米露Xi Mi Lu).
After the short visit in Guangzhou, I feel very impressive. For
classic China tour
, Guangzhou is an ideal arrival city or departure city as well as a transfer city connecting Hong Kong by direct train or jet boat. As the third largest city in mainland China and the largest city in southern China, Guangzhou will provide you with the most memorable South
China tour
.
Comments
Comment