Sun Yat-sen Memorial Hall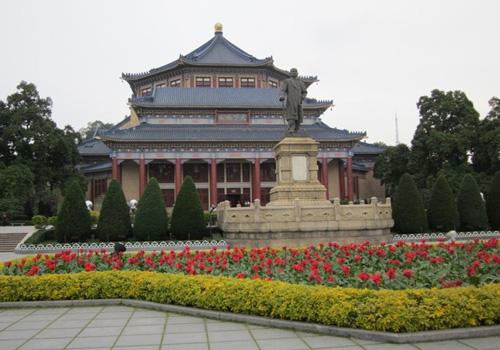 More Photos

Chinese name: 孙中山纪念堂 (Sun Zhongshan Ji Nian Tang)
Location: On No.190, Sunwen Middle Road, Shiqi District, Zhongshan City, Guangzhou, China.
Opening time: 09:30 -18:30.
Ticket: CNY10.
How to get there:
---Take bus No.2, 27, 42, 56, 62, 74, 80, 83, 85, 185, 133, 204, 209, 224A, 224, 229, or 261 and get off at Jiniantang Station.
--- take Subway Line 2 and get off at Jiniantang Station.
Best time to visit: spring and autumn.

Brief introduction to Sun Yat-sen Memorial Hall


Located within the Sun Yat-sen Memorial Hall Park, the Sun Yat-sen Memorial Hall was built in commemoration of Sun Yat-sen, known as the forerunner of modern democratic revolution and the father of Republic of China. Today, it mainly serves a platform for assembly, performance, conference and recreation. Covering an area of 8400 square meters in a height of 35 meters, the memorial hall looks imposing. The construction of Sun Yat-sen Memorial Hall started in 1982 and ended up in 1983, and funded by Kwok Tak-Seng, a famous Hong Kong businessman who donated HK$ 10 million for the memorial hall.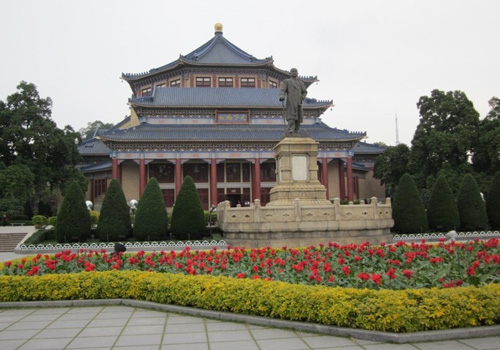 The design of Sun Yat-sen Memorial Hall is innovative. It is a palatial architecture complex. A vertical view reveals that the architectural complex looks like a Chinese character ''中''; yet a horizontal view show that it looks like another Chinese character ''土''. The complex is made up of three buildings arranged in a line. The front one is a three-storey building with three pavilions on the top each toped with a big chamilia bead, symbolizing the New Three People's Principles (Nationalism, Democracy and People's livelihood) initiated by Sun Yat-sen.. The center of the octagonal structure hangs a gold-gilded inscription of Sun Yat-sen that reads ''Tianxia Weigong'', meaning that the world belongs to the public and dominion belongs to the wisdom. The marble bust of Sun Yat-sen can be found in the hall. In addition, tourist can have a better knowledge of the development of Zhongshan City, and the revolution history of Sun Yat-sen through exhibits, pictures and letters of Sun Yat-sen. The middle building of the Sun Yat-sen Memorial Hall is a large modernized theater that can hold about 1484 audience.

Quick Questions
Our team is waiting for your questions. Please feel free to ask us any questions you might have about our China package tours, Chinese culture, or the sites available. We will gladly help you with any special needs you might have and all questions, like our trip designing is completely free of charge.