Ancestral Temple of the Chen Family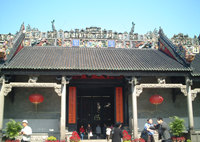 More Photos

Chinese name: 陈家祠 (Chen Jia Ci).
Location: No.34, Enlong Lane, 1st Zhongshan Road, Guangzhou City, Guangdong Province.
Ticket: CNY10.
Opening time: 08:30-17:30.
How to get there:
- By subway and get off at Chen Jia Ci Station;
- By bus No.85, 88, 104, 107 or 128 and debus at Gao Ji (高基) Station;
- By bus No.268 and debus at Chen Jia Ci Station;
- By bus No. 15, 52, 55, 105, 124, 133, 193, 196, 205, 207, 231, 232, 256, 275, 530, 539 or 555 at debus at Zhong Shan Ba Lu (中山八路) Station.
Introduction to Ancestral Temple of the Chen Family in Guangzhou
Also known as Academy of Classical Learning of the Chen Family, the Ancestral Temple of the Chen Family in Guangzhou was jointly constructed from 1888 to 1894 by the Chen families from 72 counties of Guangdong Province of the time. It is a famous ancestral structure of the province as well as a typical late Qing style folk dwelling that is well preserved.
Covering some 15,000 square meters, this Ancestral Temple of the Chen Family is an architectural complex comprising 19 structures, which are separated by courtyards and also ingeniously connected by corridors. With the Juxian Hall being the main hall and the center of the whole temple, the temple was original built as an exclusive assembly site of Chen families and was changed to be an ancestral temple with the wing-rooms being study rooms.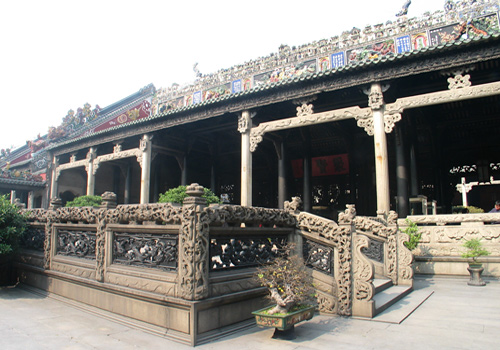 Wood Carvings
Just as that of many traditional Chinese folk dwellings, wood carving is one of architectural characteristics of the Ancestral Temple of the Chen Family. Rich in quantity, scale and content, some of the wood carvings are the representation of some scenes of Chinese historical stories and folk legends, and the rest are carved on various themes including floral designs, fruits, animals, etc.
Stone Carvings
Most of the stone carvings of the Ancestral Temple of the Chen Family are processed from granites and are commonly used in decorating pillars, handrails, wainscots, plinths, steps, and so on.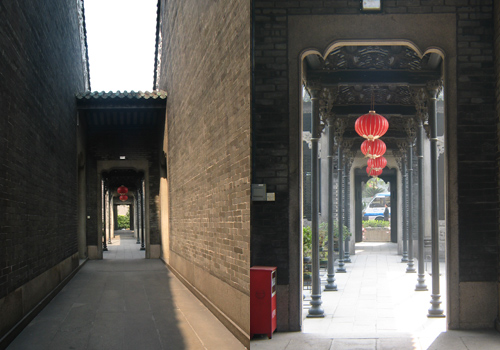 Tile Carvings
Tile carvings are mainly a part of lintels, walls and walls of the Ancestral Temple of the Chen Family. On a wall of the temple there are six pieces of tile carvings, which are among the largest ones in Guangdong.
Apart from that, there are also some other exquisite decorations at the Ancestral Temple if the Chen Family, e.g. lime sculptures, ceramic sculptures, iron castings.
Quick Questions
Our team is waiting for your questions. Please feel free to ask us any questions you might have about our China package tours, Chinese culture, or the sites available. We will gladly help you with any special needs you might have and all questions, like our trip designing is completely free of charge.