VisitOurChina Participated OTM India 2011
2011-03-28Working at VisitOurChina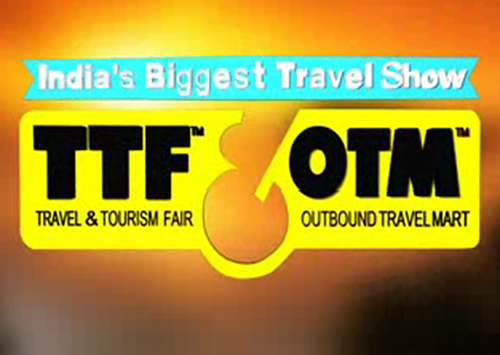 The OTM Indian 2011, India's only travel Mart focusing on leading outbound travel, has been held from February 18th to 20th in Mumbai and from February 24th to 26th in New Delhi respectively. It brought together all segments of the global travel industry, from over 50 countries, to network and transact business with a large cross-section of travel trade. Being one of the leading travel agencies in Guilin, VisitOurChina, English department of Guilin Tianyuan International Travel Service Co., Ltd, has participated the event with honor.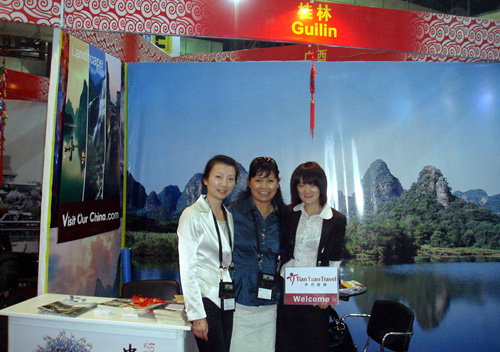 Alice Wang, director of China National Tourist Office in New Delhi & H.E. Ambassador Zhang, staff of China Embassy in India, who have been making significant effort for China tourism in Indian travel market, have attended the opening ceremony as well.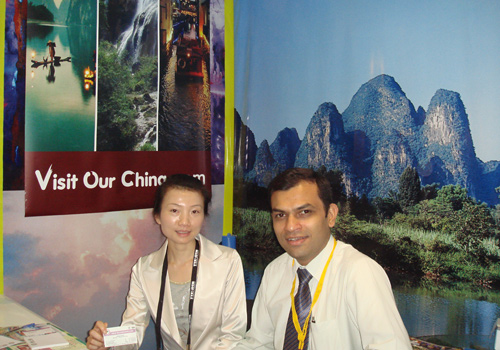 The opening ceremony of the OTM Indian 2011 was held on the morning of February 18th, with important officials from Indian and Embassy China in India attending. After regular ceremonious procedures, the exhibition communication started formally, which meant our busy days beginning with all friends from all over the world coming to us to learn about China travel information and China Travel tips. No matter it's our regular customers or fresh faces, all of whom showed us their great interest in China trips: the breathtaking Great Wall of China and the grand Forbidden City in Beijing, world's eighth wonder - the awesome Terra Cotta Warriors and Horses in Xi'an, the wonderful Li River Cruise in Guilin, the old West Street and the Impression Sister Liu Show by Zhang Yimou in Yangshuo, the Dragon Bone Rice Terraces in Longsheng, the metropolitan Shanghai, etc. With great pleasure, we did our best to answer every question in detail. Never had we thought that people would be so interested in China that there were still a lot of people staying in our exhibition stand for more information after the closing time at 18:00. That made our first exhibition day a busy day, but all of us felt so happy because of people's great enthusiasm for China travel.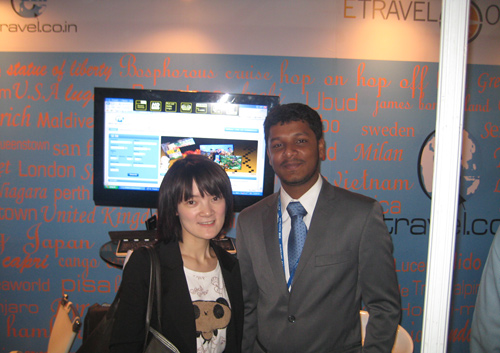 Smile is an international language and we are very touched that we got a lot of shining smiles from Indians. When we talked with Indian clients, they were always very kind and easy-going. At our exhibition stand at the OTM Indian 2011, we found that more and more people take interest in Guilin highlights and Guilin attractions. Some clients who have ever been to Guilin highly praised the picturesque Guilin scenery and expressed their wish to come to visit Guilin again in the future.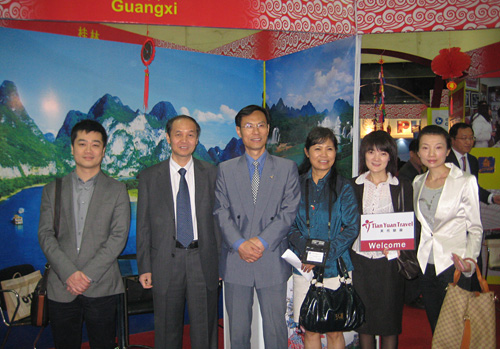 Our work in daytime kept busy and made us tired more or less, but we still spared some time to visit this charming country. There are varieties of buildings with marble and red brick all over India. The capital city Delhi is the cultural capital of Indian, truly a symbol of the old and the new, and a blend of well-preserved ancient monuments and temples. And modern city in India - Mumbai is the commercial capital of India, with business, Bollywood (famous Indian movie production center) and beautiful beaches.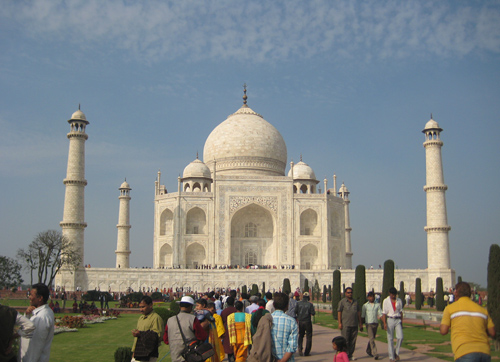 This India journey lasted for ten days, we communicated with professional travel agencies, visited a few Indian cities and also tasted the mouthwatering Indian Murtabak and Curry, all of which are great harvest for us, not only communication in China travel and Indian travel but also a better understanding of Indian custom and a wonderful India tour.

--- By Jean (VisitOurChina)

Comments
Comment