My 3 days/2nights Highlights Trip in Guilin
2010-08-30Life in Guilin
VisitOurChina hosted one family group from Holland to enjoy the highlights of Guilin for 4 days this month. As a travel advisor of VisitOurChina, luckily, I got the chance to be their company and made an in-depth site inspection of the attractions in Guilin, such as the Elephant Trunk Hill, the Seven Star Park, the Reed Flute Cave, the Dragon's Backbone Rice Terraces and the Yao and Zhuang Ethnic Tribes in Longsheng, the Li River, and the West Street in the ancient town of Yangshuo. To be honest, I have lived in Guilin for almost 8 years but still feel that it is just like an emerald waiting to be explored. So here, I would like to share what we have enjoyed in these 4 days with you.
Day 1 Reed Flute Cave, Elephant Trunk Hill, Seven Star Park
Our first destination on day one was the Reed Flute Cave Scenic Spot, which is the most renowned cave with fantastic scenery in Guilin. On the way to it, we were deeply attracted by the nice limestone Karst mountains and beautiful countryside sights. We could even smell the flavor of fruit from the local farmer's orchards. Undoubtedly, it's a relaxing experience for those who always work in the office far away from the nature. After arriving there, we could not wait to explore this 240-metre-deep cave with a total tour course of around 500 meters! We entered it and passed through the sinuous steps. So what appeared in front of us? It's a huge natural art palace with delicate treasures! We were greatly surprised by the different-shaped Karst stalactites, stalagmites, sheets and flowers lit up by colorful lights; and it is interesting that each of them has its own name such as Diamond Hill (Zuan Shi Shan), Flying Waterfall on the Gorge (Gao Xia Fei Pu), Primeval Forest(Yuan Shi Sen Lin). All of them are so amazing that you would never spare your compliment on it.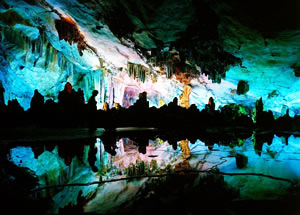 Still indulging ourselves in the fantasy of the Reed Flute Cave, we drove back to the downtown for our next stop – Elephant Trunk Hill, the landmarks of Guilin landscapes. When you go there and see the hill personally, you would find it hard to believe that it looks so lovely and true to life. Due to this reason, taking a photo with this big "elephant" is what every tourist does, commemorating that they have ever enjoyed themselves there; moreover, you can invite cormorants to join you, so interesting! We really had a good time with these dark-colored birds. I have been here for so many years, but that was the first time that I noticed this park could make so much fun. We played by the water where the big stone elephant stands, trying to hold it. Thank god, this lovely colossus never got angry, ha!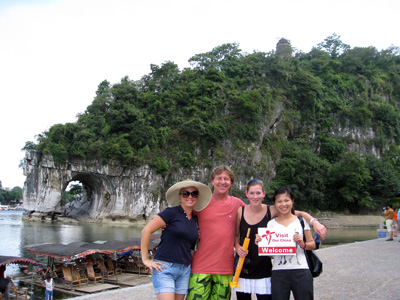 We finished our tour today in Seven Star Park which is the largest comprehensive park in Guilin with two Olympic pandas. It is my favorite park as it was my garden when I was still a college student. I used to spend my peaceful reading time under a hundred-year-old tree inside the park, listen to the birds singing in trees and appreciate the dances by cheerful elders. I like this park, because it has thick atmosphere of life and it's very easy for tourists to feel the local lifestyle there. For this time, we had the chance to get close to the wild monkeys in the zoo of this park – they were so funny and really brought us much fun. We saw the mama monkey taking care of her baby carefully and I could even feel her mother love; some baby monkeys are playing in trees, jumping over our head and making a mouth to us from time to time; and for some unknown reason the King looked a little bit angry and sometimes threw something to us. I wanted to take a close photo with these little friends but was stopped, and then I was told that the moneys might get wild and scratch me! So if you pay your visit there someday, do not invade their area, just keep away and watch quietly.

Day 2 Dragon's Backbone Terraces
We got up early today to visit Dragon's Backbone Terraces in Multinational Autonomous County of Longsheng where mainly the Miao, Yao, Dong, Zhuang and Han ethnic groups live. It is about 80 km away from Guilin and the road is winding, so it took nearly two and a half hours to reach the terraced fields. To prepare ourselves for the later climbing, we had a short rest first after our car arrived at the entrance. Natalia, our beautiful lady took a lot of photos of the local dried food and nuts and showed her works to us. She said that she loves those photos, as only herself knows what she had took and what story it is about them. Afterwards, we went to the Zhuang Ethnic Village which has a very famous scenic named "Moon Accompanied by Seven Stars". On the way to the scenic, we found some local products that only can be found in that area, e.g. pepper and glutinous rice wine. If given a chance, I would like to stay there, as the lifestyle there is so simple and relaxing - you don't need to worry about the pollution in the city, the hard work in the office, just enjoy the beautiful waters and mountains everyday.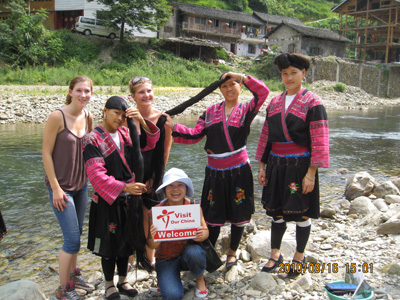 Due to no roads for vehicles, we had to climb to reach our destination. It was hard work but really good for health. When we reached the top of the site, we found that we had climbed for about 40 minutes! The guests were surprised why the rice there was still green and then they got the answer: because the sea-level there is higher than that in other places and the temperature is lower, so the farmers there grow rice one or two months later than farmers do in other places – that's why the rice there gets ripe later. Standing there, the fields look like a fascinating green ocean. It is really a wonder sight! Moreover, people can see the terraces in different color in different seasons - silver in spring (only water but no rice), green in summer (green rice), gold in autumn (ripe rice) and white in winter (snow). Imagine that you are on the top of the terraces to discover these four different nice views.
Because of the limited time for the whole tour schedule, we did not stay overnight there and we think it is a pity. Although were very tired, we felt very happy because the nice mountain view had get rid of all the tiredness already. On the way back, we took a short visit to the Yao Ethnic Village to see the long-hair ladies. Really unbelievable, each woman in the village has very long and wonderful hair, almost 2 meters long. That is really a beautiful and miraculously place. In spite of unwillingness, we had to leave and say goodbye to it: See you next time, Dragon's Backbone Terraces and all the wonderful things here!

Day 3 Li River Cruise
It is well known that the Li River, mother river of Guilin people, is a shining green pearl in Guilin, just as the saying goes: If you have never made a Li River cruise, you have never been to Guilin. So on the third day, we made the Li River cruise by vessel. The length of Li River for tour from Guilin City to Yangshuo County is about 83 km; it takes about 4 hours in wet season and 5 hours in dry season. En route, we enjoyed a hundred miles of Chinese painting formed by the nice Karst landscapes by the river. The guests felt very excited and stood on the board to take photos. It was very hot, so we suggested the guests to get outside to take photos only when there were famous sights coming. The most interesting experience during this cruise was that we were led to imagine the shapes of animals and mythical characters from the greeting and huge Karst mountains. Standing on the board and surrounded by the beautiful mountains, we appreciated the smooth and clear water mirror, the peaks and mountains on both banks, feeling like being in a Chinese ink and water painting.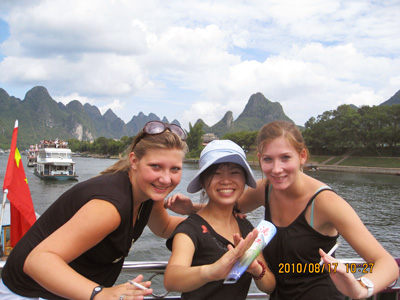 We reached Yangshuo at 2 p.m. and rambled along the renowned West Street, which is described as "Global Village" where thousands of people from all over the world visit everyday. In West Street where is full of Chinese culture, there are all kinds of shops, selling traditional Chinese things, e.g. toys, artwork, T-shirt, chirpaur, minority dress, bags, tea, snacks, etc; of course, if you would like to find a place to drink something or dine, just don't worry about it, as there are so many exquisite-decoration cafes and restaurants in and near the street, providing both Chinese and Western drinks and food. As for buy something in West Street, just feel easy to talk to the shop-keepers, because most of them can speak English more or less.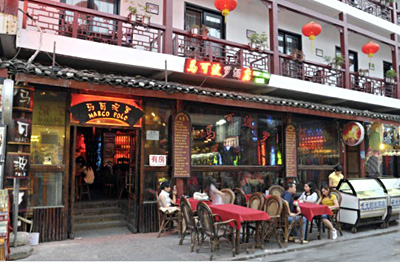 It was really hot that day that the guests could not bear the heat and got to the hotel soon to have a swim. I said good bye to them after the check-in. If given more time, I would stroll into one boutique cafe in the West Street and find a table in the corner, ask one cup of my favorite coffee, and feel at leisure with my lovely book and music for half a day. How leisurely it would be! I guess you would fall in love with feeling as well, do you? Anyway, this would be a fantastic trip kept on my mind!
--- By Gina (VisitOurChina)
Comment