Zhujiajiao Ancient Town

More Photos

Chinese name: 朱家角古镇 (Zhu Jia Jiao Gu Zhen)
Location: in Qingpu Town (青浦镇), 48km from downtown Shanghai, south-central of Qingpu District, Shanghai.
Ticket prices:
- Free for entering the town
- CNY30 for a custom tour including 3 scenic spots- Shanghai Ancient Cultural Center, Post Office of Qing Dynasty, Kezhi Garden;
- CNY60 for a custom plus countylife tour including 9 scenic spots- Shanghai Ancient Cultural Center, Post Office of Qing Dynasty, Kezhi Garden, Town's God Temple, Quanhua Art Gallery, Rice Countylife Gallery, Yuanjin Buddhist Temple, Hanlin Horizontal Stelas Museum and Shanghai Handicrafts Exhibition.
Opening time: 08:30-17:00

Introduction to Zhujiajiao Ancient Town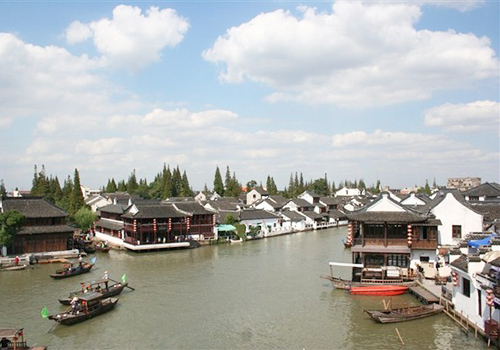 Zhujiajiao, also called genially as Jiaoli (角里), is a 54 square-kilometer fan-shaped ancient town bustling for over a thousand years. Embed between Dianshan Lake (the largest lake in Shanghai) and Dian Mountain, it is a famed ancient town labeled as Shanghai's Venice and the pearl stream by the lakeside of Dianshan Lake. As one of the first four major towns in China, this waterside town south of Yangtze River is composed of both natural landscapes and historic relics. Simple and clean paths, towering big trees, streams flowing through lanes and streets as well as lots of well-preserved residences that have experienced great changes for centuries, all of them are helpful for lost dreams in the noisy city and a return to the nature and inner self. A "vagrant" writer of China, San Mao once was deeply attracted by the bridges, streams and residences arrangement here and was moved by the breathtaking scenery. The quiet town is of simple but full of poems and pictures with original flavored streets of Ming (1368-1644) and Qing dynasties (1636-1911), which make it a famed Hollywood in the suburb of Shanghai popular with many film directors.
History of the ancient town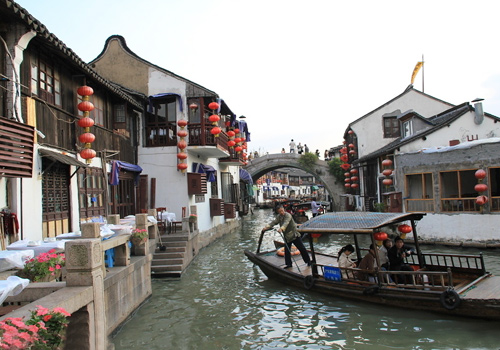 Zhujiaojiao Ancient Town's standing history can be traced back to the Neolithic Age as a large quantity of historical relics of the era as well as of the Spring and Autumn and Warring States Periods (770BC-221BC) were found in the Dianshan Lake. The market of the town had already formed during Song (960-1279) and Yuan (1271-1368) dynasties, and Zhujiajiao was thriving and officially set up as a town during Emperor Wanli's Rreign (1573-1620) of Ming Dynasty. In Qing Dynasty, it became a trading center in the area, and in the late of the dynasty, it became the first business town and a famous collecting and distributing center for subsidiary agricultural products among the surrounding towns. Today, the past prosperity of this ancient town can be still seen from the existing original streets of Ming and Qing dynasties.
Owing to its favorable natural environment and convenient transportation, lots of merchants gathered here and developed the cloth industry, making it a major town in the south of Yangtze River. Rice industry developed in Ming Dyansty, which continued to be in the leading position today had made all trades here thriving, many other industries like handicraft also developed here earlier than in other parts of China. Wine shops and tea houses were open day and night and many peddlers even came from other places to the market here.
What to see in Zhujiajiao?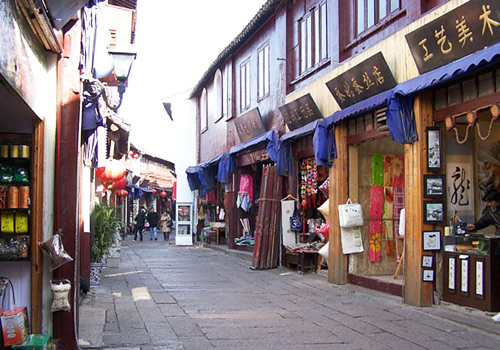 The charming landscape of Zhujiajiao Ancient Town originates from a mountain and a lake, namely, Dian Mountain and Dianshan Lake, and its more featured enchanting elements are said to be one bridge- Fangsheng Bridge or Setting-free Bridge, one street- North Street boasting "a mile-long street with a thousand shops", one Buddhist temple, one town god's temple, one hall-Xishi Hall, one pavilion, two gardens-Kezhi Garden and Zhuxi Garden, three river bends-Sanyang, Jiaozi and Mituo and twenty-six lanes.
Among over 30 featured ancient stone bridges in the town, Fanfsheng Bridge gains the greatest fame which is also the largest five-hole stone bridge in regions south of Yangtze River. The North Street with old style shops and decorated red lanterns is the most vigorous ancient street that none of others can match in the country.
The appeal of Zhujiajiao Ancient Town is also known as numerous personages, architectures of Ming and Qing dynasties, ports, mooring stones and teahouses. Stone paved paths, exquisite handicrafts shops, deep and quiet alleyways, arched stone bridges and little creaking boats all present the beauty of the Town. Sitting on boats and appreciating the antiquities on both sides is a traveling in a pictorial world.
Recommended dishes and snacks in the town: meat wrapped in leaves (扎肉), steamed pork dumplings (肉馅烧卖), roast soybeans (炙毛豆), braised pettitoes (红烧蹄髈), dark-rice zongzi (阿婆粽) and rose-flavored fermented bean curd (臭豆腐).
How to get to Zhujiajiao Ancient Town:
- By through shuttle bus at People's Square (人民广场)- the intersection of Chengdu North Road and Dagu Road (成都北路大沽路交叉口); It is an about 100 minutes' drive running from 07:00 to 17:45 and a ticket costs 9 yuan;
- By through shuttle bus at People's Square- the intersection of Pu'an Road and Jinling Road (普安路金陵路); It is a about 50 minutes' drive running from 06:30 to 22:00 and a ticket coats 12 yuan.
Quick Questions
Our team is waiting for your questions. Please feel free to ask us any questions you might have about our China package tours, Chinese culture, or the sites available. We will gladly help you with any special needs you might have and all questions, like our trip designing is completely free of charge.