People's Square

More Photos

Chinese name: 人民广场 (Ren Min Guang Chang)
Location: Huangpu District, city center of Shanghai.
Ticket: free
Opening time: all day long

Introduction to People's Square
Hailed as Green Lung of the Shanghai city People's Square is a garden style located in the heart of the city, centering the political, cultural, economic, transport and tourism. It is one of the key landmarks of Shanghai. In a broad sense, People's Square is composed of an opening square, People's Park as well as some neighboring cultural, tourism and commercial buildings. Here are found the Shanghai Museum in the south, the Municipal Hall in the north, Shanghai Grant Theater in the northwest, Shanghai Urban Planning Exhibition Center in the northeast, the underground shopping arcade, the underground parking ground and a large transformer substation underground. Covering an area of 140,000 square meters, the square can hold more than 1,200,000 people.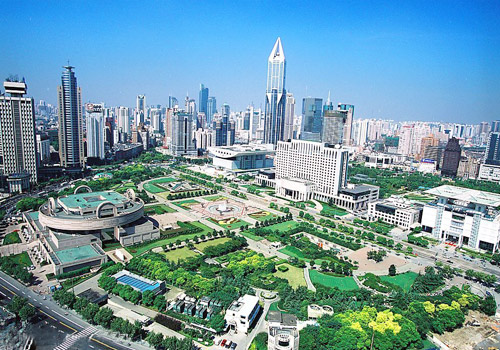 People's Square was formed after Shanghai was opened as a port in 1843. It was once a famous racing place for the upper class, which then developed to be a public marketplace. After more than six years' integrated reconstruction from 1988, the square has become the political and cultural center of the city, integrating culture, afforestation and beautification of Shanghai.
Tips:
- There is a featured old style street of Shanghai in 1930s under the square, where is a vivid live-action of the old Shanghai farces, buildings and townscape.
Transportations:
Subways- No.1, 2 and 8 pass the People's Square and name the stop just as People's Square.
Buses- People's Square is the key traffic hinge of Shanghai, serving as origin bus stations at all intersections around for a number of buses lines,
- at the intersection of Wusheng Road (武胜路), there are buses No.123, 503, 925, 925B, 112, 46, 916, 454, 952, 952B, 145;
- at the intersection of Pu'an Road (普安路), there are buses No.48, 574, 581, 782, 201, 203, 531, 145, 934;
- at the intersection of Xizang Road (西藏路), there are buses No.18, 108, 518, 537, 573, 584, 802, 930, 980;
- at the intersection of Yan'an Road (延安路), there are buses No.71, 127, 202, 775, 789, 831, 935, 936;
- in front of Shanghai Museum (上海博物馆), there are buses No.49 and Jinjiang tourist buses;
- at the intersection of Huangpo North Road (黄陂北路), there are buses No.23 and 109;
- at the intersection of Fuzhou Road (福州路), there are buses No.17 and 864.
Quick Questions
Our team is waiting for your questions. Please feel free to ask us any questions you might have about our China package tours, Chinese culture, or the sites available. We will gladly help you with any special needs you might have and all questions, like our trip designing is completely free of charge.