Shanghai Old Street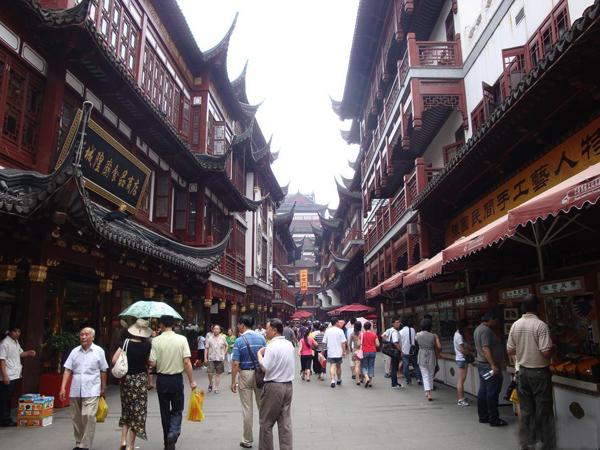 More Photos

Chinese name: 上海老街 (Shanghai Lao Jie)
Location: in Fangbang Central Road, starts from Henan South Road in the west and ends in People's Road in the east, included in the former Little Eastern Gate (小东门), the Shanghai Old City Area (上海老城厢), Huangpu District, Shanghai.
Length: 825m
Ticket: free
Opening time: all day long

A brief introduction to Shanghai Old Street
The Old Street of Shanghai is in the Old City Area of Shanghai. It also called as "little eastern gate" as it is in the place of one of the old city gate. Thought the gate is no longer in existence, as a key trading site for small wares and foreign trade, the Old Street has witnessed the development of the city both in economy and society. When entering the street, the prosperity comes in sight just as if the view of a bustling market of the old Shanghai of a century ago. Adjacent to Yuyuan Garden and Town's God Temple, the old street is a characteristic centered on tourism, shopping, entertainment and cultural exhibition, where you can find the life styles of old Shanghai. As a miniature of old Shanghai downtown, various famous old stores and restaurants are also gathered here-money shops, jewelry shops, taverns, tea houses, theatrical stages and commercial houses. Crowned as a "crowded corridor of the city", with decorated archways on both ends, its unique location and the human landscape along the streets gives the Shanghai Old Street abundant commercial cultural deposits.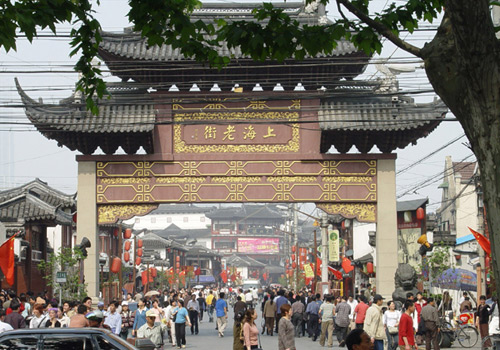 Cultural features of the street
From the west to the east, a clear modern history of Shanghai can be learned easily from the architecture styles and business types. The Old Street of Shanghai can be divided into east section and west section, the former of which is repaired and decorated to keep the dwelling features of late Qing Dynasty (1638-1911) and the early years of the Republic; houses are fitted with lattice windows, shop-fronts of wooden boards, balustrades and swing doors, roofs with upward eaves and protruding corners, and laced triangle-shaped edges and horse-shape wall tops. The houses in west section are the styles of Ming and Qing dynasties, highlighting the folk customs of old Shanghai with black tiles and white-washed walls, red columns and upward eaves.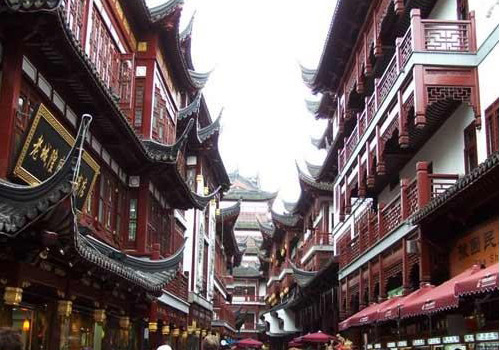 A number of century-old traditional restaurants and teahouses as well as shops of antique and curios, florists, shoes, clothing retails and specialty deals selling Chinese tea and snacks are standing on the street. Today, the lanes neighbored the old street still inhabit a number of Shanghai locals. To reserve the features of old city, the structure and the architectures are well preserved by the government that attracts lots of visitors home and abroad for a anthentic view of old Shanghai.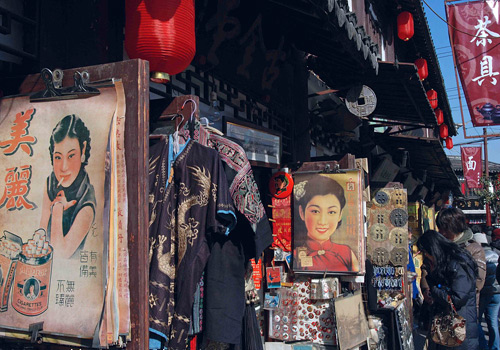 Travel tips:
1. Chunfeng Deyi Teahouse (春风得意楼) near the Xiaochang Intersection (校场路口) is a famous old teahouse; Yuan Bao Tea (元宝茶, about CNY18 per cup) is its specialty, two olives in which are auspicious in the pronunciation of Shanghai language. Every Saturday and Sunday, there is Ping Tan (评弹, storytelling and ballad singing in Suzhou dialect) performance in the teahouse from 14:00 to 16:00.
2. A cup of tea in Old Shanghai Teahouse (老上海茶楼) is also worthwhile as the teahouse exhibits over 50 pieces of cheongsams from 1930s, collected by the boss.
3. There is a mosque nearby, which provides kinds of Moslem food every Friday, the date Muslims there go to the church.
How to get to there:
- By buses No.11, 26, 64, 65, 66, 715, 736, 801, 868, 910, 920, 926, 928, 930, 945 and get off at the stop of Xiao Dong Men (小东门站, little east gate) or Yu Yuan (豫园站, Yuyuan Garden).
- By urban railway No.8 and get off at the stop of Lao Xi Men (老西门站, Old Western Gate); or by No.9 and get off at Xiao Nan Men (小南门站, Little North Gate); or by No.10 and get off at Yu Yuan.
Quick Questions
Our team is waiting for your questions. Please feel free to ask us any questions you might have about our China package tours, Chinese culture, or the sites available. We will gladly help you with any special needs you might have and all questions, like our trip designing is completely free of charge.