Yunnan Wonders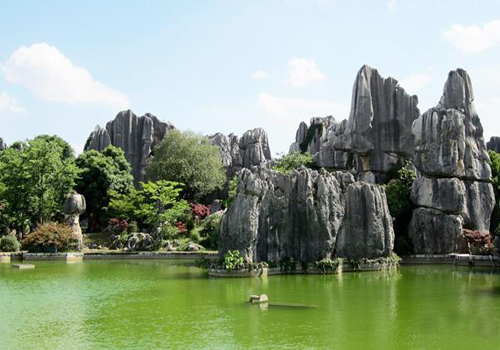 In Kunming, provincial capital of Yunnan, there is a mysterious place called Stone Forest. It is the essence of karst landform around the world. Due to its longest geographic evolution history, largest distribution area, and complete types, stone forest is hailed as the first wonder under sky and heaven on earth, and the natural museum of molding landform. And in stone forest there lives a branch of Yi ethnic minority called Sani. Sani people are diligent, brave and passionate, becoming another highlight of your tour in stone forest.
Luoping Rape Flowers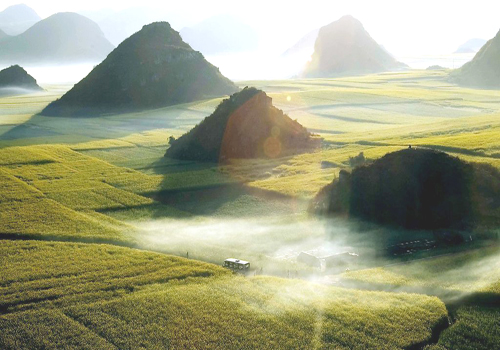 Luoping, a little town on the junction of Yunnan province, Guizhou province, and Guangxi Autonomous Region, is an ideal tourist attraction in China, for it boasts the world's largest natural garden for cole flowers. Covering an area of approximately 533 square kilometers, the local cole flowers become a golden sea when they are in bloom from February to March every year. And it must be a tremendous opportunity for travelers to take magnificent photos and fix the spectacle in their minds.
Yuanyang / Hani Terraced Fields (Yuanyang / Hani Titian)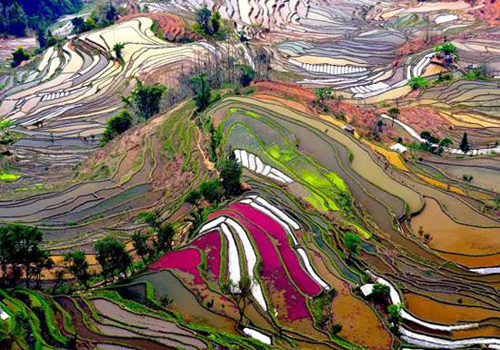 Terraced rice fields in Yuanyang County in South Yunnan are masterpieces of Hani people from generation to generation. It is a gigantic non-word book which clearly displays the struggling of Hani people under the pressure of nature and society. Travelers who have once been here praised Yuanyang / Hani Terraced Fields as the great land art, the Hani people as the real land artists. Every year from November to April, swarms of visitors often rush to the Terraced Fields to take colourful photos!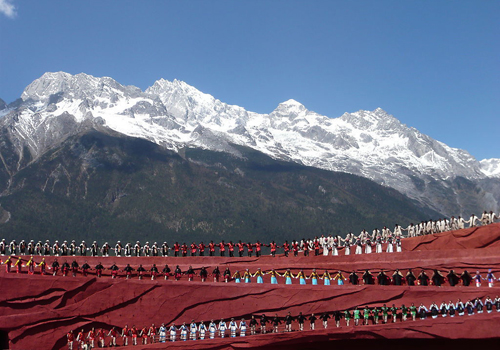 Yulong Snow Mountain, lying in Lijiang, is the southernmost snow mountain in the Northern Hemisphere. More important, it is the holy mountain in the heart of naxi people. And its main peak Shanzidou, 5,596 metres above sea level, still has not conquered yet! The wondrous Yulong Snow Mountain feasts your eyes on various sceneries of subtropical zone, temperate zone, and frigid zone at the same time, and enjoys the reputation as natural zoological and botanical garden on high mountains and contemporary glaciers museum.