Yuanyang travel guide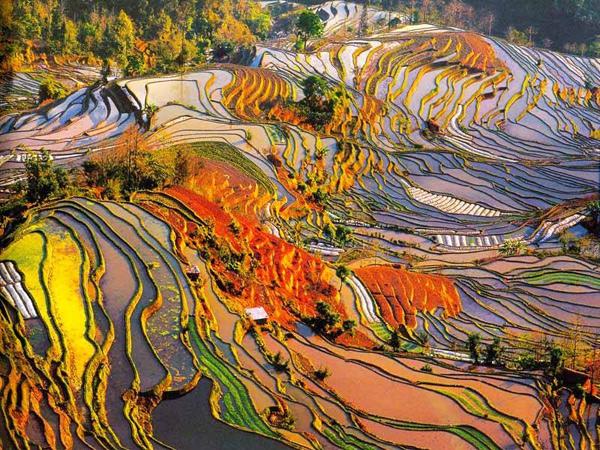 Yuan Yang is located in Southern Yunnan Province and is a county comprised of several hundred small villages with the small provincial town of Nansha as its centre, the construction of a small airport in the last two years has opened up this previously hidden pocket of Yunnan to both domestic and foreign tourists to explore its natural beauty and unique culture. Yuan Yang is famous for its agricultural cultivation with large rice terraces similar to those of Longsheng in Guangxi covering the landscape, Yuan Yang county is also the main exporter of fruit in Yunnan and also produces gold. In the last two years tourism in Yuan Yang County has increased by over 40% making it one of the fastest growing tourist regions in China. Geography Yuan Yang County is steep and mountainous with the topography lending itself perfectly to the terraced rice paddies that have made this region increasingly iconic on the Chinese tourist landscape, however the challenging terrain has made access to this region difficult with no rail link, limited road access, it is only with the recent construction of a domestic airport has travel to Yuan Yang become more practical. More information about Yuanyang »
Top Attractions in Yuanyang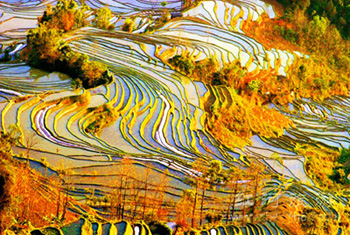 Yuanyang / Hani Terraced Fields (Yuanyang / Hani Titian)
As the masterpiece of Hani Ethnic Group, Yuanyang Terraced Fields are located in the south of Ailao Mountain,Yuanyang County, Yunnan Province. With 11334 hectares, these amazing terraced fields are formed according to the local landform and construct marvelous and grand scenery under the cloud.
More about Yuanyang / Hani Terraced Fields (Yuanyang / Hani Titian)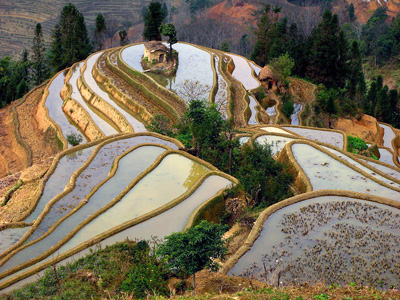 Tiger Mouth Terraces Scenic Area
The amazing scenic area is comprised of a large natural spring, vast virgin forest and the amazing Tiger Mouth Mountain, the highest in the county offering spectacular views of over 3000 acres of terraced rice fields, a kaleidoscope of color and life like the inside of an opal as far as the eye can see.
Yuanyang weather forecast