Yuanyang / Hani Terraced Fields (Yuanyang / Hani Titian)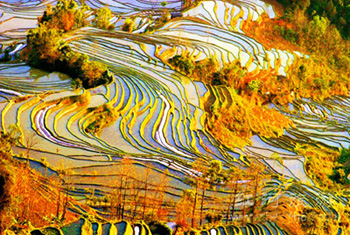 More Photos

As the masterpiece of Hani Ethnic Group, Yuanyang Terraced Fields are located in the south of Ailao Mountain, Yuanyang County, Yunnan Province. Yuanyang Terraced Fields are formed according to the local landform. As a result, the terraced field of Yuanyang can occupy several hundred mu or only an area small as dustpan. The large-scale Hani terraced fields of covers several counties of Yunnan, including Honghe, Yuanyang, Lvchun and Jinping County. The terraced fields in Yuanyang County is the core area of Hani Terraced Field with a total of 170,000 mu. The steps number of Yuanyang Terraced Field in a mountain can reach 3000, which is rare to see in terraced field scenic spot both at home and abroad. There are three major scenic spots in Yuanyang County: Bada Scenic Spot, Laohuzui Scenic Spot and Duoyishu Scenic Spot. These terraced fields construct marvelous and grand scenery under the cloud, which is also the core protection area that will apply to be the world heritage.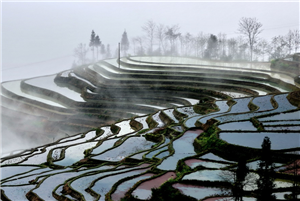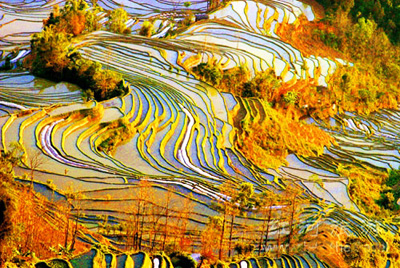 History of Hani Terraced Fields
Hani Terraced Fields has being famous gradually since 1980s and is praised as the real land art and land sculpture by Hani Nationality. Climbing up to any of the mountains in Yuanyang, you can see terraced fields everywhere.

The mountains with terraced fields are like non-literal huge historical books, presenting the long history that Hani people struggled against nature and grew. According to the record of Hani Nationality, big fish created the universe, heaven, earth and the first pair of people. They gave birth two 22 children, the third of whom was a dragon. The third son of them became the dragon king in a sea when he grew up. To thank his parents for bring him up, he sacrificed three bamboo tubes of presents, including a tube with paddy grains. Grain-planting is an old agricultural activity of Hani People and Hani People made Sanjiang River Basin one of the areas that plant domesticated grains.


Feature of Hani Terraced Fields
The characteristics of Hani Terraced Fields ecological system in Yuanyang County are: there are surely thick forests standing in the upper place of a village which supply the water, wood and coal resources; under the villages, there are layers of terraced fields which supply food for Hani People; the villages in the middle are comprised of classical style mushroom houses. This structure has been praised as a sustainable ecological system made up of rivers, forests, villages and terraced fields. It is the beautiful homeland where Hani People has lived for thousands of years.

Yuanyang County is renowned for its grand terraced fields, colorful nationalities, national culture and wonderful festivals.

Attraction: the attractions of Yuyang are terraced fields-oriented. In fact, terraced fields are everywhere in Yuanyang County. The places where photo-takers usually visit include: Bada (suitable for shooting the setting sun), Duoyishu (good place of taking photos of rosy hues), Longshuba (the large-scale terraced field area closest to the county where the setting sun is quite beautiful), Mengpin (the best place of having a bird's view of the Yuanyang Terraced Fields). Besides, other places such as Huangmao Hill and Huangcao Hill are also good choices.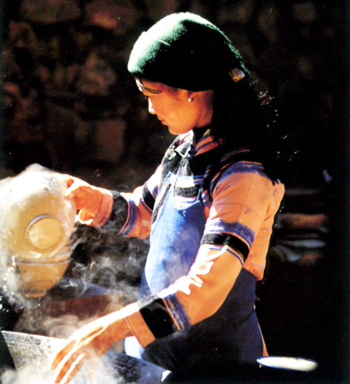 Nationalities: Yuanyang County has rich ethnic customs with Hani, Yao, Miao, Dai, Zhuang and Yi nationality. Even in the street of the county, you can see nationalities wearing bright-colored clothes. But the best place to appreciate the ethnic customs is in the streets of the country, such as Laomeng Country. The nationalities of Laomeng Country mainly include Miao, Yi, Yao and Hani Ethic Groups. When going to market, people will go out on in splendid attires. Various goods can be found in the street, including livestock, ethnic handworks, daily uses, agricultural products and local snacks. It is the best shooting time then.
Festival: there are many festivals here in Yuanyang County, such as the Torch Festival and March Street Festival, but the most characteristic one is the Long Street Feast Festival. During Long Street Festival, every household prepare sumptuous food and put them on the long table along the street so that the whole village can share the huge feast together, so can the guests. The length of the feast can sometimes reaches several hundred meters, The Long Street Festival is held in January of Chinese Lunar Calendar.
Quick Questions
Our team is waiting for your questions. Please feel free to ask us any questions you might have about our China package tours, Chinese culture, or the sites available. We will gladly help you with any special needs you might have and all questions, like our trip designing is completely free of charge.