Jiayuguan travel guide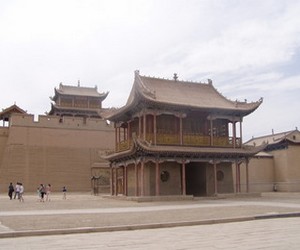 Jiayuguan is named after the west starting point of the Great Wall of Ming Dynasty - Jiayuguan. As one of the twelve prefecture-level cities in Gansu, is situated in the northwestern part of the province and the middle of Hexi Corridor. It is bordering Jiuquan city, a place of strategic importance in the east, 776 kilometres away from the provincial capital Lanzhou city, Yumen city, an oil city in the west, 650 kilometres away from Hami city of Xinjiang Uygur Autonomous Region, Qilian Mountain and Sunan Yugur Autonomous County in the south, over 300 kilometres away from Qinghai province. The city, standing 1412-2722 metres above the sea level, has varied landscapes. In the middle and the west is Gobi, where downtown and industrial enterprises are sited; in the southeast and southwest is oasis which is good for agricultural region development. In the year of 1992, it was one of the 36 well-to-do cities of the first batch in China and later was awarded National Hygienic City, National Civilize City, Top Tourist City of China and any other titles. History of Jiayuguan Recorder of the Great Wall of Ming Dynasty and the Silk Road Due to its ideal location ne... More information about Jiayuguan »
Top Attractions in Jiayuguan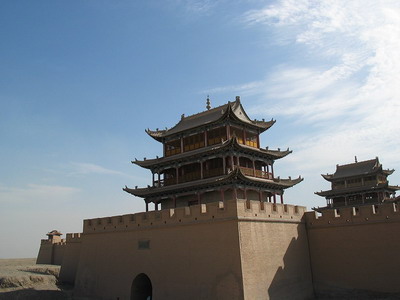 Jiayuguan Fort
Chinese name: 嘉峪关关城 (Jiayuguan Guancheng) Location: six kilometers away from the southwest of the downtown area, Jiayuguan City, Gansu Province. Opening time: 08:00-18:00 Best time to visit: May to October Recommended time for a visit: two hours Introduction to Jiayuguan Fort Located in the narrowest middle part of valley of Jiayu Pass, and on the highest Jiayu Mountain, Jia...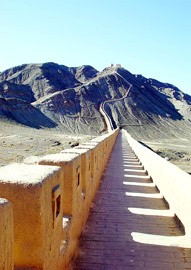 Overhanging Great Wall
Chinese name: 悬臂长城 (Xuanbi Changcheng) Location: on the north slope of the Black Mountain, north of Shiguan Gorge, eight kilometers away from the Jiayuguan Fort, Jiayuguan, Gansu province. Admission fee: 25yuan. Opening time: 08:30-20:00. How to get there: - By chartered car from the downtown area to reach the Overhanging Great Wall. You can pay about fifty yuan for a round trip, and it tak...
Jiayuguan weather forecast