Jiayuguan Fort

Chinese name: 嘉峪关关城 (Jiayuguan Guancheng)
Location: six kilometers away from the southwest of the downtown area, Jiayuguan City, Gansu Province.
Opening time: 08:00-18:00
Best time to visit: May to October
Recommended time for a visit: two hours
Introduction to Jiayuguan Fort
Located in the narrowest middle part of valley of Jiayu Pass, and on the highest Jiayu Mountain, Jiayuguan Fort connects the Overhanging Great Wall eight kilometers in the north, and the First Fire Tower of the Great Wall seven kilometers in the south, the walls outside stretching to the Gobi Desert. It is the west end of the Great Wall of the Ming Dynasty, and the first mountain pass of the west Yellow River.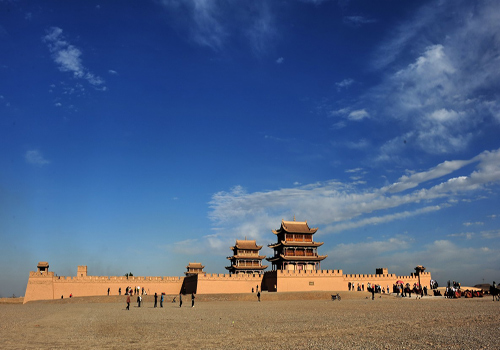 First built in the year of 1372, it was completed through the strenuous efforts of 168 year. As one of the most magnificent and most precipitous mountain passes along the Great Wall of the Ming Dynasty, which were governed by nine towns, it still remains intact till now. In March 1961, it was listed as the first batch of Major Historical and Cultural Sites Protected at the National Level. Due to its a strategic geographical location and imposing architectures, Jiayuguan Fort is dubbed as the impregnable pass around the world.
Structures of Jiayuguan Fort
Jiayuguan Fort is reasonably arranged, with three outside city walls and many lines of defense. Since there are cities within the city and trenches outside the city, it is good for offense and defense. The fort comprises inner city, barbican, three xieshan style architecture, watchtowers, trenches and so forth.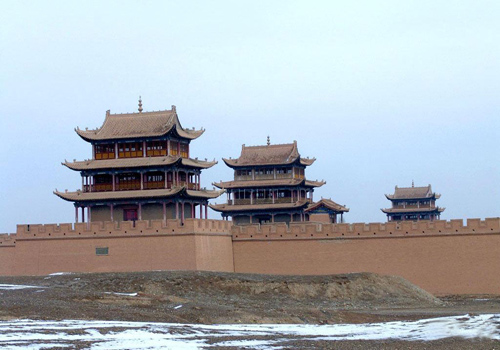 The inner city is the main body, which has a circumference of 640 metres, covering an area of 25,000 square meters. Its east and west gates are guarded by barbicans, which cover five hundred square metres respectively. Barbicans all are faced south, while the west one has raised walls, in the middle of which is opened a gate with a lintel carved with "嘉峪关". In the fort, you can discover the well, Temple of Guan Yu, pailou, theatrical stage and the like. Generally speaking, this architecture enjoys an exquisite layouts and imposing manners.
Stories of Jiayuguan Fort
It is often heard in Jiayuguan a legend singing praise of ancient craftsmen. When building Jiayuguan in the Ming Dynasty (1368-1644), the foreman was required to calculate the amount the material beforehand by officials. With the assistance of the craftsmen, the foreman met the requirement. However, when the Great Wall was completed, it turned out that only a brick was left! As yet, the last brick is visible in the west barbican. Many a tourist is frequently attracted to see it, and pay homage to the intelligent ancient craftsmen.
As a matter of fact, Jiayuguan was such desolated fort that it was sieged twice from 1511 to 1522; and it was not until in the year of 1539 that Jiayuguan became a military defense project, an impregnable pass in the real sense.