What to do in Guilin?
Cruising the Li River

Li River has become a synonym for Guilin, so it can be said that he who doesn't cruise Li River is not touring around Guilin. Originated from Mao'er Mountain, Li River is about 427 kilometres long, with Guilin to Yangshuo, 83 kilometres long as the essence. In different seasons, different delightful scenery unfolds before your eyes. In the sunny days, emerald green hills against azure sky make your tour colourful. At the sight of hills of various shapes – some look like forbidden fruit, some horses, some Don Quixote - visitors will be amazed at the karst landforms of Guilin. And the water is so limpid that it can mirror your image. In the misty day, the scenery of Li River looks more charming. Everything is shrouded by mist and rain; immersing yourself in the boat on the river, you are often puzzled whether or not you are in the fairy land. If you happen to have RMB 20yuan in hand, you can joyfully find that the scenery along the Li River is just on the back of the banknote!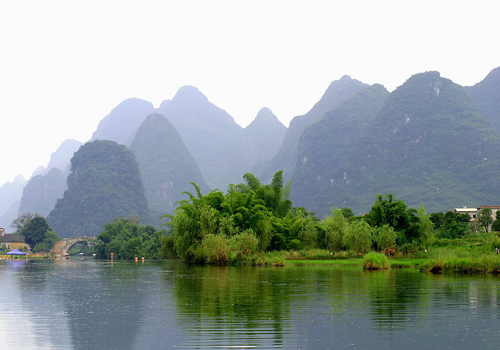 Trekking upon Dragon's Backbone Rice Terraces

Longsheng County of Guilin boasts a breathtaking attraction – on the mountain 300 to 1,100 metres above sea level there are winding rice terraces tier upon tier, called Dragon's Backbone Rice Terraces. The attraction was first built in the Ming Dynasty (1368-1644) and was completed at the beginning of the Qing Dynasty (1616-1911). As a matter of fact, you could hardly imagine how colourful and magnificent the attraction is unless you come to see it with your own eyes. If you are lucky enough you can find farmers harvesting their corps! For many people it is a harmonious picture of human and nature. Sometimes, when you walk into the Ping'an Village and Da Village of the Dragon's Backbone Rice Terraces you will hit upon unsophisticated farmers and have a stronger feeling of harmony.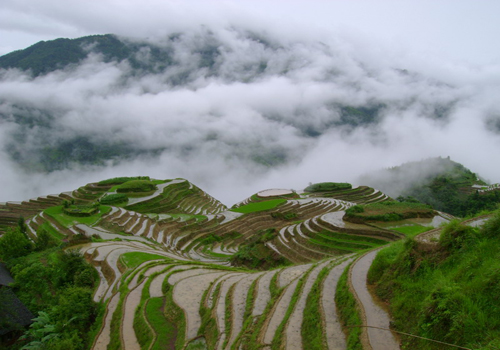 Cruising Two Rivers and Four Lakes at night

Two Rivers and Four Lakes of Guilin, the name card of Guilin city, refers to Peach Blossom River (桃花江) and Li River (漓江), Mulong Lake (木龙湖), China Fir Lake (杉湖), Banyan Lake (榕湖), and Osmanthus Lake (桂湖). It is a river system that is on a par with Venice in Italy. With its completion in the year of 2002 the dream of creating a city surrounded by rolling hills and limpid water came true. In the daytime, Two Rivers and Four Lakes catch tourists' eye by virtue of its tranquility and peace; at night, this attraction under brilliant lights leaves a deep impression on visitors. On a balmy summer night, sitting in the boat, hearing melodious singing and music from the pavilions, watching pedestrians strolling around the Two Rivers and Four Lakes, you can find nothing is better than cruise around and feast your eyes on the marvelous cityscape of Guilin.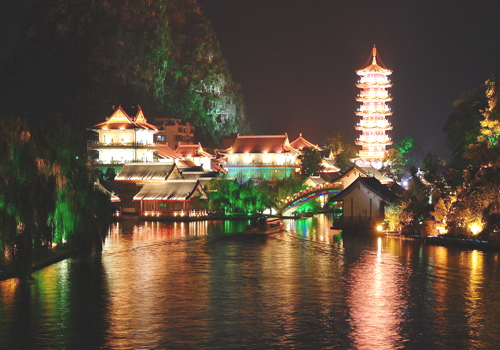 Appreciating Impression of Sister Liu

Directed by Zhang Yimou, an eminent director in China, Impression of Sister Liu, so far, is the biggest and most attractive live-action show in the world. Unlike traditional show in the theatre, Impression of Sister Liu has Li River and mountains of Guilin as the stage, thus offering people a fine vista. Besides, compared with the traditional performance, the live-action show reflects the harmonious combination of human and nature. Seated yourself in the audience to watch lights on the fishing boat, to hear classic folk songs of Sister Liu is certainly a terrific entertainment after you tour around Yangshuo County a whole day.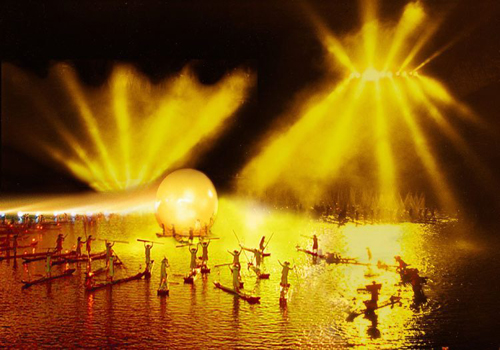 Ambling around the West Street

West Street in Yangshuo County has now become a global village where not only many friends overseas are here and there, but also sellers can speak English! At the entrance of the street, a vista of shops selling different commodities is in sight; moreover, architectures along the way either modern or quaint are also appealing to visitors. Actually, as the night wears on, the West Street becomes more bustling with stronger exotic flavor, bars blazing with colourful lights, foreigners warmly chatting with each other. If you amble around the street at this time a sense of leisure and composure will seize you tightly, and you will feel impressed how international the unsophisticated country can be!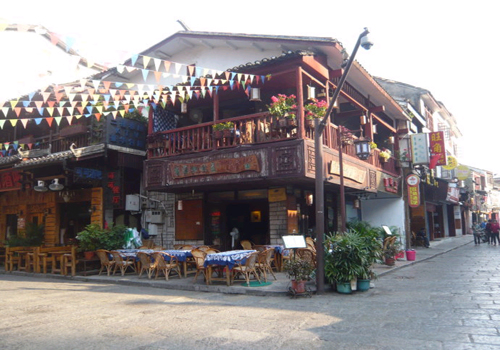 Climbing Diecai Hill

Located in the northeast Guilin, and close to the Li River, Diecai hill looks like folding brocade, piled tier upon tier. Consisting of rolling Yuyue Peak, Siwang (All-Direction-Looking Hill) Peak, miraculous Crane Peak and sheer Ming Yue (Bright Moon) Peak, the hill also boasts distinctive pavilions, caves, and priceless inscriptions. Standing on the top of the mountain, visitors can have a best panoramic view of the city. Therefore, you cannot miss this highlight of Guilin when travelling around downtown area.
Exploring Seven Star Cave

Guilin enjoys typical karst landforms, and the Seven Star Cave in the Seven Star Park is the representative of such topography. If it is the first time that you have been to the cave, you will be overjoyed at what you see. Stalactites and curtains of various shapes of thousand-year age, offer you the scenery different from the outside world. Under the brilliant lights, sometimes you can catch a glimpse of a couple kissing one another, sometimes journey to the west, sometimes the Milky Way. In the face of the magic landform, visitors often admire the power of Mother Nature and the wisdom of Chinese people who give life to those stalactites by naming them appropriately.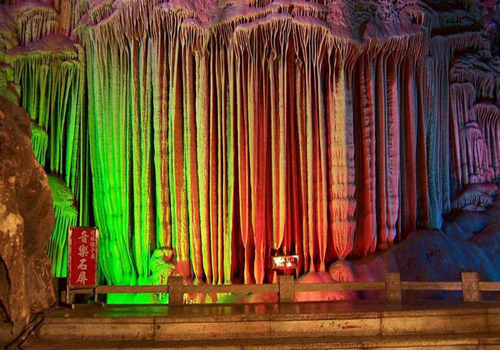 Strolling in the Elephant Trunk Hill Park

Small as it is, the Elephant Trunk Hill Park is worth your visit in that the emblem of Guilin city - Elephant Trunk Hill – is just located here. Whoever comes into the park will be impressed by the scene - grand elephant standing along the Li River, sucking up water with its trunk contently. Looking from the Elephant Trunk Hill at the other side of the bank is idyllic scenery where lush trees and simple cottages set each other off. In the rainy season, all is all is veiled in mist and all is floating above the clouds, thus remaining one of the eight best sceneries in Guilin.
Climbing Gudong Waterfall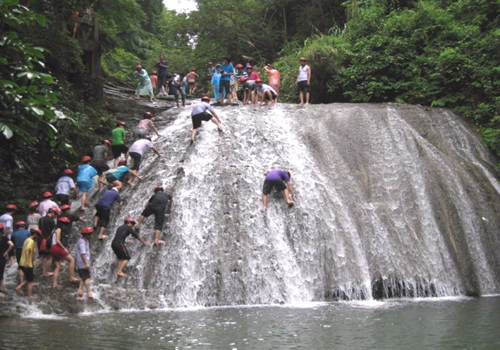 Situated 26 kilometres away from east suburb of Guilin, Gudong waterfall is the only climbable waterfall across China. Therefore, one of the most exciting things to do the moment you step into the attraction is scaling the sheer cliff against the currents with a raincoat, a pair of straw sandals and helmet! On the way to the top of the waterfall, cool and limpid water pours on your body all over; close teamwork makes the activity safer and more successful. At that moment you will feel that perhaps there will be no better entertainment in summer than climbing Gudong waterfall.
Trying Guilin Rice Noodle

Guilin rice noodle is as renowned as Guilin hills and water. Due to its unique flavor and all kinds of ingredients, Guilin noodle has become the most popular food in the eyes of the locals and the visitors as well. He who tours around Guilin without trying Guilin rice noodle often feels a sense of regret. Guilin rice noodles often include lettuce rice noodle, beef rice noodle, pot-stewed meat rice noodle, sour-and-spicy rice noodle, horse meat rice noodle and so forth. More important, Guilin rice noodle is not only tasty, but also very inexpensive! A bite of Guilin rice noodle will make your trip to Guilin even more unforgettable! More info about Guilin Cuisine.