Recommended Places to Visit Chinese Ethnic Minorities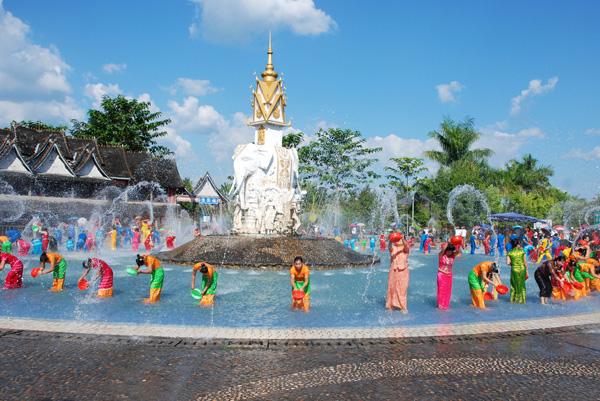 a. Yunan Province
Yunnan Province is a southwest province of China,
bordering Tibet to the northwest, Myanmar to the west, Laos to the south, Vietnam to the southeast, and Guizhou Province and Guangxi Zhuang Autonomous Region to the east. It is the province with most ethnic minorities in the number of 25 including 16 indigenous ones and each with distinctive customs and colorful culture. The beautiful landscapes, rich ethnic cultures and exotic features make it a very popular destination in China.
Recommended Attractions in Yunnan:
Kunming: Stone Forest, Kunming Museum (an encyclopedia for ethnic minorities in Yunnan), West Hill;
Dali: The Three Pagodas of Chongsheng Temple, Erhai Lake, Butterfly Spring, House of Bai Minority in Xizhou;
Lijiang: Lugu Lake, Yulong Snow Mountain, Dongba Village of Naxi Minority;
Diqing (Shangri-la): Songzanlin Monastery, Meili Snow Mountain, Napahai Lake;
Xishuangbanna: Tropical Plant Research Institute, Wild Elephant Valley, Water-sprinkling Festival of Dai Minority.
b.Guizhou Province
Guizhou Province is a
multi-minority province faces Sichuan to the north, the Guangxi to the south, Yunnan to the west, and Hunan to the east. Its marvelous landscapes, beautiful karst mountains and caves as well as interesting ethnic customs and habits attract visitors home and abroad.
Recommended Attractions in Guizhou:
Anshun
: Huangguoshu Waterfall (the biggest and most famous waterfall in China and Asia), Dragon Place Cave;
Kaili
: Miao villages and Dong villages.
c. Guangxi Zhuang Autonomous Region
With 11 ethnic minorities live harmonious together with the Han people, Guangxi is the region with largest population of ethnic minorities. Guangxi Zhuang Autonomous Region is rich in fantastic natural sceneries and a wealth of ethnic culture.
Recommended Attractions in Guangxi:
Guilin: Li River, Reed Flute Cave
Longsheng: Dragon's Backbone Rice Terrace, Yao and Zhuang Ethnic Tribes, Ping'an Village and Da village
Sanjiang: Chengyang Wind and Rain Bridge, Sanjiang Drum Tower and Dong Minority villages.
d. Sichuan Province
Sichuan Province is a multi-minority province with 14 indigenous minorities, among which Yi Minority is the populous one live in Liangshan Yi Autonomous Prefecture.
Recommended Attractions in Sichuan:
Liangshan: Lugu Lake (spanning over Yunnan Province and Sichuan Province), Yi Minority villages;
e. Other Recommended Regions to visit Chinese Minority in China:
Xinjiang Uygur Autonomous Region for Uyghur culture and Tibet Autonomous Region for Tibetan culture.
Related Readings