3. Ten Famous Chinese Teas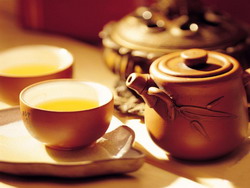 The "Ten Famous Chinese Teas" were selected officially in 1959:
1. Xihu Longjing Tea (West Lake Dragon Well Tea)
2. Dongting Biluochun Tea
3. Huangshan Maofeng Tea (Yellow Mountain Fuzz Tip Tea)
4. Lushan Yunwu Teab (Lu Moutain Cloud and Mist Tea)
5. Liu'an Guapian Tea (Liu'an Mountain Slice Tea)
6. Junshan Yinzhen Tea (Junshan Mountain Silver Needle Tea)
7. Xinyang Maojian Tea (Xinyang Fuzz Tip Tea)
8. Wuyi Yan Tea (Wuyi Mountain Rock Tea)
9. Anxi Tieguanyin Tea
10. Keemun Black Tea
In addition, Yunnan Pu'er Tea, Dongding Oolong Tea, Sichuan bamboo leaf tea, Hunan Meng'er Tea, Suzhou Jasmine Tea and some flowers such rose and chrysanthemum are popular among Chinese as well.
Related Readings
Top Topics